Fuso Built Ready: More freight, less wait
---
Earlier this year Fuso announced its Built Ready range, offering customers eight work-ready truck and body variants. Owner//Driver's Cobey Bartels puts the lineup to the test on-road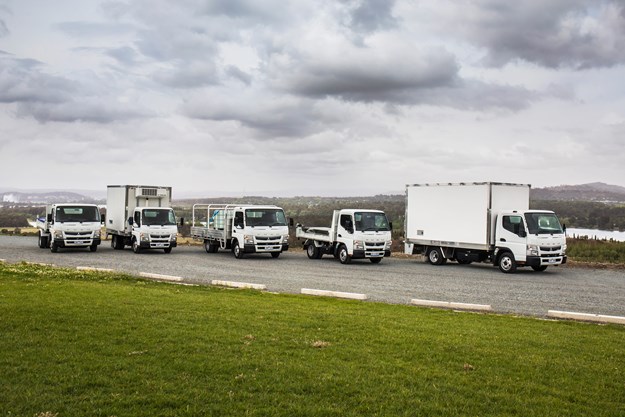 Customers want to walk into a dealership, buy a truck, and get straight to work. This is where the built-ready range comes in, offering a range of pre-built tippers, trays, fridges, tautliners and pantechs.
The range is made up of Canter variants ranging from the petite 515 City Cab through to the heftier 815 Wide Cab, as well as medium and heavy duty Fighter options with up to a 14 pallet body.
Quick delivery is front and centre with the versatile Built Ready range, but Fuso has also worked extensively with leading Australian body builders to ensure a high quality build across the models.
The tippers are manufactured in Japan to Australian specifications, while all the other bodies are built locally and ready to be put to work the moment they hit the showroom.
Fuso Truck and Bus Director Justin Whitford explains the Built Ready range was born out of a growing need for ready-to-go trucks without the typical 10-12 week lead time.
"A lot of customers moving into the truck market are used to going into a car dealership and picking up a vehicle the next day, they're not used to a seeing a 10 week build time" Whitford says.
"We know that our customers would rather be out there getting the job done than waiting for a body to be built up."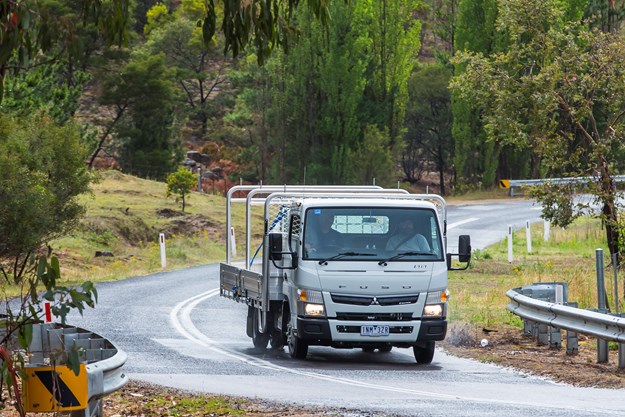 Highways to laneways
We drove seven of the Built Ready models around the nation's capital across a full day, all loaded to about 80% GVM, covering plenty of urban and backroad kilometres.
The long serving 3.0-litre four pot in the Canter has plenty of pep in its step and despite remaining at 110kW/370Nm right up to 7.5 tonnes GVM, it never feels lazy.
After spending most of the day in trucks equipped the intuitive six-speed Duonic automated manual transmission (AMT), it's an easy pick over the five-speed manual.
In a simple workhorse like a tipper, sure, a manual keeps costs down and plenty still prefer the dying art of shifting. But the logical choice here, budget permitting, is the AMT.
Within the light-duty segment this is one of the top AMT boxes; it's well suited to the 3.0-litre and aside from severe gradients it rarely requires manual shifting. Throw it into 'Drive' and off you go, it's that simple.
The Fighter models, of which we drove the 10 and 14 pallet options, get the grunty 7.5-litre inline six turning out 177kW/745Nm through either an air-assisted six-speed manual or five-speed Allison auto.
A real standout within the range is the little 615 City Cab Canter Tipper, which is the only narrow cab tipper on the market with 6 tonnes GVM thanks to an integrated strengthened box chassis rather than a heavier separate subframe. The little tipper that can, is also offered at 4.5 tonnes GVM, which means you can drive it on a regular car licence.
The narrow cab models across the range are as comfortable on 80km/h backroads as they are in tight urban environments, making them a prime option for tradesman who want more payload than a ute can offer, without sacrificing manouverability and access.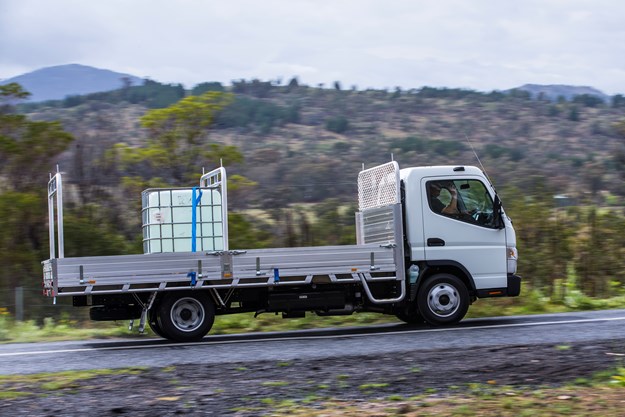 Tradie-ready
The compact City Cab models offer a compelling alternative for tradies wanting more payload and off-the-shelf options than the ute market can offer.
Light-duty trucks are right at home loaded to capacity, with commercial vehicle DNA centred around a life spent near maximum GVM.
Talking warranties, five years is now standard across the Fuso cab-chassis range but that can be extended right out to seven with a range of service plans available.
"One of the key elements that separates us is we're the only OEM offering a standard 5 year warranty on the cab chassis product," Whitford tells us.
"The other element is we also offer the full service plan range and what we are seeing is that we are selling almost 40% of our trucks per annum with Fuso OEM full service plans.
"Those plans are becoming a really important element for the trade market, so they know what their costs are for the ownership period."
You only have to look at the age of some Canters still running around the place, to get an idea of the longevity these trucks offer. They're Built Ready, but they're also built to last.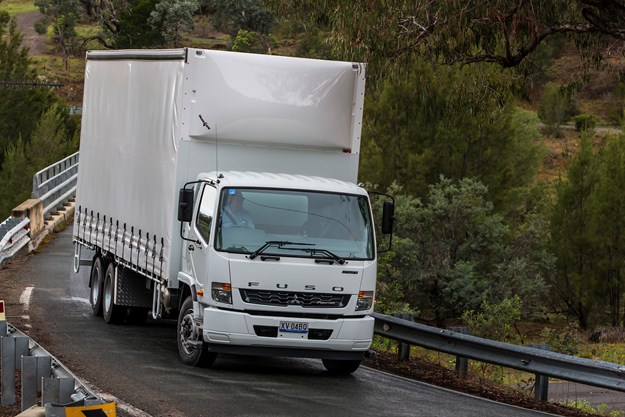 Subscribe to our newsletter
Sign up to receive the TradePlant e-newsletter, digital magazine and other offers we choose to share with you straight to your inbox
Follow our updates by liking us on Facebook.