REVIEW: Y62 Nissan Patrol Ti 4x4
---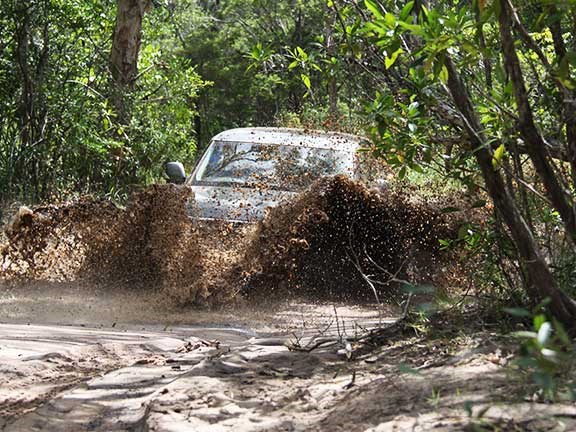 Showing off for the camera resulted in much winching on Matt Wood's part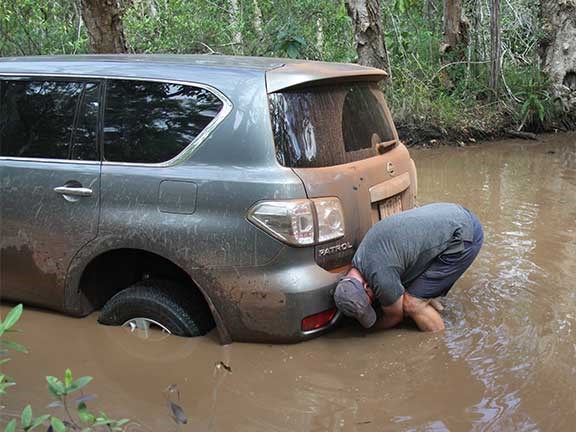 There's only one load-rated tow point on the Patrol, and Matt's attempting to find it!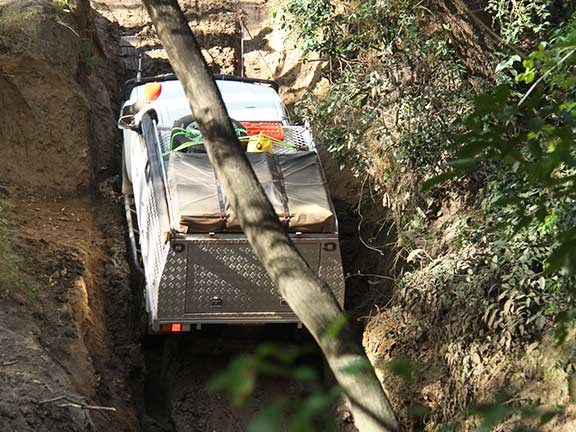 The only way out of this one was by winch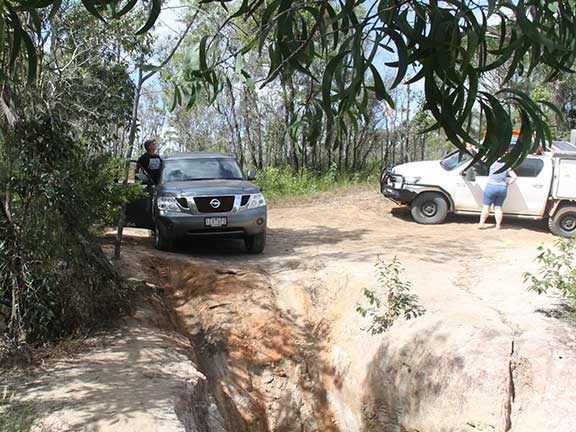 Matt contemplated Gunshot Creek then took the chicken track!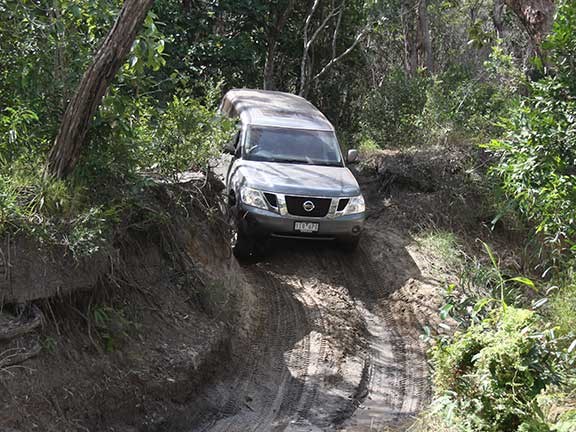 Much of the OTT proved an effortless cruise for the Patrol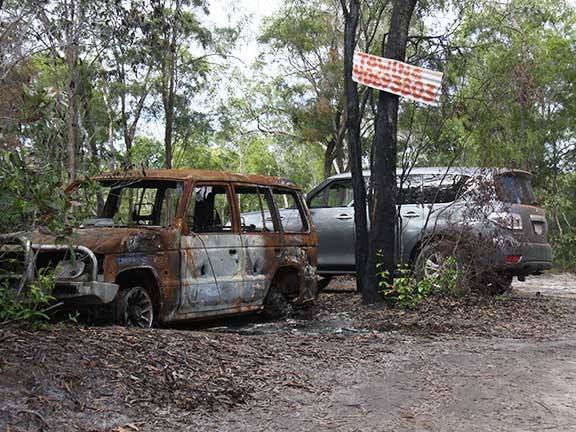 This is what they do to your 4x4 if you don't pay for your camping permit online.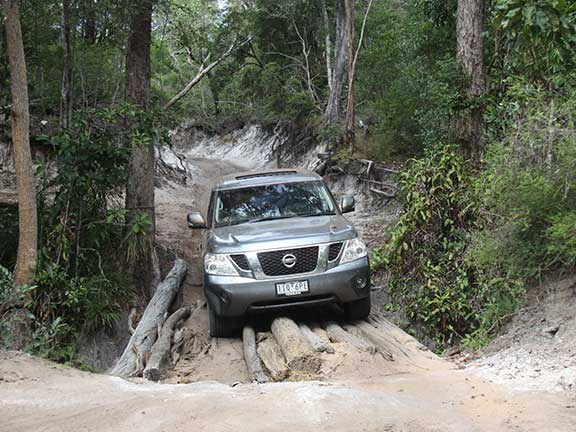 The 287mm of ground clearance came in handy. Not too shabby for a wishbone-suspended wagon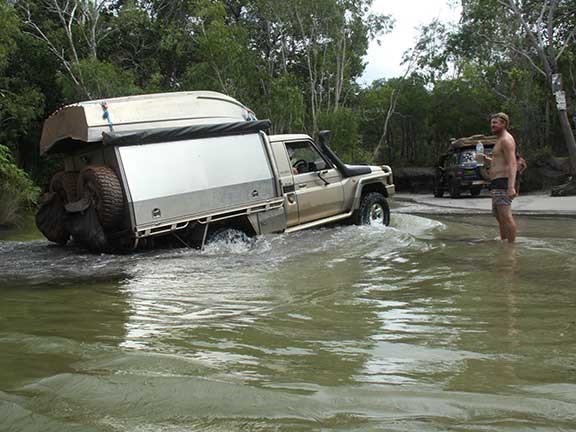 There was no shortage of kitted out 'Cruisers and Patrols along the track. The Y62 looked a little soft in comparison but it made for plenty of colourful commentary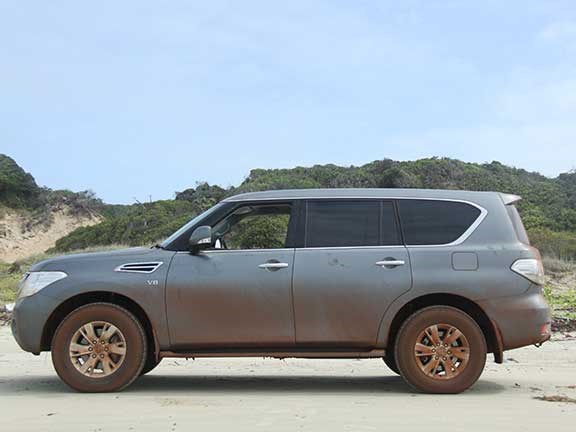 How a Patrol should look, covered in mud and glory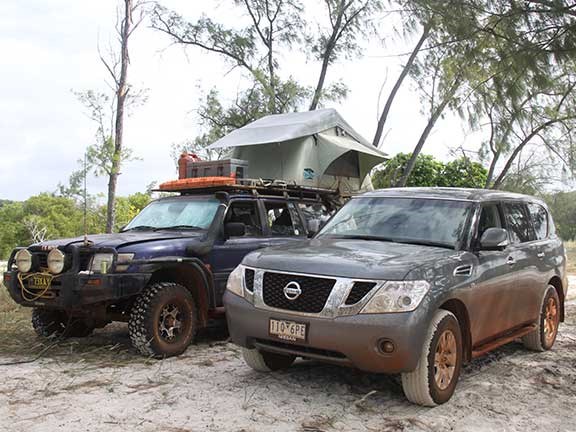 Old and new. Many will claim that the TD42 was the pinnacle Patrol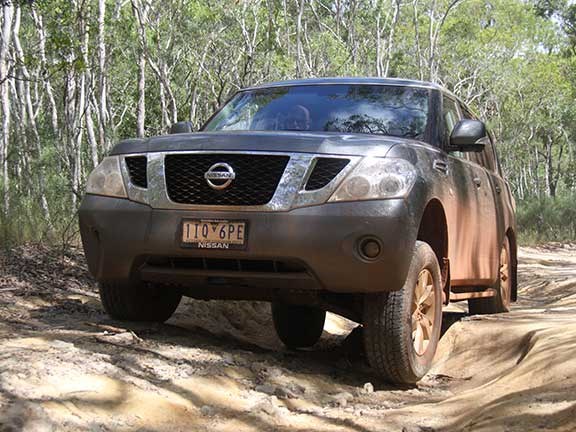 Nissan's HBMC suspension provides excellent tractability off-road. It's one of the vehicle's most impressive features

With diesel engines getting so complex, can the petrol-driven V8 Nissan Patrol Y62 Ti 4x4 cut it in the bush?

Y62 Nissan Patrol Ti 4x4 price: $73,393 drive-away


Torque: 560Nm@4000rpm


Fuel type: Premium unleaded petrol
 
Using a hand winch for off-road recovery may be hard work, but on the other hand it does give you a chance to ponder certain things as you haul on the winch bar with sweat dripping off the end of your nose.
As I laboured to haul this Nissan Patrol Y62 out of some rather sticky Cape York mud, a few things came to mind.
The first thought obviously being that I really should've walked the creek crossing before belly flopping the Patrol into it.
The second issue to come to mind was the future of diesel engines.
It probably didn't really show up on many people's radar, but the Australian car market moved to Euro 5 exhaust emissions in September last year. Okay, so what's the big deal? Well, if you're in the market for a diesel 4x4 or LCV, it is quite a big deal.
Diesel fuel burn
Over the past few years many manufacturers have dropped petrol power plants from their model line-ups due to lack of demand. If you want a dual-cab 4x4 ute, for example, aside from the low-volume Toyota Hilux V6, you'll be buying a diesel.
That's all very well, but the thing is that these engines, save Volkswagen's Amarok, use exhaust gas recirculation (EGR) and diesel particulate filters (DPFs) to trap exhaust particulates. (The Amarok, like Ford's Everest wagon, uses SCR and thus takes AdBlue.)
The thing with EGR engines equipped with DPFs at Euro 5 emission levels is that they now need to regenerate or burn off to clear the trapped particulate in the DPF.
Of all of the mainstream diesel light commercials and 4x4 wagons on the Australian market at this point in time, only one has the option of doing a manually selected parked DPF burn-off if the filter is clogged. And that's the 70-series Toyota LandCruiser.
The rest rely on the vehicle being regularly driven on a highway to get enough heat in the exhaust system to perform the burn off. Even the 200-series LandCruiser has auto regen.
This wouldn't be so much of a drama if it were just country folk buying these vehicles. However, the growing popularity of diesel 4x4 LCVs as family cars and urban transport makes this a little more of an issue.
Last year's best-selling vehicle in Oz was the turbo-diesel HiLux, after all. And that 2.8-litre Toyota engine uses EGR like the rest of them. 
Already there are reports of DPF issues. Some of these are just clogged DPFs and a warning light on the dash followed by limp mode. Under warranty, a dealer will probably just clear the code and give it a good run on a freeway. Some may have to also deal with a sticky EGR valve or three. There's also the risk of oil dilution.
Speak to any busy 4x4 mechanic and they'll happily show you the soot-covered internals of a choked-up EGR diesel induction system that's been rumbling around the burbs more than is really good for it.
Don't think for a minute that I'm advocating for polluted skies, hazy horizons, and carcinogenic particles in the air. However, the increasing mechanical complexity of the modern diesel engine is starting to tarnish its attractiveness in many LCV and 4x4 roles.
Traditionally diesel engines have had a following because of their economy, simplicity, durability and low-down torque when hauling a load or off-roading. And there's no denying that the best-bang-for-buck fuel, energy wise, is diesel. Hell, I even own one.
The trouble is that diesels aren't that simple anymore. They've become incredibly mechanically complex, and I'd even go as far to say that time will show them to not have the durability of diesel engines past.
So then there's the modern petrol engine. Not exactly simple anymore either, but it's not constrained by the level of emissions hardware needed by diesels.
As more and more countries have started talking tough on diesel emissions, some manufacturers have moved to drop automotive diesel altogether in overseas markets, preferring to concentrate on petrol engine technology and, in some cases, electrification. 
Petrol Patrol
Which brings me to the Nissan Patrol that, after much winching, I finally managed to liberate from its murky resting place.
The venerable old Y61 Patrol and its 3-litre diesel engine were consigned to history last year – the 3-litre a victim of emissions like its still much-sought-after 4.2-litre predecessor was over a decade ago.
The Middle East-spec petrol-only Y62 V8 is the sole Patrol left on the Aussie market. It was initially maligned by industry and public alike because it kind of looks like a bloated X-Trail and there's no diesel option. Plus, when launched, it was a little pricey – though there has been a significant price drop since its 2013 launch.
But I wanted to see how a completely stock Y62 Patrol would handle one of this country's most iconic trips. We headed to Cape York to tackle the Old Telegraph Track and onwards to the tip of Australia.
The V8 Patrol is often written off by many as a 4x4 tourer because of its preference for premium unleaded. And maybe also because it looks a little soft.
Then there's the thirst factor. Y62 owners are a delicate lot, and they get a bit cranky if you point out just how prodigious a thirst this baby can have.
Around town, when driven unsympathetically, this thing can drink like there's no tomorrow. I managed to hit 30L/100km, though admittedly this was mainly due to me driving with the sunroof open and listening to the glorious engine note of that naturally aspirated 300kW/560Nm bent-eight under acceleration.
That 5.6-litre Nissan VK56VD VVEL mill is a beautiful bit of machinery. It comes from the same engine family as the engine used in the Nissan V8 Supercar (the American-built VK56DE, which is also E10 fuel-friendly).
VVEL stands for 'variable valve event and lift' system, which allegedly helps with fuel economy (I'm not convinced) and performance (I'll buy that claim) especially under wide-open throttle. It's an all-alloy 32-valve twin-cam donk that uses direct injection to get petrol to the pistons.
It's smooth, powerful and, dare I say it, even fun.
There's also the added benefit of this Patrol being quite reasonably priced considering the amount of kit on offer.
It's a lot cheaper than its diesel rivals: a 200-series LandCruiser VX diesel (the closest rival in terms of options) has a drive-away price of $106,525. Even opting for Toyota's 4.6-litre petrol V8 doesn't drop the driveway price below the tonne at $101,221.
The eight-seater Patrol Ti that you see here drives away for $78,393. You can buy a lot of juice for that price difference.
Maybe in this new Euro 5 environment, the case for shelling out a premium price for a diesel fourby isn't quite as compelling as it used to be? 
Nissan Patrol 4x4: On the road
The thing about Cape York is that, unless you live in Cairns, it's a big drive from anywhere. However, with a full load of camping gear shoved in the back, I pointed the big wagon north and rolled out of Brisbane.
As a mile-eater, the Patrol is awesome. It cruises effortlessly on the open road and is impressively comfortable. Having all those killer watts on tap made for effortless cruising and overtaking. My open-road fuel average to Cairns was a respectable 12.5L/100km and I wasn't walking like a half-shut pocketknife when I arrived.
Cairns proved to be the last time that the Patrol was going to see PULP for over a week. With the 140-litre tank full to the brim I pointed it over the Great Dividing Range and beyond to the Peninsula Development Road.
Many moan that the drive to the Cape isn't the adventure that it used to be, which is easy to say unless you actually have to live there! The PDR can be corrugated but it's wide and has plenty of sealed sections these days. With a bit of care you could do it in a 2WD hatchback.
It's on the PDR where one of the Patrol's best assets really shines through: its Hydraulic Motion Body Control suspension system.
The coil-sprung independent suspension feeds hydraulic fluid to remote accumulators mounted between the front and rear axles, which allows the system to direct more hydraulic pressure to the wheels that are under the most pressure. On the road, this makes for flatter cornering at speed and virtually no body roll.
The big wagon just floated over the gravel at speed. It provided an impressive ride with sensational handling.
When I pulled up at the Bramwell Junction Roadhouse, which is the last chance for a coffee and fuel before tackling the OTT, the poor old stock Patrol looked a little goofy next to the barred-out and lifted LandCruisers, utes and old-school Y61 Patrols.
No-go zone
I hit the OTT full of optimism, but it turned out that Palm Creek, the first major obstacle on the track, was going to be too much for a stock Patrol with no built-in winch and only one load-rated tow point at the rear.
As it was early in the season there was still plenty of mud and water around, and plenty of traffic too.
An attempt to get close saw the rear of the Nissan come into contact with the ground; there wasn't even a tow bar to protect it. This popped the entire bumper panel out from the body on the right-hand side. Some duct tape and zip ties kind of neatened up the panel so we could keep on moving.
After collecting a wallaby on the front RHS back near Coen on the PDR, the Nissan was starting to look a little bedraggled! It did, however, point out the importance of a good front bar out in the back blocks.
So I elected to head up the Bamaga Road and take the Gunshot bypass track to the OTT and then head south back to the creek and turn around. This way we'd still do the bulk of the track. 
Gunshot Creek is famous for its nosedive crossing, so I figured discretion on this one was the better part of valour and I took the chicken track. I had visions of dropping over the edge of Gunshot, hitting the bottom with the nose and then the airbags going off.
Rolling north through the sandy heathland, the Patrol was in its element. It tackled the various creek crossings and fords with aplomb.
The HBMC system came into its own here too. It tries to emulate the performance of a live axle off-road by pushing the wheel that is off the ground down to full stretch. For double wishbone suspension, the Patrol does have pretty impressive articulation. 
There was plenty of water around, which meant the Patrol's 700mm wading depth was put to the test a couple of times. The engine breathes through a sensibly located intake high up on the left-hand front guard.
Stock ground clearance is 287mm. Unlike competing fourbies, it's a little complicated to modify the HBMC suspension. Given its performance on and off road, I can't really see a reason to muck around with it anyway.
The aftermarket, however, does cater for some extra lift to the HBMC system by using custom lower control arms.
Some smaller-capacity modern petrol engines are relying on sequential turbocharging to try and create a diesel-like torque curve. This naturally aspirated Nissan donk, however, isn't one of them.
I wouldn't go so far as to call it old-school, but peak torque is at 4000rpm and peak power at 5800rpm. And I'd be lying if I said that it didn't sound awesome as we scrabbled out of Cockatoo Creek.
Having all that power on tap means that, for the most part, you rarely have to wring its neck.
The last ford before Nolan's Brook was the deepest we encountered and it saw the Patrol float a little at the rear as the front wheels clawed at the creek bed. I can now confirm that the Patrol's door seals work well.
I walked it to check the depth only to be advised later that there was a resident freshwater croc in that billabong. I'm glad we didn't have a face-to-face meeting because I doubt I would've been interviewing it to find out if it was a salty or not!
There may have been a bit of squid ink in the water.
The off-road antics saw fuel consumption rise a little but not as much as expected, averaging 13.8L/100km. This was the worst fuel figure for the entire 6497km trip. Comparing notes with fellow travellers running diesels found consumption around this figure and up to even 17L/100km. 
A steady diet of regular unleaded only took a little edge off the performance of the Nissan once north of the Jardine River.
But this kind of rough road touring is right up the Patrol's alley. The big fuel tank meant that range wasn't an issue at all on this route. From Bamaga we took the track though Roma Flats, getting bogged again before triumphantly parking the Patrol on the beach near the tip.
A savage paper wasp attack that had me blundering around the jungle waving my arms and shouting for a bit did little to curb my enthusiasm for the accomplishment. Even though those little bastards have quite a nip on them!
The verdict
Out in the bush there are plenty of reasons to hang on to the diesel. For those on the land it means that you only need one type of fuel stored on site, and the same goes for working wheels. Highway kays keep the DPF happy. Around town EGR is not, however, a recipe for happiness.
For everyone else, the case for buying an oil-burner starts to look a little less inviting. There's a premium price for ticking the diesel box at purchase, and there's also the premium price paid for servicing. In some parts of the country you'll even pay more at the pump for diesel.
And now there's added complexity that has the potential to tarnish diesel's reputation for reliability and durability.
I'm not talking about your old 1HZ LandCruisers and TD42 Patrols that have done a million kays and are still ticking over. I'm talking about brand-new vehicles on the market now.
With those factors in mind I reckon opting for petrol power could be a compelling case in the future.
Towing and hauling
One of the biggest assets of a diesel engine is its ability to lug a load.
A couple of years ago I had a yarn with Dr Wolfgang Warnecke, the chief scientist for Shell's global mobility fuels division. Aside from being a Unimog tragic, he also had some interesting things to say about diesel engines.
"As far as thermal efficiency under load is concerned, there's nothing better than a diesel engine," he said. "Light vehicle fuels may change in the future, but in heavy commercial applications nothing comes close to a diesel."
We then spent a lot of time waffling on about Unimogs and hunting.
The Y62 Patrol has a decent 7000kg GCM which makes it a walk-up start for tow applications.
However, it would be fair to speculate that, while it will haul a load effortlessly, the Nissan will no doubt drink a lot of juice to do it with peak torque so high in the rev range. The fuel figures quoted in this story are based on a loaded wagon tipping the scales at about 3000kg.
NISSAN PATROL Y62 4X4 PRICE & SPECS
Price: $73,393 drive-away
Engine: 5.6-litre VK56VD direct injection V8
Power: 298kW@5800rpm
Torque: 560Nm@4000rpm
Transmission: 7-speed torque converter automatic
Drive: Part-time 4x4 with 2 speed transfer case AWD on demand
Seating: 8 seats
Fuel Capacity: 140 litres
Fuel type: Premium unleaded petrol
Warranty: 3 years/100,000kms with roadside assist
Subscribe to our newsletter
Sign up to receive the TradePlant e-newsletter, digital magazine and other offers we choose to share with you straight to your inbox
Follow our updates by liking us on Facebook.