Review: Crown FC 5200 series forklift
---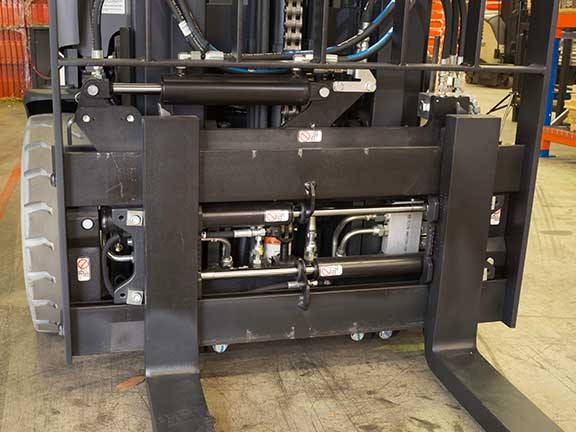 Compact dimensions from having twin traction motors instead of a single and differential

Crown counterbalance forklifts like the Crown FC 5200 series feature technology that other brands talk about but don't deliver.

So good to drive a counterbalance forklift truck again. And at 1800kg to 3000kg load capacity the Crown FC 5200 Series slots into the most popular range of counterbalance trucks. The real workhorses of trucks in most warehouses.
But these are no ordinary battery trucks.
They're the next generation of AC drive technology, with features that other companies have told me about but Crown has actually delivered.
Most counterbalance battery trucks have one traction motor that drives the load wheels through a differential.
Not so this truck, which has a traction motor per wheel with reduction gearing at the wheel hub, eliminating the need for a diff and reducing frictional losses by around 10 per cent.
The traction motors are synchronised so that in everyday usage you'd never know the truck had two traction motors and because frictional losses are reduced each charge of the battery pack lasts longer. 
Unladen acceleration is pretty good too and according to Crown (must take my stopwatch next time) it takes just 3.8 seconds to cover the first ten metres with a possible top speed of 19.7 km/h. I'll have to start a comparison of acceleration times of forklifts from now onwards!
Having two motors gives the truck a shorter overall length too, because there's no need to have the diff mounted ahead of a single traction motor.
The fork tynes can be located closer to the truck body for improved front and back stability when laden.
Both motors have Crown's eGEN braking or regenerative braking that down slopes pumps some energy back into the battery pack, while slowing the truck without needing to use the brakes.
The brakes automatically apply every time the truck is stopped eliminating one more task to remember in a busy work schedule.
Cab and controls
Crown sure has ergonomics down pat with its trucks. Not only does the operator's seat have a suspension base and forwards and backwards movement but also adjustable lumbar support. And it's more than capable of comfortably seating porkers like me.
There's the usual tilt adjustable steering column with wheel and knob we've all come to love about forklifts. The main indicator panel has a battery charge indicator, speed settings and a diagnostic check every time the ignition key is switched on.
To the right of the seat is a large moulded tray containing a drink holder and documents tray. This has a curved interior so a clipboard won't get snagged in the corners. A mirror attached to each of the curved forward roof supports gives excellent vision when travelling backwards or checking what other trucks are doing on a crowded factory floor.
Unlike some battery trucks I've tested, the FC 5200 has conventional lever controls, but these have differently-shaped inserts in the knobs to help an operator differentiate between functions simply by feel and without having to look at the levers.
The demo truck had four levers, one for lift and lower, another for mast rake and the others for fork tyne side shift and in and out. This is incredibly useful for picking up pallets of different sizes or getting the tynes into a pallet when warehouse aisle space is tight.
Only a grab handle on the left front roof support is omitted, but this is available as an option.
As the seat base and battery cover tilt right up out of the way accessing the battery pack is easy. There's a single top-up point for the battery cells and side panels can quickly be removed to access the whole back for removal and replacement.
Performance
Oh how I love conventional lever controls for lift, rake and side shift.
My old grey cells totally understand the concept and the travel of the levers, combined with the precise handling of AC control, makes inching into a stack and gently picking up a pallet so much easier in my opinion than twitchy joystick controls.
I guess I'll never be an Airbus pilot as joystick controls just seem foreign to me.
Younger operators, who have grown up with joystick-controlled computer games, probably think I'm nuts, but as I'm officially a senior citizen (according to the state government) I do tend to live in a time warp.
Grabbing the front left roof support to coax my massive bulk up to the seat, I did wish for a grab handle, but at least the rounded support was a help in persuading my belly to follow my legs up to the seat, which is 915 mm off the ground.
The step up had an effective non-skid surface.
Once settled in the seat I could adjust the lumbar support and was set for a couple of hours of fun testing this next gen truck.
With the steering column set at the right tilt angle the driving position was excellent and combined with the seat lumbar support this truck was one of the most comfortable I have ever driven.
The "starting" procedure seemed a bit of a rigmarole to me but in everyday use would soon be the norm.
The ignition key is turned on and the control panel lights up.
After clipping on the seat belt the brake pedal is depressed hard until a figure of 100 per cent shows on the panel.
Forward or reverse can then be selected and the fun begins.
The accelerator pedal does need a  bit of a push to get the truck rolling, so, for operators used to driving IC trucks with their natural "creep" through the torque converter, this can seem a pain until the truck has been driven for a while.
At least there's no need to release a parking brake and the precise AC control allows the truck to be slowly inched in forward or reverse.
Unladen, the torque of the twin traction motors quickly becomes apparent.
In one quiet corner of Crown's Sydney warehouse, I was able to crank the truck up to full speed and the wind in my hair made me think I was on the open road in a convertible.  And a quiet one too as even at full speed there's just a slight whine, similar to that of the newer AC suburban trains in Sydney.
Acceleration is also better damned good. In quiet times between shifts I reckon operators will have a lot of fun with this truck, though I just couldn't induce any wheel spin. Despite the cushion tyres the ride over joins in the concrete warehouse floor didn't come through the operator's seat and the short wheelbase didn't create much pitching motion.
Picking up a 1300kgpallet full of engine oil the torque of the lift motor quickly raised the load to the required stack and even on full reach height the truck was stable.
When the pallet was raised to just above eye height for stacking, the vision through the mast and raise/lower chain was excellent and at all times I could clearly see where the pallet base was in relation to the stack, in this case just two beams that required precise positioning of the pallet to lock it in place.
Acceleration from a standstill was a little slower than unladen though a pallet on the fork tynes does detract from that open road feeling. Even with this load aboard the ride quality didn't deteriorate and the truck felt stable with the pallet about 150 mm off the ground.
The horn had a note of urgency that clearly warned others of my presence.
The final word
Crown has done an excellent job of creating the next generation of battery forklift.
The FC 5200 is beautifully engineered and finished and should stand up well to the most ham fisted of operators.
The seat is incredibly supportive and operators should never have any aches after a full shift.
The controls are instantly at hand and quickly become second nature as they should in any well designed truck.
I see the next stage of development being hydrogen fuel cells that could extend the battery charge, reducing downtime.
For indoor work, there'd be little need to opt for an IC truck unless the truck had to be driven frequently up and down ramps laden, which of course is the advantage of an IC truck with its much greater torque relative to load capacity.
For more on the FC 5200 Series call Crown Customer Support on 1300 072 572
CROWN FC 5200 SERIES SPECS
FC 521518TT - 7010

Maximum load:
1,800kg
Load centre:
500mm
Maximum lift height:
3,200mm
Free lift:
140mm
Fork length:
990mm
Lifting speed (laden/unladen):
0.57/0.58m/s
Lowering speed:
0.46m/s
Minimum turning radius:
1,690mm
Wheelbase:
1,260mm
Overall length:
1,990mm to fork face
Overall width:
1,115mm front/1,110mm rear
Ground clearance:
122mm at centre of wheelbase
Tyres (load/traction):
533 x 178 x 381mm cusion (2)
Tyres (rear):
405 x 152 x 267mm cushion (2)
Travel speed (laden/unladen):
17.7/19.7km/h
Service weight (excl. battery):
3,282kg
Battery voltage:
48v
Battery capacity:
690amp/hrs (5 hours)
Traction motor (60 minutes):
2 x 7.9kW
Lift motor:
1 x 11.4kW
Subscribe to our newsletter
Sign up to receive the TradePlant e-newsletter, digital magazine and other offers we choose to share with you straight to your inbox
Follow our updates by liking us on Facebook.