Review: NDC automated guided vehicles
---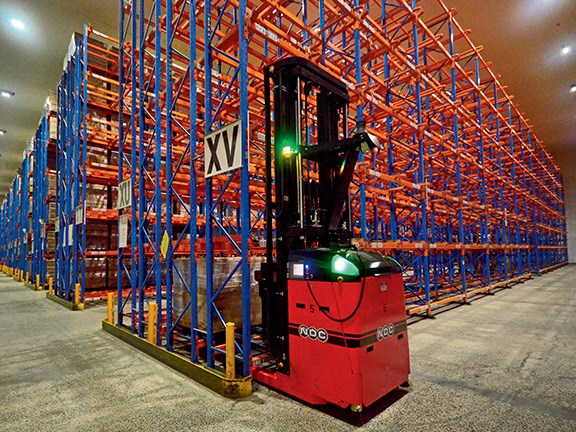 The NDC AGV picking a pallet.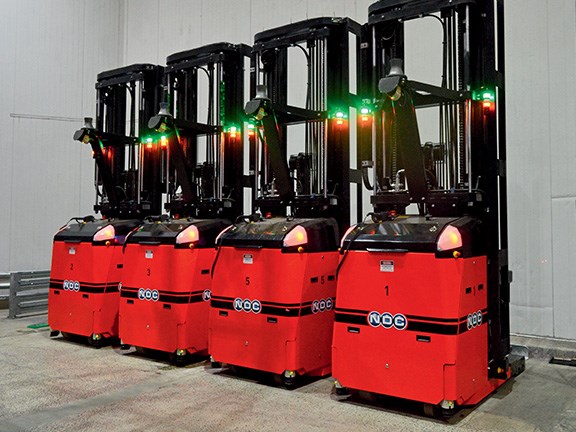 Charging and awaiting instruction - AGVs at Oxford Cold Storage.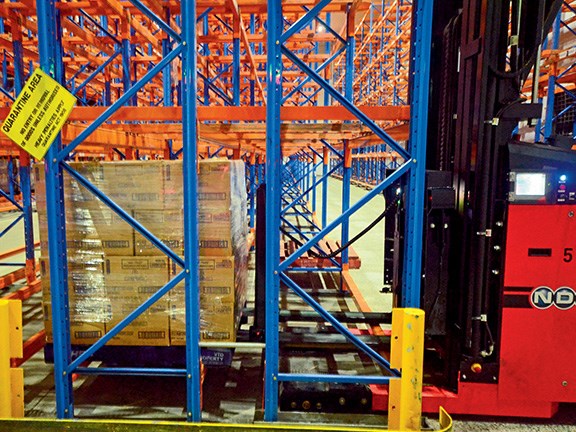 The AGV reaching to pick a pallet two deep.

With intra-logistics on almost all industry lips, there's no better time to get acquainted with the NDC automated guided vehicles at Oxford Cold Storage.


It's a cold morning as I visit the family-owned business, Oxford Cold Storage, in Melbourne's industrial west. In fact, inside the warehouse where I'm standing it's minus 20 degrees celsius. Next to me is a technician from NDC.
He's been on site for the three months installing and setting up five new automated guided vehicles as part of a gutsy, innovative logistical overhaul. He says I've got it easy: the fans are off. Usually the wind chill makes it a lot worse.
We're kitted out as though on an expedition to the South Pole, except for my hands, as my fingers are required to operate the camera. Surely I'm courting frostbite. I last about 10 minutes in the super-chilled freezer before I make my apologies.
"I'm just going outside," I tell my hosts. "And I may be some time."
NDC Automoated Guided Vehicles
For Oxford Cold Storage director Paul Fleiszig and his brother, chief information officer Mark Fleiszig, this is phase one of a project they've been working towards for a decade.
"We looked all round the world for this sort of stuff," Paul says. "There was nothing in America and the Europeans didn't want to come to Australia. NDC are really the only ones in the country who do this sort of thing."
NDC has recently been acquired by the Belgium-headquartered Dematic, which specialises in materials handling and automated logistics. The decision to trial AGVs stemmed from the reality of constant cost pressures.
With customers such as Coles and Woolworths dropping prices for their consumers, flow-on austerity down the chain means tighter margins for 3PL companies like Oxford Cold Storage. With their eyes always on the future, the Fleiszig bothers realised savings would have to be long-term.
AGVs start to become attractive once you recognise that savings come from more than just eliminating wages for forklift drivers. There are efficiency gains. You can operate the AGVs around the clock. You can run them at night with the lights out, saving power.
By eliminating humans from the warehouse environment, you drastically enhance your occupational health and safety. And eliminating humans also means eliminating human error, so in theory your damage bill to racking and equipment will plummet.
With 175,000 pallets, a million cubic metres of storage, and a workforce of 400-500, Oxford Cold Storage plans to roll out AGVs in stages, with the aim of eventually using them to handle 90 per cent of their freight.
But for now, it's baby steps. The five AGVs currently being tested will replace four manual forklifts and operate in a 7000-pallet fridge. Paul says moving to AGVs doesn't mean sacrificing the problem-solving abilities of human operators: "We're hoping to replicate the flexibility we have now with the manual warehouse with automation."
The set-up
There's something quite different with what Oxford Cold Storage is doing with its implementation of AGVs. Instead of building a fully automated warehouse – which might cost you in the ballpark of $100 million – they are putting AGVs into an existing warehouse. With that comes a few challenges. Every inch of the work space needs to be surveyed, mapped and digitised.
The type of AGVs being used here work by laser-guidance. A laser scanner on the top of the AGV measures angles and distances to reflectors mounted on the walls and on the racking.
The vehicle then triangulates where it is in the warehouse and moves to its programmed position accordingly, with an accuracy of +/- 5.0mm.
There are strict requirements for the cleanliness and condition of the floors and racking. The AGVs will transport standard pallets of 1165mm x 1165mm, with a maximum pallet weight (including pallet) of 1300kg. The pallets will need to be undamaged and free of any protruding nails, rubbish and overhang, so as not to confuse the AGV sensors.
To check tolerances and streamline the operation, a production line system will be implemented, where pallets will be off-loaded from the truck by manual forklift, then taken to a conveyor to be scanned and profiled. The variability of stock will present some added complications.
"Being a 3PL we have little control over what we receive," Paul explains.
"We just have to deal with it. And the way we deal with it now in a manual operation we will have to adapt to dealing with using the AGVs. It's the exceptions that kill these things." 
Once accepted, the pallets are labelled – they go to the main chamber, where the AGVs pick them and take them to the racking. As expected, programming the AGVs to do what you want them to do is one of the biggest tasks.
Oxford Cold Storage is different in that it runs its own warehouse management software, rather than a third party system. So, establishing clear lines of communications between the Oxford Cold Storage WMS and the AGVs' software has been an essential part of getting the whole system running.
The idea is to drive the systems through the in-house WMS only, to maintain consistency and avoid having to re-train operators on using new software.
"We interface with the AGV systems," Mark says. "The conveyor system interfaces with the AGV system, then you've got our WMS that interfaces with both systems."
It sounds complicated, but Mark says that from a programming side, adding the AGV system is just like adding another EDI, which is done all the time.
Introducing the robot
There's something a bit otherworldly about entering the super-chilled warehouse, home of the futuristic AGVs. It's like you've landed the frozen planet of Hoth and are about to inspect the new acquisitions of the Rebel Alliance.
The five AGVs stand in an orderly line upon their chargers, their laser scanners obediently spinning like air traffic control radars. The model is called the HR-1300-94 SSRF, and they are designed specifically for the requirements of this warehouse.
They are big machines: 3825mm high and 2560mm long, and weighing a massive 5800kgs each. With big size comes big capabilities. They can lift to more than nine metres.
There are three AC motors: drive, steer and lift. As you'd expect, the AC drives convert DC power from the battery to three-phase AC power. The AGV controller, the CVC600, controls all major functionality.
The batteries are special purpose LED gel, capable of receiving a high current charge and sealed for life. The vehicle will take itself to its charger when it needs to.
The charger consists of a charge plate on the floor, where it will connect with the vehicle-mounted charge shoe. There is a manual control device on every AGV, allowing it to be taken out of service for maintenance, or whenever manual operation may be required.
The operator control panel is a touch screen that provides information such as battery status, navigation and position status, fault identification, speed settings. It is not used to program the moving and tasks of the AGV.
Get to work
The NDC technician gives a demonstration of a simple task. Standing well back, we watch as the AGV glides out of its charging bay and makes a confident turn towards the racking.
There is a pallet two-deep in the lowest shelf of racking, which the AGV is programmed to pick up. It sets itself up perfectly in position and the tines extend out to lift the freight-laden pallet. We watch as the tines then tilt back slightly to even out the lift.
It sounds simple, but even this function requires an in-built algorithm that uses the weight of the pallet to calculate the amount of tilt required to bring the pallet level. It's these small things you need to think about.
The AGV extracts the pallet with mere millimetres to spare. It's impressive. It then reverses out of the racking and continues along the aisle to the assigned spot, where it turns perfectly and aligns itself with the racking.
The lift to the highest shelf is performed smoothly, and once again the AGV somehow positions the pallet perfectly in place on the racking.
At that height, it would probably take me a few attempts – back and forth, side-shift here and there – to get that placement exactly right while driving a manual forklift. But with the AGV, it's accomplished first time, every time. Again, it's impressive stuff.
After completing its lift, the AGV begins to make its way back to its charger. I deliberately stand in its way to test out its important collision avoidance scanners. It's here where you want to have confidence.
Well, it stopped. But it was close! Millimetres from my foot, in fact. I'd like to see a bit more of a safety buffer built in, personally.
For now, I'll continue to give them a wide berth. But, in fairness, the point of introducing AGVs is to get people out of the warehouse, so in normal operation there shouldn't be people standing in their way.
The bottom line
It's too soon to tell whether introducing AGVs at Oxford Cold Storage can be called a raging success, for the simple fact that the system is not yet live. But you would assume astute businessmen such as Paul and Mark Fleiszig wouldn't make such an investment if they weren't sure they were onto a good thing.
The challenge is that you're essentially dealing with robots that don't have common sense, so the set-up phase is likely to be long and painstaking, followed by an inevitable period of troubleshooting. Nonetheless, Mark says he's hoping their investment will pay off within three years.
Once up and running, the five AGVs in this warehouse will move around 500 pallets per day in a single shift operation, eventually increasing to 4000 pallets in a 24 hour period. Big numbers, big expectations.
By stress testing the system in an isolated environment that won't cause disruptions to the usual business's usual operations, they hope to learn exactly what AGVs are capable of, and what the future holds for automated logistic solutions. One thing is for sure, it's an exciting time.
Subscribe to our newsletter
Sign up to receive the TradePlant e-newsletter, digital magazine and other offers we choose to share with you straight to your inbox
Follow our updates by liking us on Facebook.