Review: Crown SC6000 electric forklift
---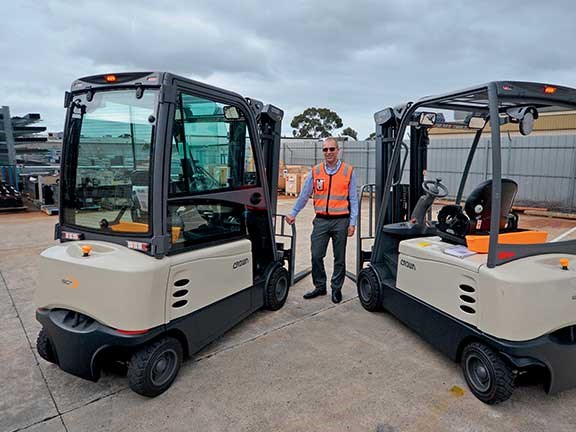 Crown's Nigel Tunnell-Jones between SC6000 sister ships, the hard cabin and the partial cabin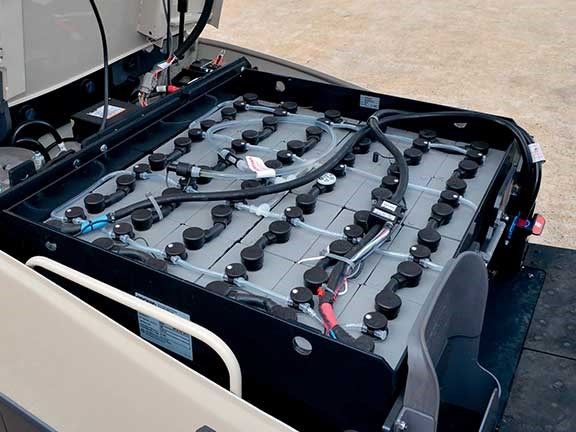 Flip the lip to get to the battery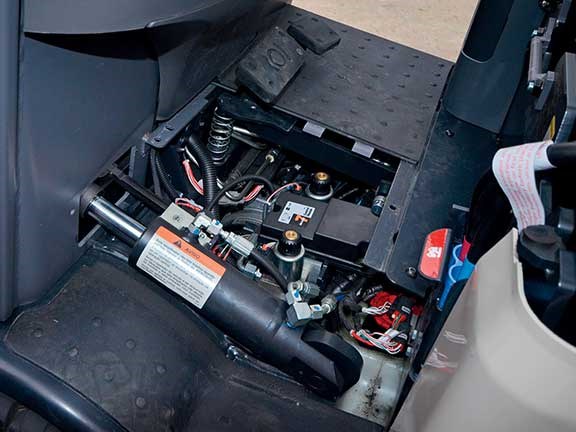 Inner workings of the brakes and mast tilt mechanics of the SC6000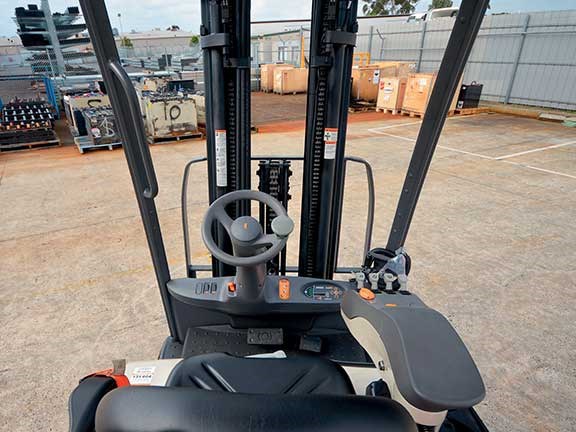 SC6000 view from the 'partial cabin'

The Crown SC6000 Battery Electric forklift is a machine that looks to the future.


Bigger doesn't always mean better, but it can sometimes have its advantages. I'm at the Melbourne branch of a big player – Crown forklifts – to have a look at a small forklift.
Sales general manager Jeff Marshall and communications manager Nigel Tunnell-Jones join me in gazing across the swath of forklifts sitting patiently in neat rows, awaiting their call to action.
Marshall sweeps his arm metaphorically across the country and makes a good point.
"We've got 387 service vans in Australia, all with a GPS tracker," he says. "That means if one develops a fault we can send the closest service technician and fix the problem in very quick time."
It's an important job. Crown has a rental fleet of 18,000 to monitor, and has just introduced a new model, the SC6000. It's a battery-electric truck that comes in a 1.6-, 1.8- and 2.0-tonne models. Today I'm test-driving the two-tonne version.
Four-paw boost
The SC6000 has a three-wheel version, but the four-wheeler I'm looking at claims to offer the performance of a three-wheeler, with better stability and the ability to get a visual on what direction your rear wheels are facing.
For those taking notes, the four-wheel version is called the SCF6000, the acronym being 'Sit-down Counterbalance Four-Wheel'. You can probably work out what the three-wheel version is called.
A feature I'm keen to check out is the fully-enclosed 'hard cabin' option, so Crown have provided me with two trucks to compare.
We'll start with the standard 'partial cabin' truck, which you might know as a regular forklift.
It's a smooth-looking machine. The design features sleek curves, both on the guard and the forkface. It comes in any colour as long as it's beige.
Crown's trademark hue wouldn't be my first choice from a safety point of view, as it has a danger of blending into its surroundings, but it's also instantly recognisable. In a competitive race where companies are constantly matching each other's innovations and technological advances, any marketable edge is a good one.
To illustrate my point, some of the most saleable features of the SC6000 are hardly exclusive to Crown.
The impossibly tight turning circle; the twin AC motors; the toggle controls rather than clunky levers; the improvement on dampening when lifting through the mast stages; the start-up sequence – designed with safety in mind, but which gives operators the shits because they can't start the damn thing, are all ticked off.
That's not a criticism at all. These are all essential, great innovations, and they are executed with precision on this machine.
The turning circle is so tight on this truck that it's almost unnerving. Both motors receive power even on the tightest turns, which means you don't get the laboured feel you might find on older IC machines.
As I've seen on other forklifts, the front wheels turn a different direction to each other when at full lock, and the forklift reaches a point in the turn where you almost feel like a double-jointed circus performer escaping from a straightjacket.
After much deliberation, I've decided I'm a fan of the mini-lever control system, or whatever the correct term is (Crown calls them 'fingertip controls').
The placement of the four controls, plus the forward/neutral/reverse switch, is well thought-out and requires barely any movement. For some reason I always imagine I've got a bionic arm when I use this kind of system.
The armrest is adjustable, as you'd expect. One thing the armrest does stop you doing, however, is jumping in from the right hand side.
I'm used to constantly getting on and off a forklift from either side, but with this set-up it's a left-side only world. Is this a safety requirement? I couldn't tell you, but I did find it frustrating.
The seat doesn't look fancy, but I was impressed by the firm support provided and the easy adjustment that could be made to accommodate my featherweight. I did wonder, though, how a larger operator would find getting into the hot seat.
As someone who has suffered back pain from hours on a forklift, I found the adjustable lumbar support as welcoming as a massage from a nubile Swedish backpacker. (Hey, you take what you can get in this game.)
Drive test
I'm driving outside today, but really this 'partial cabin' version is designed for indoor warehousing or fair-weather outdoors use.
You wouldn't want heavy rain getting into the electronics housed in the rear. The hard cabin eliminates this problem of course but more about that later.
I'm gradually getting used to the feel of modern battery electrics. It's such a different sensation to the heavy, groaning head of steam that an IC machine produces.
The SC6000 glides smoothly across the ground and the regenerative braking brings you to a halt swiftly and consistently.
One of the best things I found was the precision you can get with both inching and lifting.
IC workhorses are usually a case of revving the gas then slamming the brake, and repeat, to position your tines.
With the SC6000 you can be as delicate as you like, simply by varying the pressure you apply to the fingertip controls or the accelerator. It's inch perfect, literally.
It takes a little getting used to, and you don't want to be too heavy with your touch, because these levers are very responsive. But after a few lifts you'll be a precision master.
As far as visibility goes, I could only rate the view forward from the cab as fair. Behind though, the low counterweight means an unimpeded view, as well as a low centre of gravity for the machine, increasing its lifting capacity. (This one goes to 4.8m, but you can opt for a model that goes to a staggering 7.4m).
For safety's sake, the forklift doesn't let you lift beyond the first stage of the mast if your tines are tilted forward too much. This is so you don't inadvertently upset the load-centre to an unrecoverable degree (otherwise known as tipping the thing over).
Speaking of load centre, the SC6000 boasts one of 600mm, which is impressive for a 2000kg machine.
The automatic dampening through the mast stages means you don't have to slow down – you can give it everything and the machine will smooth the transitions for you. Nice job.
But for my mind, the standout feature from a driver and safety point of view is the automatic, electrically-released park brake.
It sounds simple, but rarely have I seen it executed so well. For a start, the park brake actually holds the machine in place.
You might think this would be a formality, but I've driven machines that have all the good intentions in the world but would still drift slowly back while under the alleged command of a brake.
It's also great to be able to jump out of the seat without needing to pull a brake on first, and having full confidence that the machine will still be where you left it when you come back.
As far as power goes, there is plenty of torque, especially for a warehouse situation, and it gets up to speed with unexpected swiftness. You can really get things done on this thing.
Technical wizardry
Like most new forklifts, the SC6000 has a digital display within the cab. The Crown version is called the Access 123.
You can use this to dial up preferences for speed and performance, plus it can be remotely operated from a laptop in the manager's office, then locked with a pin code. Protect your investment, people.
It also self-diagnoses problems and shows you where it hurts with individualised error codes.
I'm particularly interested in battery life and recharging, as this is the major hurdle traditionally with battery electrics. Marshall says it's designed as a two-shift application, which I think is fantastic for a 48V.
To recharge, you can either take the battery out (a relatively simple job that can be done by one person) or by hooking it up to a charging station and leaving it overnight (the more common option).
But wait, there's more. You can also option what's called a V-Force High-frequency Modular Charge.
It's a small device that allows you to 'top up' the battery while you take a lunch break, without detrimental effect to the battery – something that wouldn't have been possible five years ago.
The final word
The Crown SC6000 forklift is a machine that looks to the future. A quick glance around the warehousing industry will show you that battery-electric is becoming the norm, especially as their downsides are ironed out.
Economically, the Crown SC6000 electric forklift makes a strong case when taking into account total cost of ownership. No more gas bottles; a modern, reliable design with fewer moving parts; less servicing and fantastic dealer support.
The working relationship between the drive and steer motors is a beautiful thing, and the ultra-tight turning circle means it really dances.
It's built in the USA and it's built tough. Steel/cast iron axles, a solid chassis and steady, nested I-beam mast tick all right boxes for safety and operator confidence.
It's also fun to drive, which might sound frivolous, but let's be honest, no one wants a grumpy forklift driver. Did I mention it even has cup holders?
Final final word
I promised a few words about the hard cabin, so here they are. Downside: Noisy from vibrations. Reduced visibility (although not as much as you'd expect). Upside: Fantastic on cold, wet days. Cup holder and heater. 
Subscribe to our newsletter
Sign up to receive the TradePlant e-newsletter, digital magazine and other offers we choose to share with you straight to your inbox
Follow our updates by liking us on Facebook.