Review: Toyota 8FBE20 electric forklift
---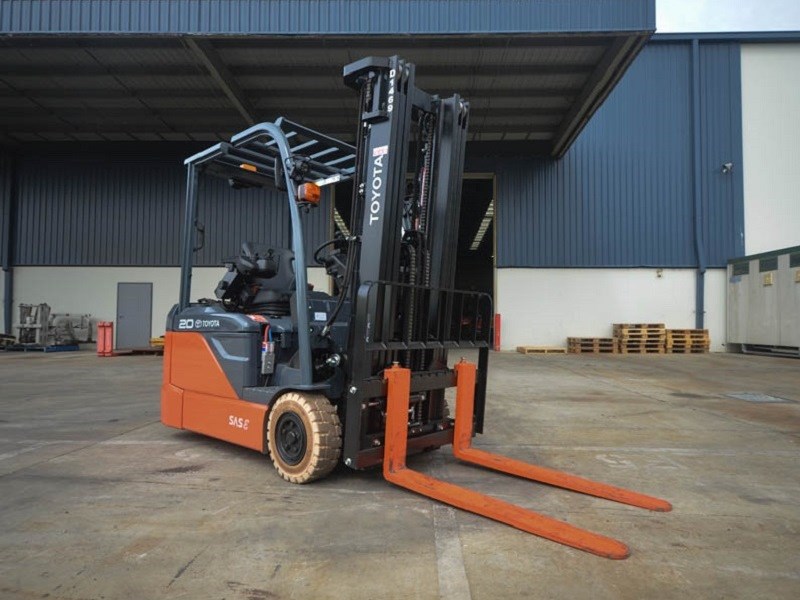 The Toyota 8FBE20 is the largest of the 8FBE series of three-wheel warehousing forklifts.

Toyota's diverse 8FBE series proves the biggest player in the forklift market is showing no signs of slowing down. RICKY FRENCH looks at the compact 8FBE20 2-tonne forklift.

They say a change is as good as a holiday.
After spending a lot of my recent time test-driving container-lifting reach stackers, diesel-powered all-terrain forklifts and fat, hefty 16-tonne beasts, seeing the Toyota 8FBE series forklifts was like a playdate with a matchbox toy.
The Toyota facility out in Dandenong, Melbourne, is a seriously big place, housing all manner of machines, big and small.
It's no surprise, of course. Toyota is the biggest player in the forklift market in Australia, and has sold over two million forklifts worldwide.
The rental fleet alone in Australia comprises over 18,000 forklifts.
Area sales manager Adem Shemshedin walks me through the formidable warehouse; actually, three warehouses.
And there, past the spray booth, the servicing workshop and the parade of new machines awaiting delivery to customers waits the inconspicuous forklift we've come to see – the 8FBE.
Toyota 8FBE20 forklift overview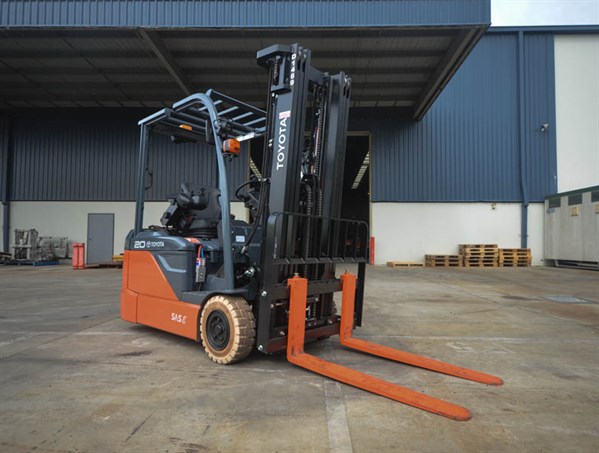 We're looking at the largest of the 8FBE series of three-wheel warehousing forklifts, the 2.0-tonne version. I say three-wheel but it's not, really.
The rear wheel, although positioned in the middle, is a dual-wheel.
But for the sake of clarity we'll call it a three-wheel configuration. More on the magic of central rear wheel(s) later.
The Toyota 8FBE forklift Series comes in 1.0, 1.3, 1.5, 1.8 and 2.0-tonne models. So there's no excuse for not getting the correct capacity for your requirements.
Even though I'm test-driving the largest model, it still looks small.
It needs to be, too. One of the machine's claims to fame is its remarkable turning circle and general manoeuvrability.
The 2.0-tonne model can operate in warehouses with a right-angle aisle width of 1790mm.
It also has a modest headguard height of 1980mm, allowing it to be driven inside most containers.
This is a machine designed to zip around even the most heavy-packed or cluttered yard or warehouse and get on with the job.
Toyota 8FBE battery life
I recently did a decent stint driving a classic gas forklift, mostly inside a storage shed with little airflow.
It didn't take long before I swore I'd never drive a smoky, noxious gas forklift again, at least not indoors.
You spend so much time travelling in reverse that you're practically swimming in emissions.
So, on paper, a battery-electric like the Toyota 8FBE forklift is perfect – quiet, no smoke, healthier for the operator and better for the environment.
Of course, there is the small issue of how long your ride will last.
The Toyota 8FBE forklift's sales brochure boasts an operating time of eight hours and 47 minutes (an improvement of an hour and a half over the previous '7' series).
However, the fine print states this is only based on the forklift being operated at 55% of the working hours, giving a true working time of less than five hours.
The thinking here is that a forklift operator spends a lot of time during their shift not actually engaged in driving the forklift.
I know personally though that I have done a solid eight hour shift in the saddle, with only a brief lunchbreak's respite.
So I would suggest it's slightly disingenuous not to be clearer about this in the sales material.
Either way, a battery-electric forklift is not going to last as long as a gas-powered forklift, be it Toyota or any other brand.
Changing a gas bottle is a pain in the neck, for sure, but it's less of a hassle than the alternatives with a battery-electric: a lengthy recharge or a swap-over.
We're getting into a much broader topic here, but the pros and cons of gas versus electric must be weighed up.
The Toyota 8FBE electric forklift features a simple but comprehensive digital display that is intuitive and easy to read.
It's here you'll get warnings if the battery fluid level is low (forgetting to water your battery is a sure way to stuff it) and also status updates on how much charge is left.
Accessing the battery is no hassle – just flip the lid and plug in to charge.
Battery exchanging is slightly more involved and can be done by using another forklift (the battery has fork pockets) or by sliding it out on a track.
Smart regeneration technology does its best to mitigate the limitations of the battery with the 8FBE, and you can select a variety of performance levels, depending on your requirements and how fast you can afford to chew through the battery.
The 8FBE20 boasts energy consumption of 4.0kWh/h.
Controls and visibility
This is a classic Toyota forklifts feel from the saddle, from the foot and switch operated handbrake, to the horn on the rear-facing handle, to that little button that no one knows about that brings your tines to level straightening up from a tilt.
You have options when it comes to choosing your preferred controls: joystick, mini-levers or standard levers.
Adem says he favours the standard levers, but I'm enjoying the mini-levers, which control lift, tilt and side-shift with minimum effort and movement.
Simply rest your arm and toggle away with fingers.
I felt like a villain in a James Bond movie, and I liked it.
The direction lever is at your fingertips, too, just in front of the other mini-levers, which I found slightly awkward.
I liked the concept, but the positioning just wasn't quite right for me.
There's a horn button on the console, bringing the total number of horns to three, with the last on the traditional real estate of the steering wheel.
Visibility is terrific from the seat, particularly when reversing, and the tips of your forks are usually in view when facing forward. Boxes ticked.
Driveability
As far as driveability goes, I was impressed with the precision you could achieve when positioning your forks to pick up a load.
The acceleration doesn't exactly blow your mind (you won't burn any rubber when attempting a quick getaway), but the drive motor responds well to subtle instruction on the pedal when manoeuvring into a tight spot.
Speaking of tight spots, this thing can really dance.
At full lock, the front inside wheel will starting turning backwards, which gives you some serious rotation.
It's not the first time I've seen this sort of technology on a battery-electric, but it always impresses me.
The dual AC motors really do offer a lot, and I had fun trying to squeeze myself amongst obstacles and get stuck, but the 8FBE always found a way out.
Another useful feature is a set of squares on the digital display that show what direction your rear wheel is facing.
You can't cheat and look behind at your rear corner wheel to check your orientation with a three-wheeler, so this is a clever piece of thinking.
Safety
I'm always amazed at the silence when you turn on a battery electric. You usually don't even know it's on.
And even though there is an audible whirring as you drive along, it's nothing compared to the roar of a gas forklift. It could be a silent killer.
To help alert people of the Toyota 8FBE's impending arrival, a prominent blue light shines down a few metres ahead of the forklift.
This alerts pedestrians either to the approach of a forklift, or to a portal to another planet. Either way, they should look up.
When tilting at height, the forklift will limit its forward tilt and slow down the speed of the backwards tilt.
Likewise, when turning with a load at height, your travelling speed will automatically be limited – all for added safety.
This is part of Toyota's System of Active Stability (if you've ever wondered what that 'SAS' insignia on the side of a Toyota forklift means, now you know).
The forklift also features a big, red emergency power shut-down button, which looks like something you might find on a nuclear power station.
Would you ever need to press this button? Well, it's there if you need it.
When operating on a slope, the anti-roll back function is activated.
The name is a bit misleading as the forklift still rolls back, but at a constant – and very slow – speed.
As with most forklifts you won't be able to do anything if the seatbelt isn't plugged in and your backside isn't plonked on the seat.
Verdict
The Toyota 8FBE electric forklift is an easy machine to like. It is compact, obedient, and a good mix of modern innovation and classic features.
Toyota has such an established foothold in the market that most people in the industry are familiar with the product.
I can see this forklift fitting right into a busy, tight warehouse where it isn't being used constantly but is on hand when you need it.
If you sort out your charging regime, you should be able to minimise downtime enough to take full advantage of all the fantastic benefits that battery-electric offers.
Operators will appreciate the quietness, smoothness of the ride, and the lack of smoke blowing out the rear end, while the white-collar contingent of the business will be drawn to the rapidly-improving efficiencies of battery-eclectic technology such as energy recovery regeneration and optional power modes.
Based on this smart update to an already popular machine, Toyota is showing no sign of falling behind the game.
Toyota 8FBE electric forklift specs
Length to fork face (mm): 2045
Overall width (mm): 1075
Mast lowered height (mm): 1970
Mast extended height (mm): 3920
Turning radius (mm): 1675
Right angle stacking asile width (mm): 2040
Total weight without battery (kg): 2485
Battery weight (kg): 690
Wheelbase (mm): 1400
Counterweight height (mm): 955
Brake (service, foot): Dry disc
Brake (parking): Foot
Tyre type: Pneumatic
Control type (drive/load handling): Transistor inverter                      
Subscribe to our newsletter
Sign up to receive the TradePlant e-newsletter, digital magazine and other offers we choose to share with you straight to your inbox
Follow our updates by liking us on Facebook.