Review: Enforcer rough terrain 2.5-tonne forklift
---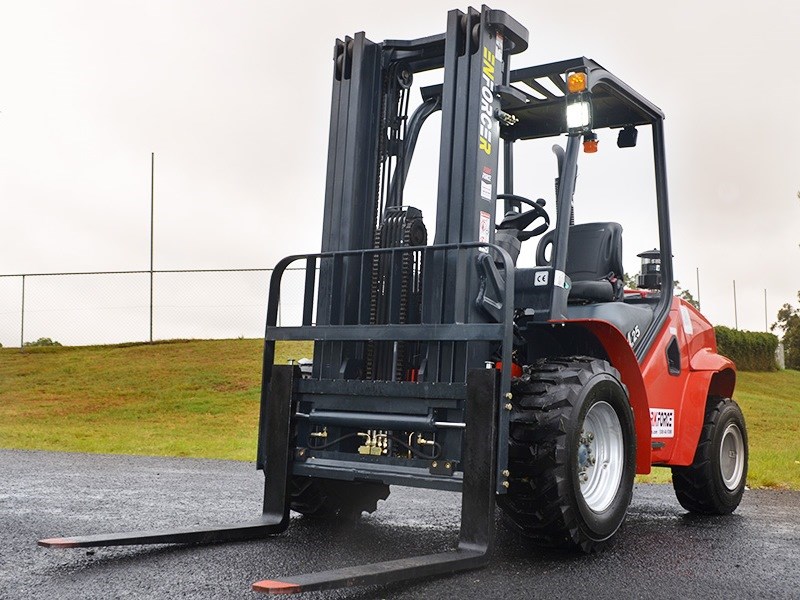 The Enforcer rough terrain looking for a lift

The Enforcer Rough Terrain 2.5-tonne forklift has all that's needed plus a nimble, high-stepping way around obstacles.

For anyone requiring a rough terrain forklift, cost versus performance requirements is a constant juggling act.
Do you really need the fully enclosed air-conditioned cab? The four-wheel drive? The high-tech start-up procedures? The hydrostatic transmission? What is essential and what simply adds to the capital cost?
The Enforcer Rough Terrain 2.5-tonne forklift forklift hopes to fill a niche in a market.
By identifying what customers need and delivering a simple, clean and familiar machine without the added extras, Forkforce offer a product at a considerably cheaper price than competitors; a product that aims to deliver exactly what is needed, and nothing more.
Enforcer Rough Terrain forklifts
Forkforce Australia has been supplying the market with Enforcer branded forklifts and materials handling equipment for 16 years.
It's privately owned and operates out of Brisbane and Melbourne.
The full range of reach stackers and general warehousing forklifts is offered, but their rough terrain, or 'Roughie' as it's known, is making claims as a standout performer.
It comes in 2.5, 3.5 and 5-tonne models and, apart from the Japanese-made Yanmar engine, is manufactured in China.
Executive general manager Allen Powell explains the thinking behind the development of their rough terrain option.
"A lot of farmers, civil engineers and builders were telling us they didn't need the benefit of a four by four, but they did need high under-clearance and limited slip diff," Powell says.
And so the rough terrain model was developed.
Enforcer rough terrain forklift overview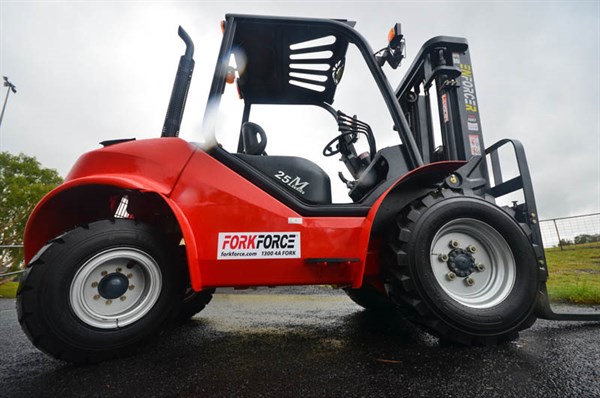 From the outside it's an assured looking forklift – by that I mean it looks like a regular forklift, albeit somewhat chunkier.
The mast rises at good speed and lowering through the stages is smooth – dampening provides a welcoming cushioning effect, with little or no jarring of the load.
You can raise and tilt at the same time, which I was impressed by, too.
The Enforcer also has the most impressive tilt angle I have ever come across: 12 degrees, meaning you'll never have an excuse for not keeping your load level.
Engine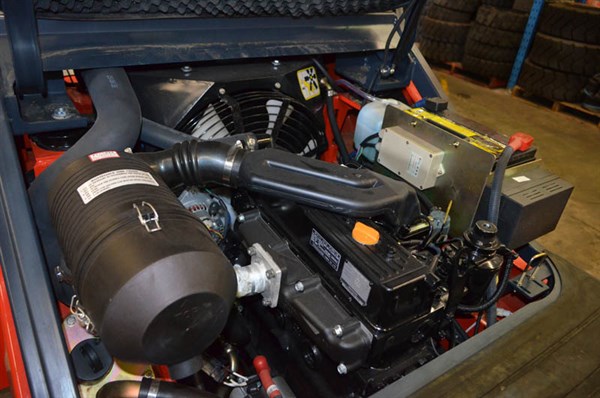 Enforcer all-terrain forklifts are powered by the highly-respected Yanmar 4TNE98 (EUIII) diesel engine.
With over 15 million engines sold since they started making them in 1933, Yanmar provides familiarity and reliability under the hood, something mechanics will surely appreciate.
The Yanmar meets all world EPA standards.
The engine itself is accessed almost too easily, under the seat. Powell had the hood popped in about two and half seconds, and a great view of the internal organs was presented.
The filters are easily accessed, and servicing is required every 250 kilometres, which is industry standard.
The lid of the bonnet is fully insulated to reduce noise and heat.
The engine on the model I drove was immaculately maintained and clean.
You can tell when a quick wipe-over has been given to an engine before the reviewer shows up, and likewise you can tell when an engine receives constant, loving care.
This one definitely fell into the latter.
Cab and controls
The handbrake and control levers are exactly where you would find them in a conventional warehousing forklift.
The pedals are exactly as you'd find on a regular forklift, with two pedal inching.
The seat itself is nothing special, and with long hours behind the wheel I could imagine discomfort creeping in to susceptible backs, but on the plus side the whole cab is floating, isolating it from the chassis.
As a result you ride over the bumps smoother than you would if you just had suspension in the seat.
The cab feels spacious and there's plenty of room for jumping in and out.  Larger operators will have no issue with space.
Visibility is good, and you get the sense you're outside amongst the work area, rather than shut off in a vehicle.
For a three-stage mast the sightlines are surprisingly good, and a quick lean out the side gives a good view of your rear wheels.
The forklift has one overhead mirror, which offers full coverage, but I'm more of a fan of two side mirrors, as per most conventional forklifts.
Traction
It sounds obvious, but the number one priority with any forklift like the Enforcer Rough Terrain forklift is that it must perform well in the situation it's designed for.
This is make or break. The nature of rough terrain means mud, even surfaces and traction challenges.
Keeping your forklift performing well is paramount for getting the job done.
The Enforcer Rough Terrain forklift ticks several boxes here.
Limited slip differential comes into its own in slippery circumstances (as the name suggests).
In fact, I found myself in one during the test drive on a rainy morning in Brisbane. Soft grass and a steep incline meant the Enforcer was in danger of losing traction on one side.
But with the slip diff coming into play, power was transferred to the 'good' side, the torque increased and the forklift powered out of trouble with ease. Box ticked.
Another handy feature is the oscillating steer axle, essential for keeping all wheels grounded when negotiating uneven ground.
Another point of difference between this machine and others is the high ground clearance – 250mm at its lowest point.
Long drop forks contribute to this, with the fork carriage held well above ground level.
Integral side shift (the whole carriage shifts rather than a bolt-on piece) means you don't lose any load centre and therefore any capacity while shifting.
Drive performance
If you're used to a hydrostatic transmission you might be surprised at the urging you need to put into the accelerator to get the thing moving.
Likewise, stopping the momentum requires a heavy foot on the brake. But you pick it up pretty fast.
I found the Enforcer Rough Terrain forklift a fun machine to drive as it's very intuitive and doesn't come with any surprises.
There was nothing that needed to be explained to me prior to jumping in the driver's seat. If you can drive a forklift, you can drive this.
The feel of the F.O.P. floating cab is certainly different, but there's no denying it's an improvement on the seat-only suspension system where you bounce round all day.
The Enforcer has a particularly impressive turning circle, and the steering is light and easy.
The raise/lower functions are smooth and accurate and the whole operation has a sturdy, reliable feel.
I kept expecting the tyres to slide hopelessly on the wet grass, but I could never get it into trouble, no matter how I tried.
Verdict
The Enforcer Rough Terrain forklift is a simple, no-nonsense forklift that pays attention to the things that matter.
You get the feeling it has been designed by people who have actually driven forklifts, rather than by computer tech-heads fresh out of engineering school who have never seen a work site in their life.
There's little to go wrong – no distractions, no gimmicks. It's a machine that responds well to a firm hand.
What it lacks in hydrostatic transmission or regenerative braking it makes up for in high ground clearance, limited slip diff, a tight turning circle and a safe, oscillating steer axle: the classic good stuff. You're giving up four wheel drive, but do you really need it?
Forkforce also offer a five-year factory-backed warrantee.
When weighing up your options for an all-terrain forklift, the weight of cost is sure to be near the top of your list.
What do you need, what's important and what can you live without?
The decision is yours.
Enforcer Rough Terrain forklift specs
Length to face of fork (mm): 2946
Overall width (mm): 1557.5
Mast lowered height (mm):  2265
Mast extended height (mm): 4175
Turning radius (outside, mm): 2783
Speed (km/h): 20
Rated capacity (kg): 2500
Self weight (kg): 4465
Load centre (mm): 500
Wheelbase (mm): 1880
Engine rated output (Kw): 42.1/2300
Engine rated torque (N.m): 186-206/1700
Engine displacement (L): 3.318
Subscribe to our newsletter
Sign up to receive the TradePlant e-newsletter, digital magazine and other offers we choose to share with you straight to your inbox
Follow our updates by liking us on Facebook.