Review: Mitsubishi Grendia LX FD160AN1 forklift
---
The Mitsubishi Grendia LX FD160AN1 will change how you see driving in open forklift cabs.
Real men drive forklifts, right? Guys that take wet seats and soggy bums in their stride when shifting loads in the rain.
Guys that can grip forklift control levers no matter how slippery they become.
Hell, after I've been driving an open forklift in the rain, I just wanna hop in my all manual and carburetted Mitsubishi Triton (my servicing mechanic reckons it's a real man's car) and take it for a long drive.
But why should forklift operators suffer during their shifts? Why shouldn't they have a bit of protection from the elements?
This is where the Mitsubishi Grendia LX FD160AN1 forklift really scores.
Mitsubishi Grendia LX FD160AN1 forklift
The Mitsubishi Grendia FD160AN1 forklift the first forklift I've driven in my 25 years of reviewing them that's available with a fully enclosed cab.
One that not only cocoons drivers from the elements but has heating, variable temperature air-con, a cute little oscillating fan for milder days, heated rear window for humid ones and front and back windscreen wipers and washers.
And a tilt adjustable steering column plus a suspension seat that can even give porkers like me real support.
Forklift drivers never had it so good.
Unlike most IC forklift trucks there are no conventional levers for fork tyne lift/lower, mast tilt and fork side shift.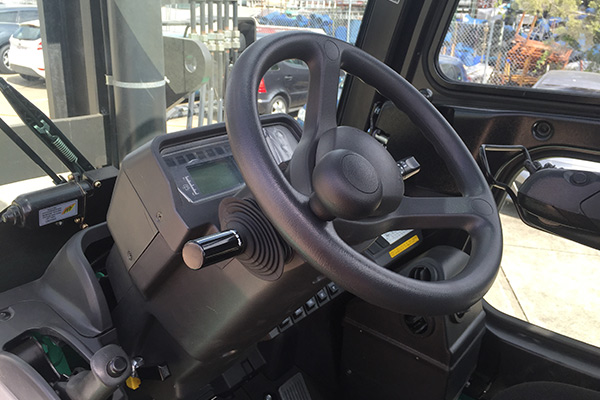 Instead are finger or thumb operated toggle switches, four in all.
The left one controls fork lift/lower, the second mast rake and the third fork side shift.
But the fourth switch controls side shift for the left type, while depressing a separate button with your thumb and flicking the fourth toggle operates side shift for the right tyne.
Total control of tyne positioning in addition to the normal controls.
Selecting gear is done by a larger toggle switch to left of the steering column.
An indicator on the compact dash shows whether you're in forward or reverse and to the left of this is the handbrake with thumb-operated release button.
Instead of a conventional black seatbelt the webbing is high-vis and long enough to get around even my vast stomach.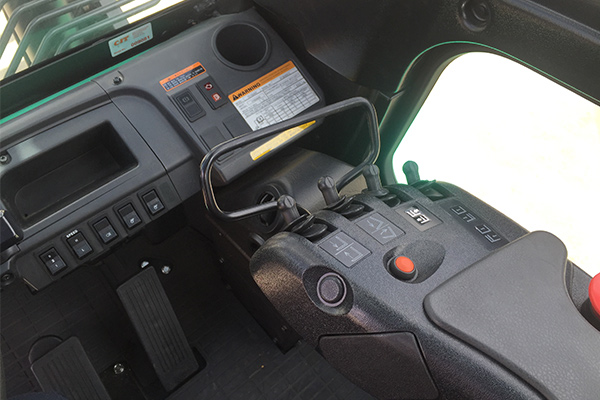 Vision over the forks is very good.
The cab is so far forward it's like driving a forward-control van but that does mean the vast counter-balance behind you has to be allowed for when turning.
The usual IC accelerator, brake and inching pedals are fitted and far enough to allow for size 13 feet without accidentally touching another pedal.
Air brakes are fitted as conventional power hydraulic simply aren't adequate for a truck of this mass.
Perkins 1204 engine
Forgetting all that comfort for a minute, the heart of the Mitsubishi FD160AN1 forklift truck is its brilliant Perkins 1204E electronically-managed diesel.
Caterpillar owns Perkins and has an arrangement with Mitsubishi to supply what is arguably the finest industrial diesel in its power and torque range.
No need for a thumping big six when you can have a twin turbo 4 cylinder unit that meets Tier 4 exhaust emission regulations for the United States, where this truck is made.
Mitsubishi claims that twin turbos are more efficient than one because under load all of the available engine exhaust gas pressure is converted into more usable combustion air.
Twins are way simpler to service than variable turbocharger vane geometry favoured by some automotive manufacturers.
Or having to fit a combination of supercharging and turbocharging to develop more torque down in the rev range.
This is way too complex for an industrial engine (and frankly any diesel in my opinion).
No mention is made in Mitsubishi's literature of the after or inter cooler but to develop the amount of torque it does relative to piston displacement the 1204E must have one of them!
This is no ordinary industrial diesel.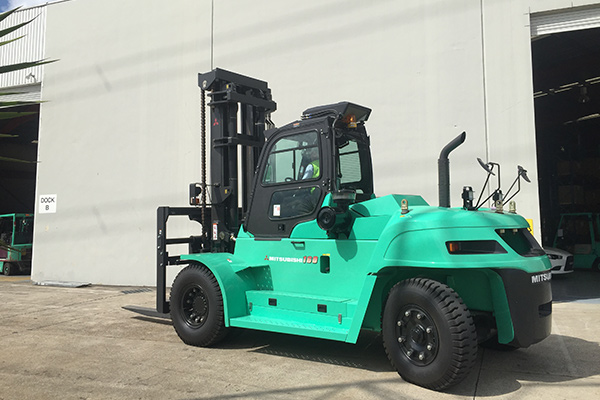 Though it has a conventional crossflow cylinder head with overhead valves operated by gear-driven pushrods, there are four valves per cylinder.
Combined with the turbocharging this gives the 1204E better "breathing" and combustion efficiency than two valves per cylinder to comply with ever-tightening emissions regulations.
The electronically controlled unit fuel injectors are a Caterpillar trait and more efficient than high pressure common-rail systems, even if they are more expensive to manufacture.
What's really impressive is the torque output and at low revs relative to piston displacement. The maximum torque of 750Nm is developed at just 1,400 revs.
To put that in perspective a mechanically injected 4.2-litre Yanmar turbo-intercooled marine diesel (okay landlubbers, you knew I couldn't resist the comparo) develops 700Nm but at 2,500 revs, well above where the 1204E develops maximum power.
Mitsubishi's S6S 5-litre straight six naturally aspirated diesel fitted to the Grendia LX FD70N truck develops 290Nm at 1,600 revs and driving through a 2-speed power shift is well mated to this 9.5-tonne truck.
Considering the Perkins engine develops 2.5 times more torque for twice the tare truck weight, it really is under-stressed. 
Unlike the bigger forklifts of the old days, this engine drives through a power shift transmission that provides three, yes three, speeds in forward or reverse.
No more struggling single speeders that rely on torque converter slip to handle heavy loads.
Servicing
Access to the engine, radiator and transmission are brilliant as expected of a Mitsubishi forklift. Removing a panel behind the cab allows fluid levels to be quickly checked and the 'little' 4.4-litre engine looks positively tiny in all that space under the cab.
A tired forklift driver could actually take a kip under the cab, there's so much space (once of course the engine and transmission has cooled).
Blow up an airbed and it's home away from home.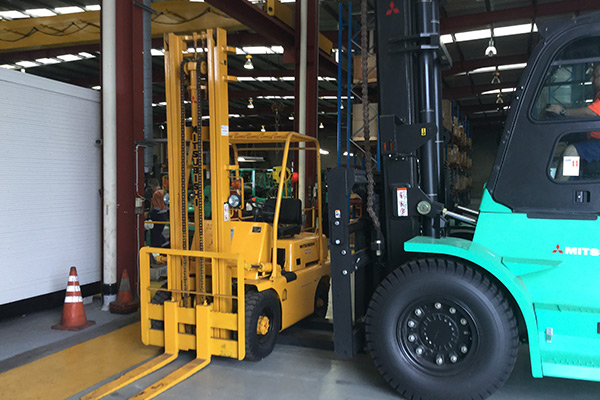 Performance
Open the left suicide (rear hinged) door, use the beefy handholds fitted, climb three steps and you're in the cab.
Slide the seat forward or back and tilt the steering column as desired and the driving position is perfect for most operators.
Slowly lengthen the seatbelt (it reacts quickly to sharp jerks), clip it in and you're ready for action.
The engine starts instantly hot or cold and doesn't blow any smoke.
The idle vibration is only slightly higher than the S6S and engine noise is well muffled by the cab.
A few minutes of warming are needed to allow oil to reach the turbocharger bearings, then with your foot firmly on the brake slip off the handbrake and engage gear.
On flat land there's no need to use the inching pedal but if you're in a hurry round a bend when obviously the hydraulics impose load on the engine the pedal can be used to maintain momentum.
On level land and under light acceleration the shift from first to second occurred at 6km/h and second to third at 13km/h.
There was hardly any hesitation or shift shock during up shifts, but riding on six pneumatic tyres (four load, two steer) the ride was quite bouncy after testing smaller trucks fitted with cushion tyres. Not unpleasant though I'm glad a suspension seat was fitted.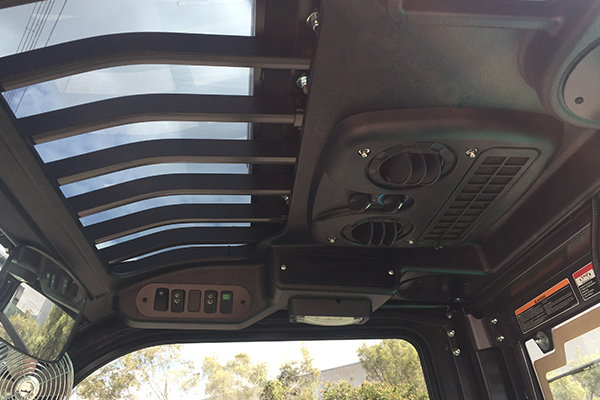 After a hard workout I recommend idling the engine for around five minutes to allow the turbochargers to spool down and prevent bearing damage from no lubrication when the engine is switched off.
Because Mitsubishi fits electric over hydraulic controls for the forks and mast these can be operated incrementally with way more precise control than a straight hydraulic system.
In fact, the precision is as good as Mitsubishi's AC-driven battery forklifts, one of the reasons I prefer these over small IC trucks.
With the tyne spacing control we were able to slide the tynes under MLA's beloved 1980 IC forklift and carefully lift it to simulate a load, albeit a small one.
And the finger toggle controls gave me far better "touch" than conventional levers, which really would have been out of place in the compact cab.
Tight turning means the long counter-balance has to be allowed for and in MLA's Wetherill Park car park I had to be constantly vigilant of not taking out the front of employees' cars.
MLA's Gary Hodge and Vlad Popovski seemed very relieved when I brought the truck back into the warehouse. I mean, what match is a Falcon to a 19 tonne forklift truck?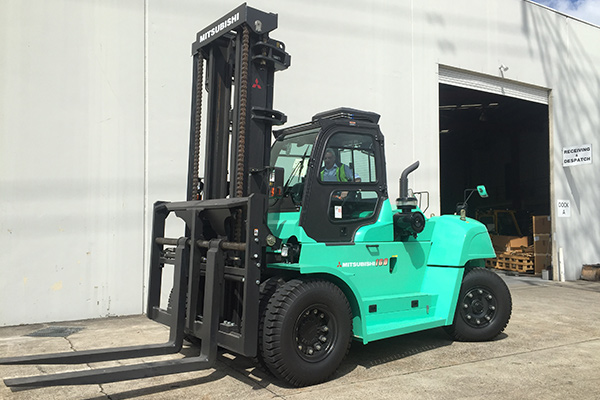 Verdict
This truck would encourage drivers of both sexes to use it.
The level of features and sophistication are not what impresses me but the way the truck does what it's designed to do sure does.
It's a dammed big truck to drive but the combination of ergonomically-designed controls with precise action, well matched engine and gearing and oh so effective air brakes set it well apart from comparable trucks made only a few years ago.
During the testing session when it was raining I sure was glad of the cab.
Mitsubishi Grendia LX FD160AN1 specs
Make/Model: Mitsubishi FD160AN1
Max load: 16,000kg
Light truck weight: 18,940kg
Load centre: 600mm
Max fork height: 3,000mm
Free fork height: 92mm
Fork lifting speed: 320 unladen/340 laden mm/second
Fork lowering speed: 440/410 mm/second
Mast tilt angles: 15 degrees forward, 12 backwards
Max truck travelling speeds: 31.5 km/h unladen, 24.5 laden
Max laden gradeability: 27.5%
Turning radius: 4,815mm
Wheelbase: 3,300mm
Overall length: 5,055mm to fork face
Overall width: 2,635mm
Overall height: 3,530mm with lowered mast
Overall height: 4,927mm with extended mast
Ground clearance: 300mm
Tyres: 12.00 – 20 – 20PR front and rear
Engine: Perkins 1204E
Piston Displacement: 4,400cc
Max power: 129kW at 2,200rpm
Max torque: 750NM at 1,400rpm
Fuel type: Low sulphur diesel
Fuel tank capacity: 246 litres
Subscribe to our newsletter
Sign up to receive the TradePlant e-newsletter, digital magazine and other offers we choose to share with you straight to your inbox
Follow our updates by liking us on Facebook.