Review: Komatsu FB25-12 electric forklift
---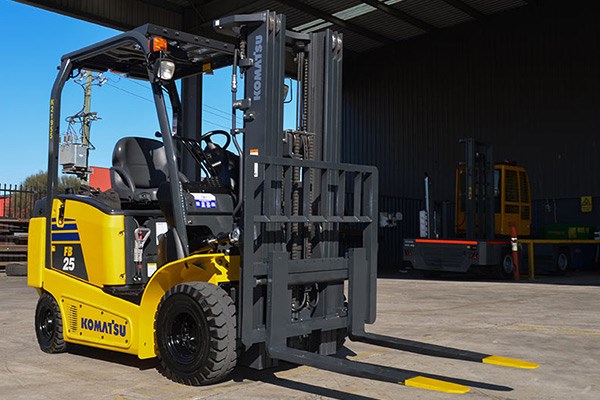 The Komatsu FB25-12 is quiet, smooth and dependable.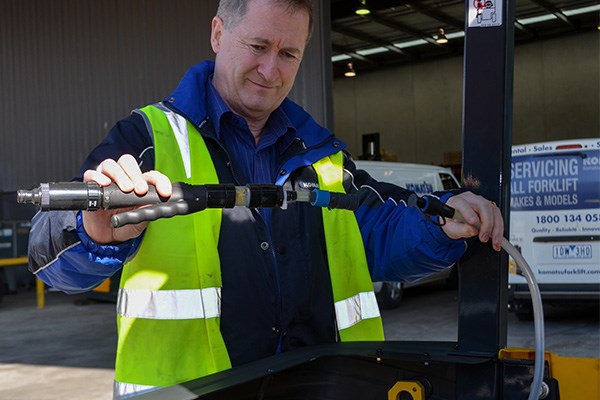 Komatsu's Allan Frith demonstrates watering the battery of the FB25-12.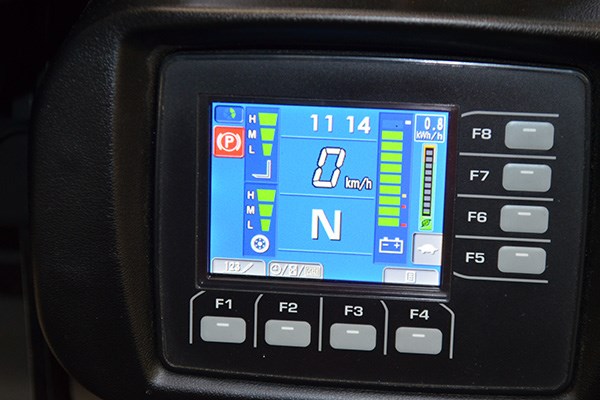 Komatsu's Komtrax system provides on-board self-diagonise at the touch of a button.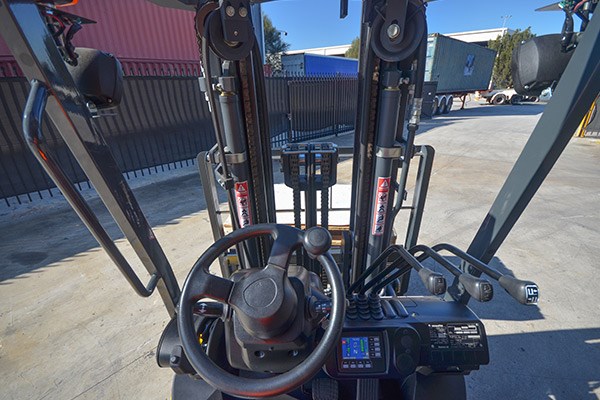 Operator's view from the Komatsu FB25-12.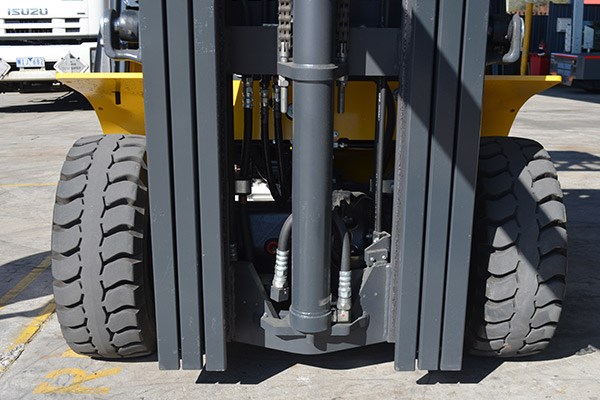 Structure strength is a big selling point of the Komatsu FB25-12.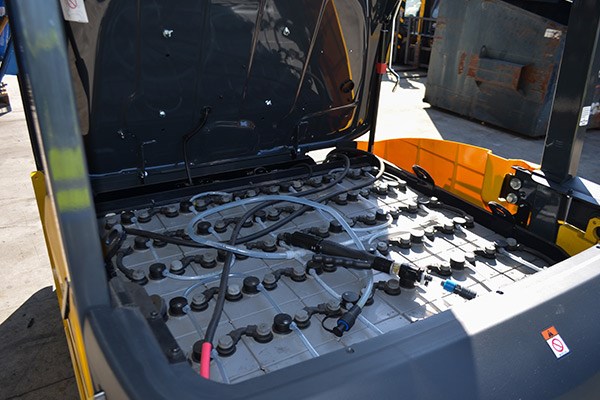 The battery system of the Komatsu FB25-12.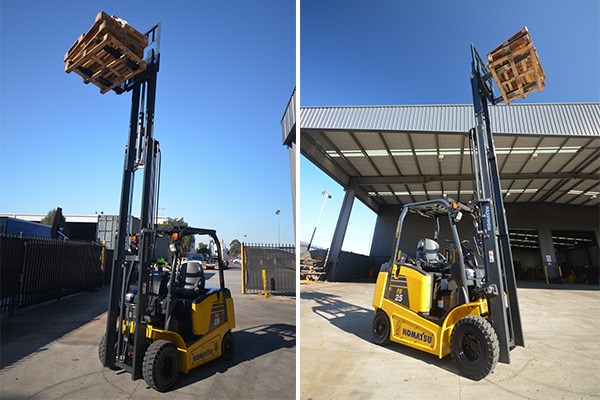 The tough Komatsu FB25-12.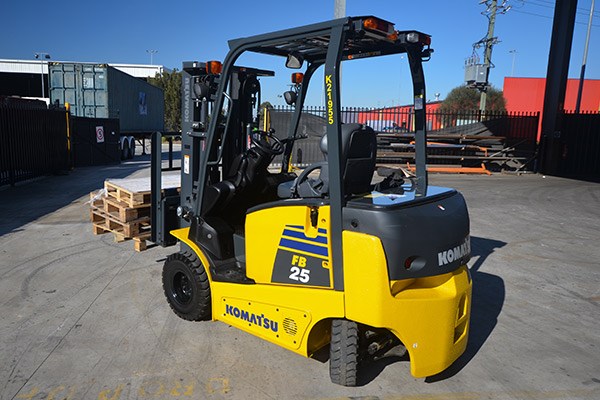 The Komatsu FB25-12 runs rings round the yard.

Komatsu's FB25-12 has an electric motor set-up that challenges out dated assumptions
It may surprise people to learn just how long Komatsu forklifts have been kicking round Australian workplaces.
Victorian sales manager Allan Frith gives me a quick rundown of the family tree, which throws up a few nuggets of information: including that Komatsu's former owners include none other than Rupert Murdoch.
This was back in the 1970s when the company was known as TNT Komatsu.
There was no bigger name in the game.
From the mid-1990s mergers, acquisitions, sell-offs and rebranding complicated the bloodline a little. 
Dutch mail company KPN bought TNT after it was broken up.
The forklift division was sold to Sumitomo, who rebranded it as Red Australia. Along the way Komatsu and Linde bought stake holdings in each other, too.
It may be no accident that the two brands are not too dissimilar with some of their technology.
Engine
There's no doubt the world is changing its power consumption habits across nearly every industry.
Fossil fuel is on the way out, electric and renewable on the way in.
While heavy duty machines are set to be reliant on diesel and gas for some time yet, smaller, counterbalance forklifts are throwing off their gas backpacks with gusto and embracing the every-improving battery-electric world.
For machines like the FB25, it's about shedding the stigma about the battery-powered forklifts of yesteryear: short running time, frequent recharging, reduced performance, a dislike for the trials of the outdoors.
As Frith explains, convincing the public of the strength of Komatsu's battery-electric innovations is a challenge they're relishing.
"We're hoping this will be the machine to take over from the diesel forklift world. We believe it will outrun and outlast anything on the market," he says.
Let's see how it stacks up.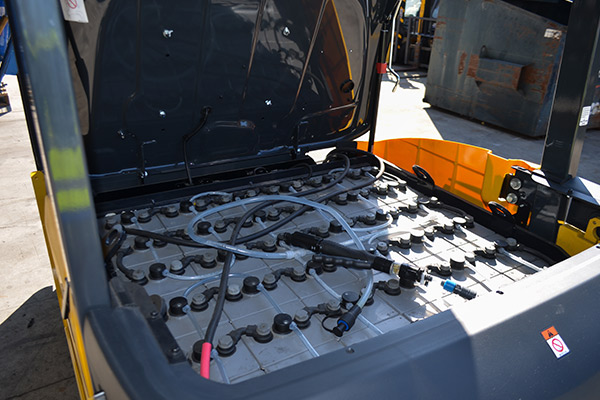 Full AC technology
A big boast the FB25-12 makes is its full alternating current (AC) operating system, via the AC synchronous motor.
While the battery is still obviously DC, it's what happens next where the innovations lie.
In simple terms, after power leaves the battery it goes through a converter and gets converted to AC, meaning the whole operating system — the drive motor and the hydraulic pump motor — is AC.
It's undoubtedly an improvement on some other machines that run a converter on top of the motor, resulting in only the drive motor being AC.
Komatsu claims a 20 per cent improvement in engine efficiency from their previous model. Frith says the main issue with battery-electrics is drumming it into the operators' heads to water the battery.
"Water is the fuel for the battery," he says. "If you don't water your battery it's dead."
I decide not to confess to Frith the reason behind the sad demise of my favourite pot plant as we head out to the yard for the test drive.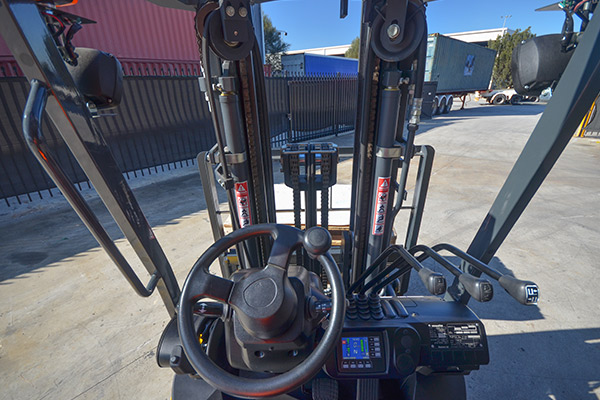 Cab and Controls
The ability to lift, side-shift and tilt all at the same time is a novelty at first, but with practice could become a time-saving skill for drivers.
Regenerative braking means less tap-dancing on the pedals, but for me the highlight was the ability to throw the forklift from forwards to reverse (and vice versa) whilst travelling at speed, without fear of killing the machine, as would happen eventually with an internal combustion engine.
The FB25-12 has conventional brakes, rather than wet-disc, so brakes will still need to be serviced.
It could be a calculated decision though. This machine appears to be targeting the middle ground of the market and with wet-disc they might just price themselves out of that market.
The view from the cab is good, the ride smooth and safe.
But I'm driving it on a beautiful, sunny afternoon, and I want how this battery-electric would handle in more adverse conditions.
Allan Frith is glad I asked.
"These machines have a military waterproof rating: IPx4," he assures me.
"It will work in all levels of rain, hail, storm, whatever.
"It is also dust-proof."
Again, Komatsu is working hard to dispel the myth that electric forklifts are by nature fragile and happiest under the roof of a clean warehouse.
I can't test all these claims in one sunny afternoon, but if Komatsu's claims are true the driver of the FB25-12 will pack up and go home before the forklift does.
Keeping track
Like most brands, Komatsu offers a fleet-management tracking system with the FB25-12.
It's called Komtrax, and it's a remote motoring system designed to keep a close eye on all aspects of your machine's activities, including location, working hours, load-frequency, maintenance requirements; pretty much everything an operations manager needs to micro-manage to their heart's content.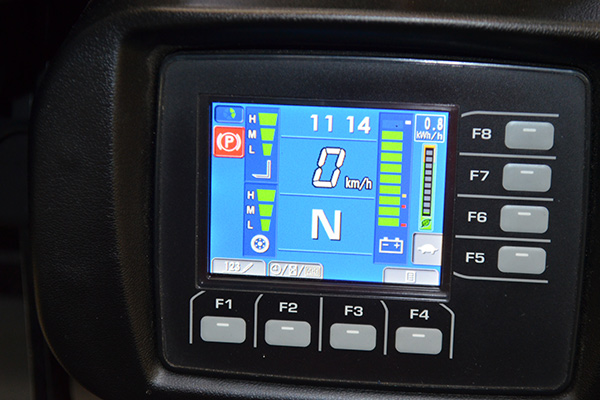 Performance
The litmus test for me when testing forklifts has become whether or not I can turn the damn thing on.
Fortunately the FB25-12 gives me no trouble, save for a warning from Frith not to touch the accelerator while turning the key, lest I confuse the machine as it performs its mandatory self-diagnosis.
After getting nothing from the key turn I was about to start pulling out my hair, until I realised the machine was actually up and running.
Its quietness is a true blessing; I could listen to its calm, futuristic whir all day.
And all-day is definitely on the cards, with battery charge lasting well over a full shift.
Controls are all exactly where you'd expect them to be, which is reassuring.
I take it for a spin and realise the speed limiter has been set to 'granny'. It gives me a chance to check out the much-touted digital monitor, which is the FB25-12's one-stop shop for set-up parameters and diagnosis.
The great thing is this feature — apart from the fact it's big, bright, and easy to read — is that you don't have to plug in a laptop to communicate your wishes.
Everything can be adjusted via the screen.
You can choose your own adventure when it comes to speed, sensitivity of acceleration, how fast it stops, whether or not you want it to roll with gravity when in neutral, as well as keep an eye on all those little things that drivers never keep an eye on (load handling hours, actual working hours, carbon emissions accumulated, travel distance…)
As it happens, I'm not a fan of how this particular forklift is set up.
It's programmed to roll with gravity when in gear (forward or reverse) if you take your foot off the accelerator.
But as Frith points out, it can be easily adjusted, and there may be certain applications where the rolling function is desirable, so the versatility becomes a virtue.
There's always a balance when it comes to versatility of adjustments.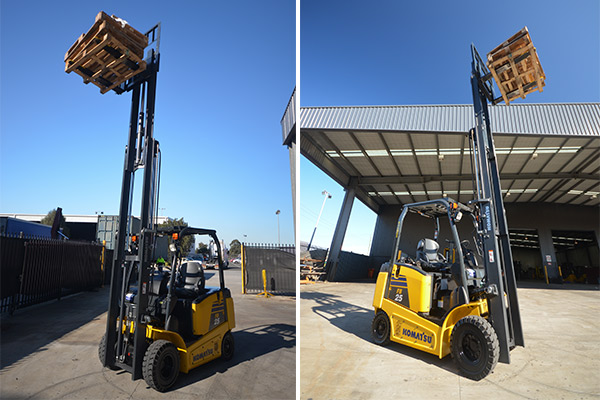 There's a danger that having to explain all the options to new drivers could become tiresome and eat into productivity time.
Some may argue why drivers need so many options, but this system is far from the most complicated one I've encountered; I found it intuitive and user-friendly.
The actual drive and lift testing I did proved unexciting, which I consider a good thing.
A forklift is a dangerous weapon and the fewer surprises a new driver gets the better.
While it might not be the most flashy forklift on the market, it ticks the important boxes like structural integrity (you should check out the thickness of the guard and solidness of the chassis), toughness (more on this to come), and ease of operation. By ease I mean comfort, both for machine and driver.
Dampener valves cushion the lift through the mast stages, meaning little jolt and noise.
Verdict
The Komatsu FB25-12 bridges the old world with the new.
For the driver, its familiarity will be reassuring. It looks and behaves like a forklift.
You can take it anywhere and treat it mean, but underneath its standard-looking exterior lies a very smart machine.
Electronically this forklift has learned a few tricks from its big brothers: Komatsu's famous earthmoving equipment.
Its engineers have found clever ways to create efficiencies, such as power on demand to the hydraulic pump, and the super-efficient permanent magnetic AC motor.
It passes all safety tests, allowing travelling or lifting only when the operator is seated.
The flexibility to adjust performance to suit the environment or the operator is a key feature and is sure to appeal, provided the right training is provided.
The intuitive, touchscreen colour monitor makes adjustments as simple as possible.
If you're part of the growing trend considering a move away from internal combustion engines, and you're looking for a tough, reliable, smart machine with impressive, modern electronics, there's not a lot to fault with the FB25-12.
Specifications
Length to fork face: 2,445mm
Width, at tyre: 1,200mm
Ground clearance at centre of wheelbase: 110mm
Forks: 40mm x 122mm W x 1,070mm L
Turning radius: 2,120mm
Mast height, extended (2 stage): 4,050mm
Tilting angle (forward/backward, degree): 6/11
Tyre type: Pneumatic
Service weight: 3,800kg
Rated capacity: 2,500kg
Service brake: foot/hydraulic
Parking brake: hand/mechanical
Battery voltage: 72 volts
Battery weight: 1,085kg
Travel speed (unloaded): 16km/h
Drive motor (60 min. rating): 9.6kW
Pump Motor (5 min. rating): 10.3kW
Subscribe to our newsletter
Sign up to receive the TradePlant e-newsletter, digital magazine and other offers we choose to share with you straight to your inbox
Follow our updates by liking us on Facebook.