REVIEW: Dieci Cotton Pro Telehandler
---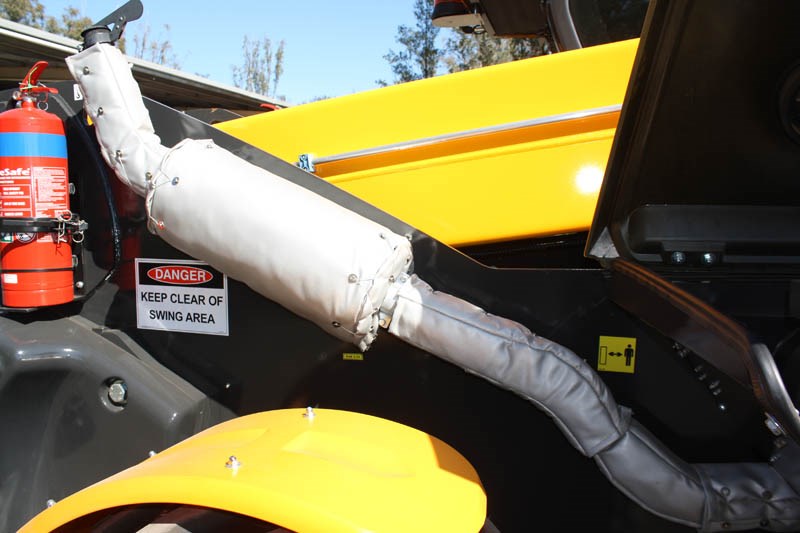 Heat shielding abounds on this unit; just to make sure there's nowhere for the cotton fibres ignite.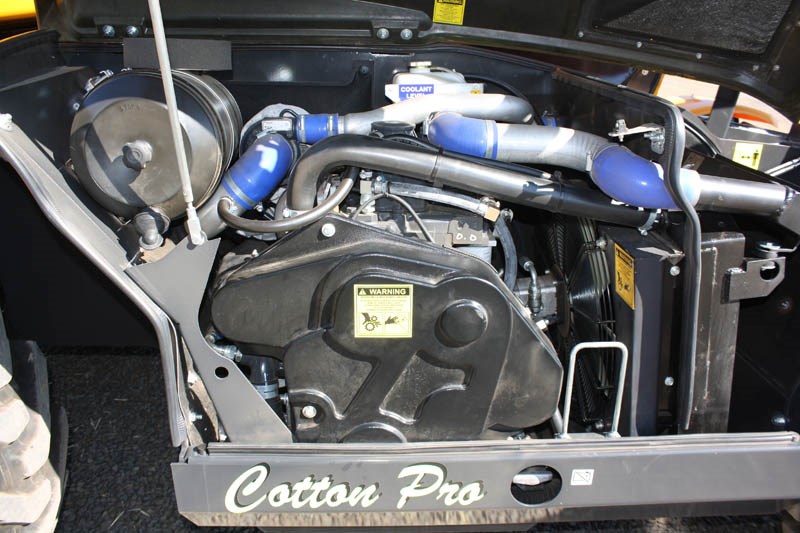 Access to the Iveco engine is very simple and uncluttered.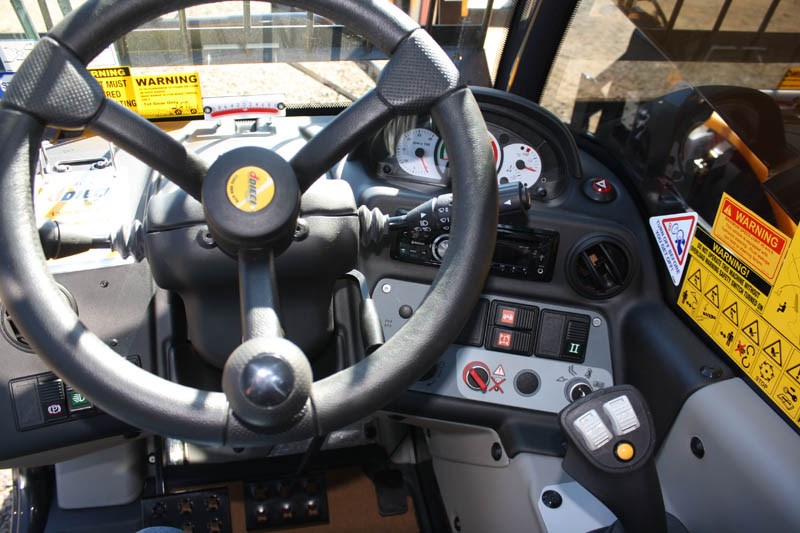 Cockpit layout is basic but functional.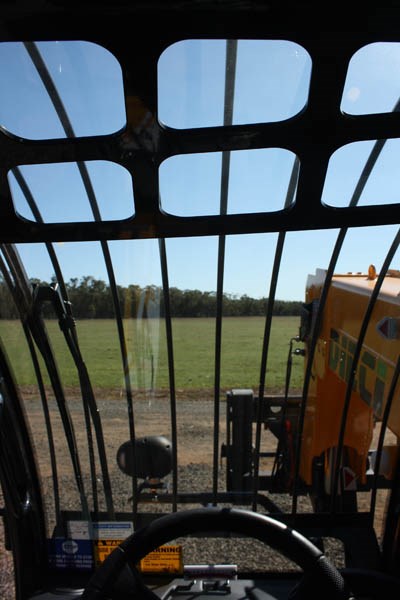 There's plenty of protection around the windscreen glass but visibility is still quite good.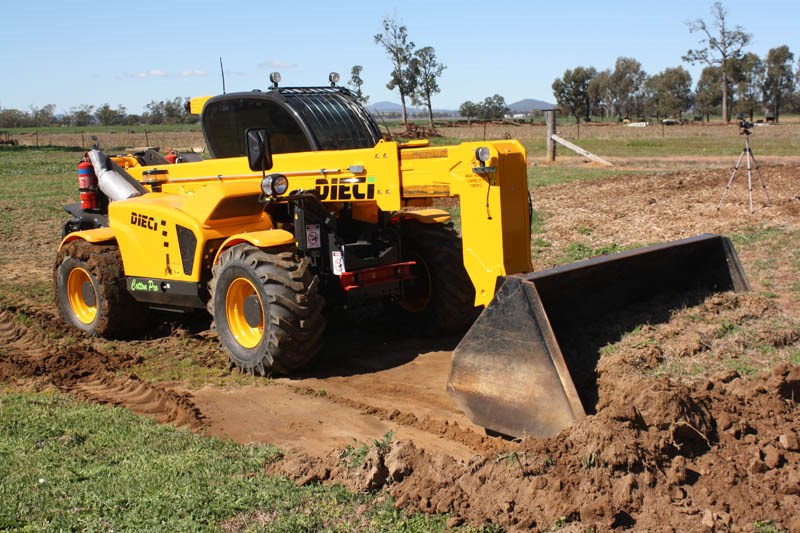 The 94kW of power seems to be enough grunt to dig a decent hole.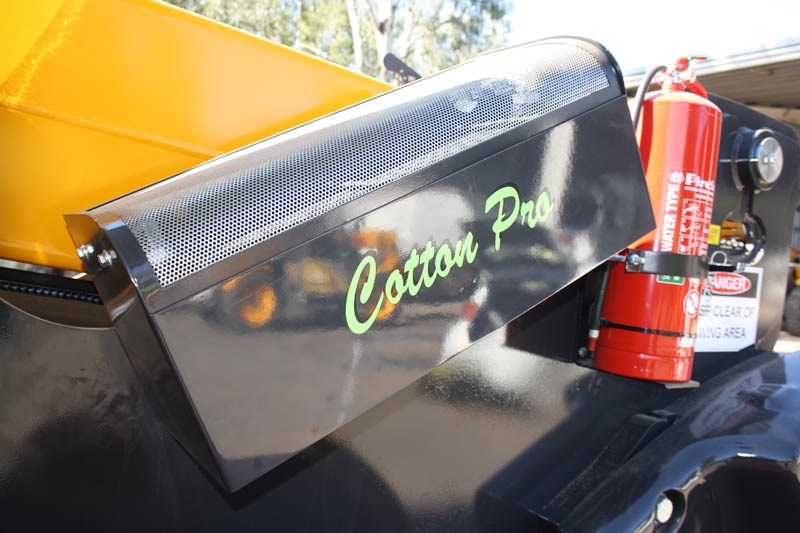 The well shielded oil cooler is also equipped with reversible fans.

While the Dieci Cotton Pro had been designed with cotton handling tasks in mind, this workhorse is more versatile than you think. MATT WOOD headed to Gunnedah, New South Wales for a closer look.
As is typical in today's crammed telehandler market, the Dieci Cotton Pro is a dedicated ag spec machine.
It can be used to lump bales of raw cotton, or to stab hay bales.
But as I later find out, it can also dig a decent hole when needed.
The test
For a detailed look at the machine, I popped by a 1,500-acre property, 'Booroondarra', owned by the Blake family  located about 40km south-west of Gunnedah in NSW.
The property is home to 125 head of Angus cattle and a rotating cast of barley, wheat and hay.
Young Tim Blake and his father Kevin also do a bit of hay contracting with a Western Star prime mover parked in the shed pointing to the transport side of the family operation.
In addition, Kevin hauls cotton when the season is running and in full swing runs six to seven loads of cotton into Boggabri.
Between cotton and hay carting there's clearly a need for some materials handling equipment and that's where the Dieci Cotton Pro telehandler comes in.
Machine overview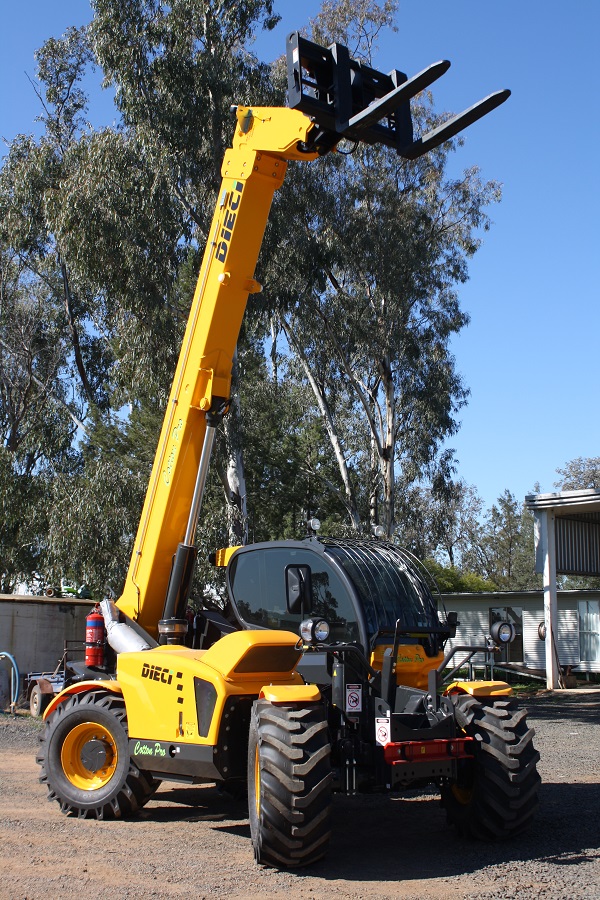 The Cotton Pro tares off at 11.6-tonne and can grab 7-tonne with the boom retracted. Lifting capacity at its 9.6m maximum lift height is 4-tonne and the boom will handle 2-tonne at its 5.4m full stretch.
But playing with a fibrous material such as cotton also needs some consideration when it comes to hot machines and flammable paddocks, so the Dieci has a few features up its retractable sleeve.
The alternator is wrapped in a sock to keep cotton fibres out and away from any potential source of ignition.
The turbocharger is wrapped in a heat blanket for obvious reasons and the oil cooler is mounted to the rear of the machine, behind the cab.
The cooler is fitted with two reversible cooling fans that automatically cycle through directional changes to make sure cotton and dust doesn't cling to the cooler when working hard.
The yellow one-armed bandit also scores driveline bash plates underneath to make sure its underside is protected.
In short, the Cotton Pro has been wrapped, plated and shielded to make sure that it won't get hot or catch fire.
Standing on its 18x 22.5 tyres, the Cotton Pro has a tractor-like quality about it. Some competing machines seem a little low-slung in comparison.
Engine and transmission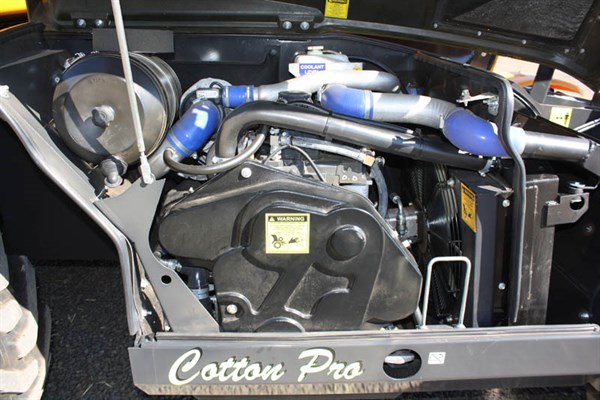 A 4.5-litre Iveco turbo-diesel engine powers the Italian machine and that power plant provides 94kW of power to a Rexroth dual range hydrostatic transmission.
The machine is constant all-wheel drive and provides the usual four wheel, two wheel and crab steer functions.
The engine cooling system also utilises a reversible fan to blow any dust and fibres away from the radiator.
The engine air intake scores a downward facing scoop to make sure nothing settles on the intake mesh to restrict the breathing capacity of the Iveco donk.
Engine bay access is very good and lifting the lid exposes most of the engine to the light of day. This makes those all-important daily checks easy as well as basic maintenance.
Cab, controls and visibility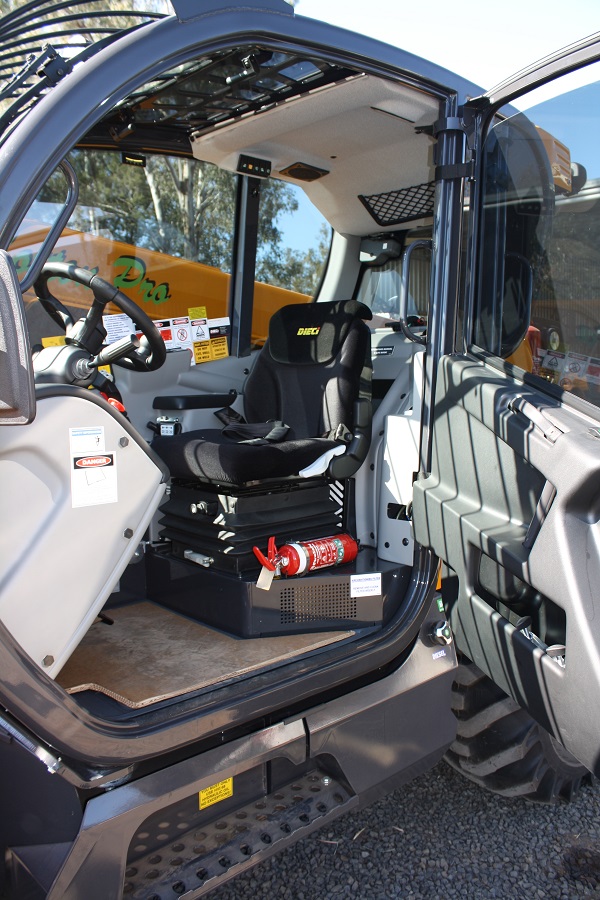 Once in the cockpit I do what I seem to do best, and that's fiddle with buttons.
The instrument panel is reasonable well laid out and the multifunction joy stick is well placed from the air-suspended driver's seat.
Rather than a two-piece window and door set-up, the Dieci has an electric window that slides up and down in the door frame.
Though it's a fair bet that with the air-conditioning cranked no one is going to drop the window very often on a hot day.
Visibility over the lifting boom is quite good as well, and it's pretty easy to keep track of the load through the windscreen.
The windscreen is well protected from anything that may bounce off a raised load but I don't find I'm forced to look around the bars to see what I'm doing.
The Cotton Pro is also equipped with an inching pedal which makes keeping the revs up while using hydraulic functions easy. It also helps when making delicate moves at a stretch.
One neat feature of the machine is a tilt ram on the front axle. This makes loading across a slope much easier as you can level out the machine to keep the load horizontal on uneven ground.
Performance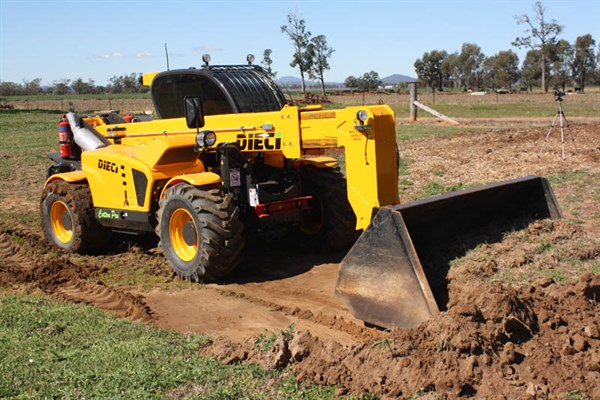 On starting the engine I did note the Iveco engine sounds a little coarse when compared to other offerings in this segment of the market.
However, engine noise isn't overly intrusive.
As it wasn't cotton hauling time I didn't get to see if Dieci has nailed the cotton handling side of things.
But with a set of fork tines hanging off the headstock, I do manage to grab a full chemical IBC (intermediate bulk container) and take the machine for a squirt. The upright cab of the Cotton Pro does give it quite a commanding view.
Tim Blake is keen for us to move some dirt. So the tines are dropped and a bucket attached.
I'm not really much chop as an earthmover and I won't be volunteering to dig a dam anytime soon.
But what is quite impressive is the way the Cotton Pro puts power to the ground. Even as I bury the bucket and the headstock into the dirt for a load and crowd it as best I can, all four wheels of the machine are pawing at the ground. It's quite a gutsy little machine.
Verdict
The Dieci gives quite an impression of toughness. It's a robust little machine that appears quite up to the rigours of farm life, be it throwing bales around or just digging a hole.
It may be possible to get by with what you've got but if you can have the right machine for the job, life can be just that little bit easier.
The guys on Booroondarra certainly seem to think so.
Specifications
Make/model: Dieci Cotton Pro Telehandler
Engine: 4.5-litre Iveco turbo-diesel
Power: 94kW
Transmission: Dual range Rexroth hydrostatic
Maximum lift capacity: 7,000kg (retracted) 2,000kg (full reach)
Look up Dieci telehandler specifications.
Find Dieci telescopic handlers for sale
Subscribe to our newsletter
Sign up to receive the TradePlant e-newsletter, digital magazine and other offers we choose to share with you straight to your inbox
Follow our updates by liking us on Facebook.