Compared: Mitsubishi LPG gas Grendia FG25N vs. electric FB25CA forklift
---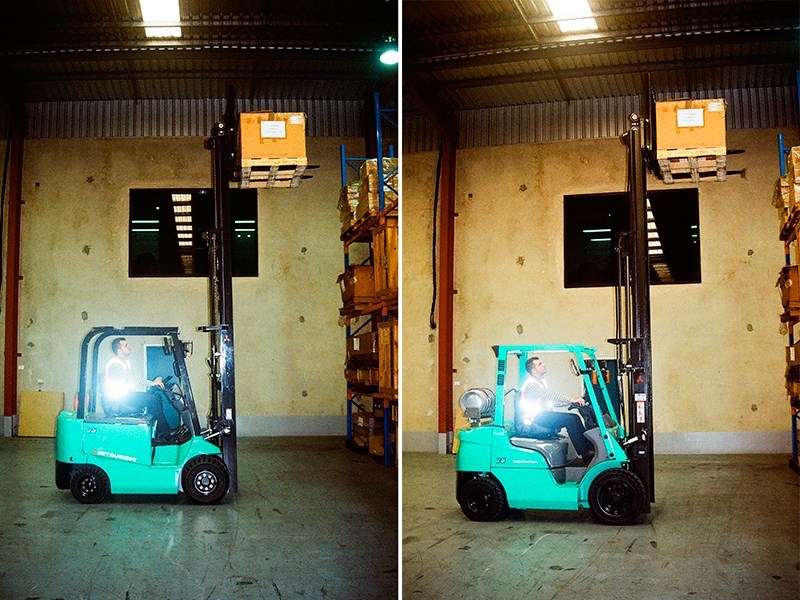 Spot the difference, the FB25CA (left) and the FG25N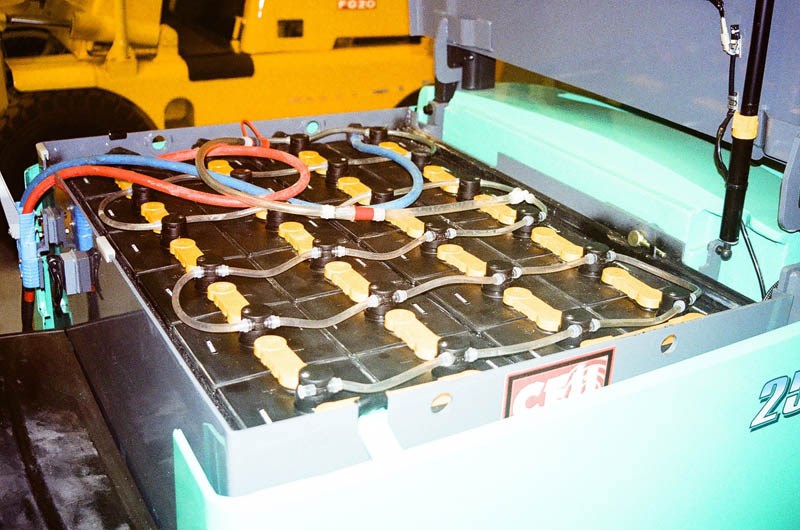 Raising the seat mount accesses the battery pack.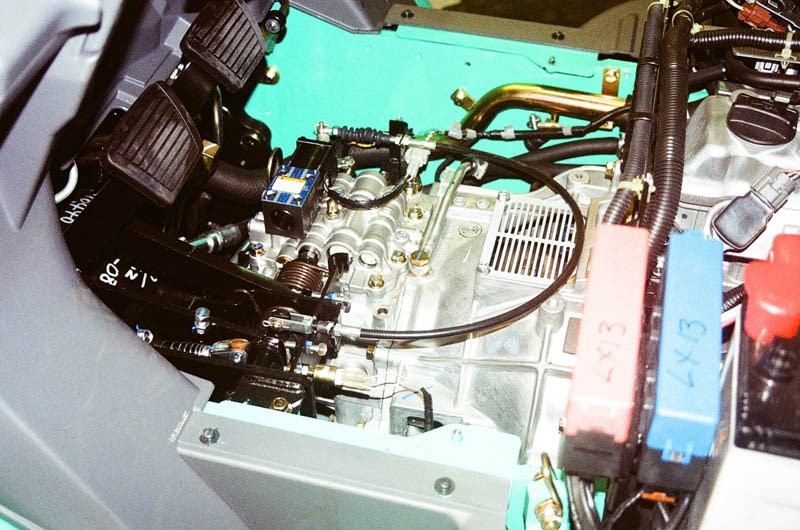 Changing the FB25CA's direction is achieved by switching the polarity of the drive motor.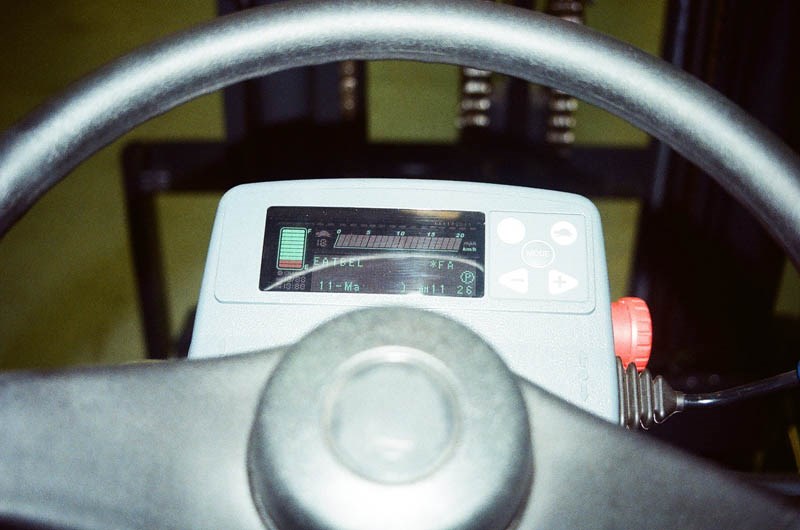 Multi-mode switch in the electric vehicle's instrument panel.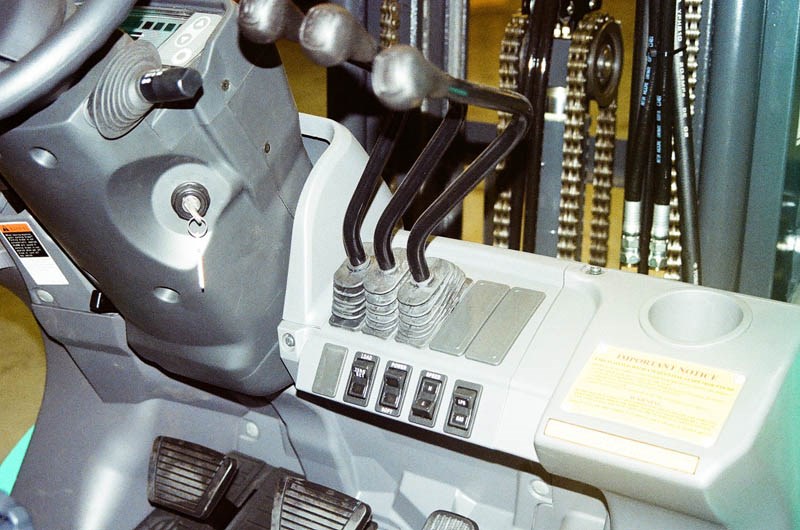 The FG25N's levers for tilt/lower, rake and side shift fall instantly to hand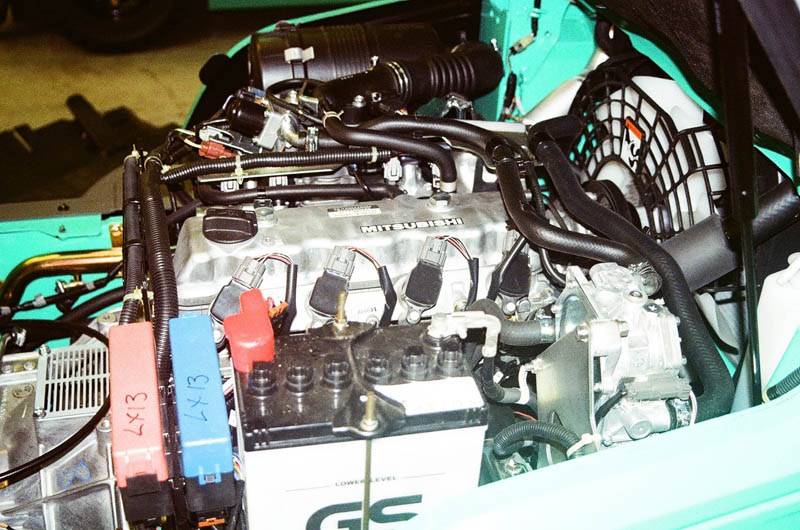 The FG25N's engine access is excellent.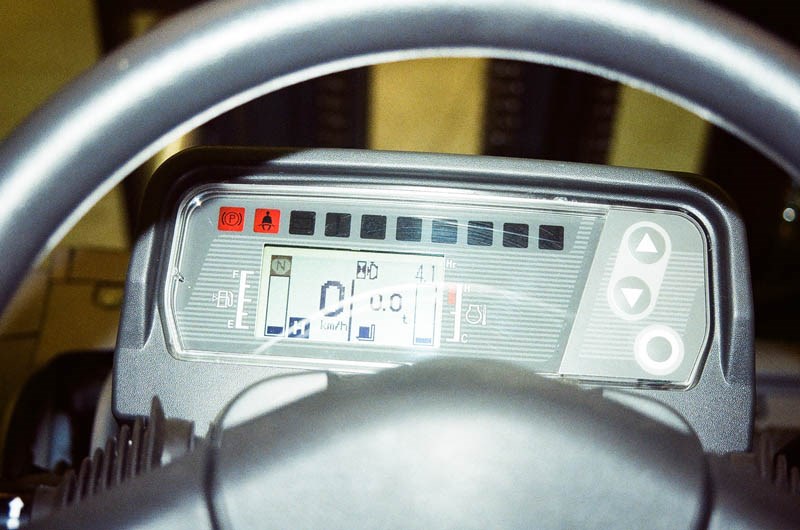 The instrument panel, this one being for the gas vehicle, is clearly visible even in strong sunlight.

Which forklifts are better: LPG gas combustion or electric battery? Two similar forklifts are compared form Mitsubishi.
It's a common question: are LPG or battery-powered forklifts better? Indeed, forklift trucks of around 2.5 tonnes are the most popular size in Australia for factory applications. They're relatively cheap to buy and service, and compact enough to handle tight spaces between stacks.
But is a gas-powered truck the way to go or is battery-powered better?
Electric vs combustion forklifts
There's no doubt that when a truck is used for more than one shift at a time, such as 24-hour factory operation or emergencies when relief cargo has to be loaded onto trucks or transport aircraft, gas-powered is better.
It's far quicker to change a liquefied petroleum gas (LPG) bottle than lift or fork out a 900kg battery pack.
Gas forklifts trucks also have better waterproofing for use in wet conditions.
But for factories and warehouses that operate just one shift a day, battery trucks are way more cost-effective and have a faster return on investment (ROI).
They're quieter and operator fatigue is lower because of the total lack of vibration during operation — of course far safer when unloading or loading cargo in confined spaces, such as shipping containers.
Most electronic fuel injection (EFI) gas trucks have catalytic converters that emit carbon monoxide, along with phosgene gas and hydrogen sulphide, from the reaction of unleaded petrol and the palladium/platinum honeycomb within the converter.
Complete with battery and switch mode charger, a 2.5-tonne battery truck costs only around 25 per cent more to buy than a comparable gas truck.
But that's the difference between a carburetted gas truck and the battery truck.
Add EFI to the gas truck — preferred because of lower fuel consumption — and the difference is a mere seven per cent. And then the real savings begin.
Operating costs
Before I'd even arrived to compare two Mitsubishi 2.5-tonners MLA forklifts, Gary Hodge had already worked out the difference in fuel and preventative maintenance costs between gas and battery over a five-year period, based on a five-hour shift per day, five days per week and 50 weeks per year.
That's 6,250 operating hours.
The biggest shock of all was the fuel costs. A 16kg, a replacement gas cylinder averages $47 or $61,000 over five years.
Yet a 48-volt 565Ah battery can handle 1,400 charge/discharge cycles before needing replacement and provide enough charge for five hours before recharging (with 20 per cent of charge remaining).
That's 7,000 hours of life for around $5,000 replacement cost, so over the five years it still won't need replacing.
When it does, it's comforting to know that 12-battery packs can be bought for the cost of the LPG used over five years.
Of course, the charging the battery itself must be allowed for.
Most factories in western Sydney, where MLA is based, are charged 18 cents per kilowatt hour flat rate.
Based on an eight-hour charge the electricity costs around $2 per day. That's $2,500 over five years.
Translated into an hourly rate the gas truck costs $9.40 and the battery truck 40 cents or $1.20 if a new battery pack is factored in every five years.
These differences don't allow for maintenance and servicing including replacement of normal components such as fuel and oil filters.
Over the five-year period full servicing costs for the gas truck are around $14,000 and the battery truck $7,000.
Again, based on a total of 6,250 hours, that's $2.24 an hour for the gas truck and $1.12 for the battery truck.
Including fuel costs and rounded up, the totals are $11.65 an hour for gas and $1.55 or $2.35 including a new battery pack.
The slightly higher initial cost of the battery truck compared to an EFI gas unit must be allowed for but overall the differences are enormous!
The FG25N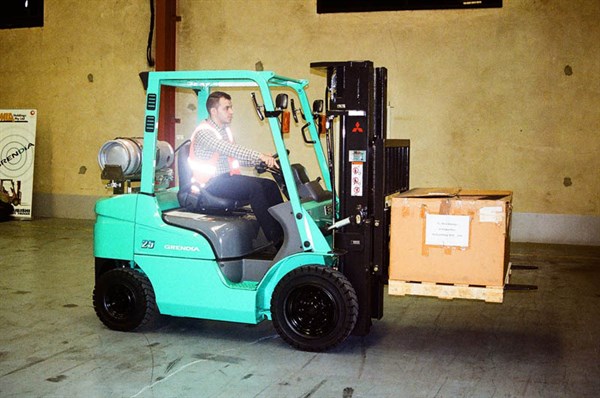 This is one of the most sophisticated small gas trucks currently available.
It has the choice of carburettor or EFI and a torquey 2.1-litre 4 cylinder engine coupled with a torque converter and one forward and one reverse gear.
EFI models have the choice of high or low speed and power or soft mode settings according to whether the truck is used indoors or out.
The ergonomics are excellent with a suspension seat that can be dialled up to accommodate 130kg — perfect for porkers like me.
The seat is adjustable for reach and backrest rake and combined with the tilt steering column an almost perfect driving position can be had.
The rounded corners of the engine box plus a well-positioned grab handle that easily supported my bulk makes climbing up to the driving position a cinch.
The levers for tilt/lower, rake and side shift fall instantly to hand and the instrument panel is clearly visible even in strong sunlight.
As expected of a Mitsubishi forklift truck, engine access is excellent.
The strong box section chassis allows for a built-in 66-litre fuel tank to the left and a hydraulic tank opposite.
The oil filter can easily be changed from above and the canister air intake draws air from the right rear guard support with provision for an additional cyclonic cleaner for dusty conditions.
The coolant overflow bottle is tucked away in a corner but easy to fill.
Sensibly, the radiator cooling fan has a removal plastic guard.
The gas cylinder is held in a swing-down cage to make replacing it less of a reach. Removing the foot panel accesses the transmission and hydraulic hoses for the mast.
A clear polycarbonate roof panel can be fitted for frequent outdoor usage.
Really, my only complaint is the work lights should have LED bulbs instead of incandescent units.
The FB25CA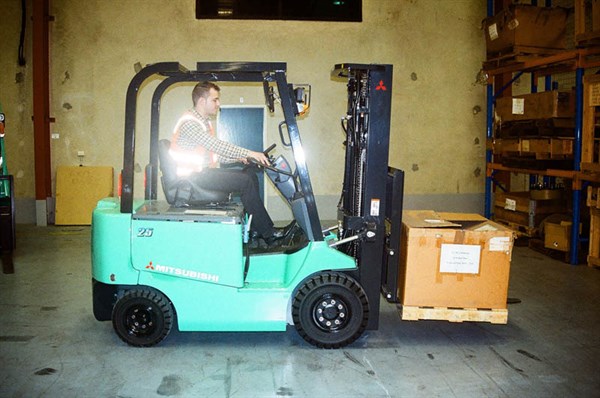 Forget cantankerous and energy guzzling DC motors of the past. This truck has an AC motor that allows for incredibly precise control of movement or raising and lowering of the forks and raking the mast.
The driving position is better than the FG25N because the absence of a gas bottle allows for more seat reach and backrest rake and a shallower steering column angle, giving an almost car-like driving position.
Again the suspension seat can accommodate some real porkers.
The forward/reverse toggle switch is mounted close to the steering wheel allowing for finger-tip control with just the left-hand needed for steering and direction change.
In addition to the steering wheel-mounted horn button there's also a horn button on the fork raise/lower lever so the right-hand can control both functions.
A multi-mode switch in the instrument panel (that displays battery charge remaining etc.) provides a choice of three speed modes down to walking speed for inexperienced operators.
A master switch with emergency push stop function is located to the right of the instrument panel.
Raising the seat mount accesses the battery pack which can either be forked in or out or lifted out using a jib and sling through a cutaway in the overhead guard.
Due to the more angular corners of the battery pack cover, accessing the driving position is not quite as easy as the FG25N but again the grab handle easily supported my bulk when swinging myself up.
Driving differences
After clipping in the lap seatbelt, the demo EFI FG25N started instantly cold with a fast-idle warm-up for a couple of minutes before settling down to normal idle rpm.
Vibration levels were low for a big 4 cylinder petrol engine and although an inching pedal was fitted, the slight creep in gear meant that forward movement could be controlled using just brake pedal when sliding the forks into a pallet. This is far safer and less transmission-wear than using the inching pedal.
As with most gas trucks, there was a significant drop in rpm when the steering wheel was turned full lock at low speeds and, of course, to increase fork lift or lower speed meant revving the engine slightly.
Vision through the mast was excellent and the side shift control meant the forks didn't need to be perfectly aligned with the pallet before sliding them in.
Turning the steering wheel full lock failed to bog down the drive motor.
There was a significant difference in acceleration and travelling speed using the high or low speed and power or soft settings.
Mitsubishi claims a 13 per cent reduction in CO2 emissions using the lesser settings but the real operator benefit is more precise control when handling and stacking delicate products.
The demo FB25CA was from another planet.
Absolutely no motor noise or vibration while stationary and no need to rev the engine for rapid fork raising or lowering or adjusting mast rake.
The electronic control of the hydraulics meant the fork could be raised or lowered or the mast raked by millimetres using just fingertip pressure on the respective levers.
Never before have I experienced such precise control with a forklift truck.
Only at maximum travelling speed was there a motor whine, very similar in noise and pitch to the current electric AC motor-driven trains on Sydney's rail network.
Best of all was the ease of changing direction, achieved by switching the polarity of the drive motor. Forget having to come to a complete stop before selecting reverse as you would with a torque converter transmission.
Reversing the truck was simply a matter of taking your foot off the accelerator, selecting reverse then depressing the pedal slightly as the truck came to a stop and started reversing.
Using this method meant the left hand could be used for steering and direction control and the right hand for fork and mast handling. Frankly it would be hard to go back to a gas truck after the FB25CA.
Combining the motor and diff has the real benefit of bringing the forks closer to the truck body.
This allows for a shorter wheelbase and tighter turning circle, though not quite as tight as an electric reach truck.
Even with the shorter wheelbase than the FG25N stability on full mast reach with a lower pallet was no different.
Only over undulating surfaces was the ride choppier but I could live with this drawback considering the materials handling benefits.
Safety
Inexperienced operators may be injured when checking a hot IC engine or checking the starter battery cells using a hydrometer, where removal from each cell always flicks some electrolyte onto the operator.
Storing and handling the gas cylinders, at 30kg total each, requires some care.
The lead acid battery pack used in the FB25CA has single-point topping up of electrolyte using either a garden hose or distilled water injection.
The drive motor is geared directly to the differential and doesn't need regular maintenance.
Verdict
If nothing else, my tinnitus got a real break with the FB25CA, though my flab remained intact. Oh well, if I lose it I won't be able to fully test forklift trucks in the future.
Both trucks are excellent for their intended applications.
The FG25N is probably the peak of development for gas trucks, whereas there's more to do with battery trucks.
Such as a drive motor per load wheel instead of one and a diff, already available with some of Mitsubishi's three wheel battery trucks.
Lithium ion batteries are always a possibility but these don't like being kept fully charged and besides the weight savings aren't really relevant in a counter-balance truck.
They're damned expensive and require smart chargers to prevent cell damage from voltage differences resulting in possible fires.
Whichever truck you choose, both of these have brilliant ergonomics, are very user-friendly and well finished.
Subscribe to our newsletter
Sign up to receive the TradePlant e-newsletter, digital magazine and other offers we choose to share with you straight to your inbox
Follow our updates by liking us on Facebook.