Review: Aisle-Master Very Narrow Aisle (VNA) forklift
---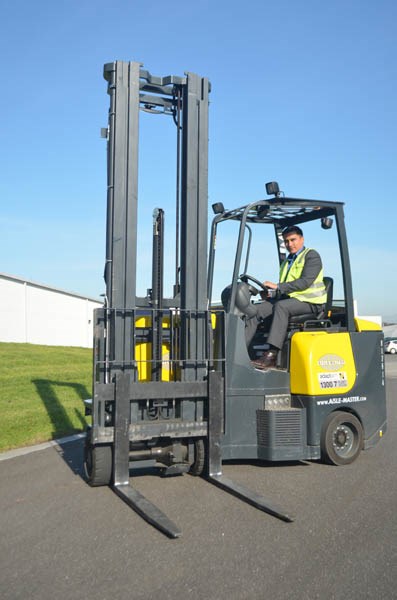 Australasian product manager David Edmonds helps the Aisle-Master put its best face forward.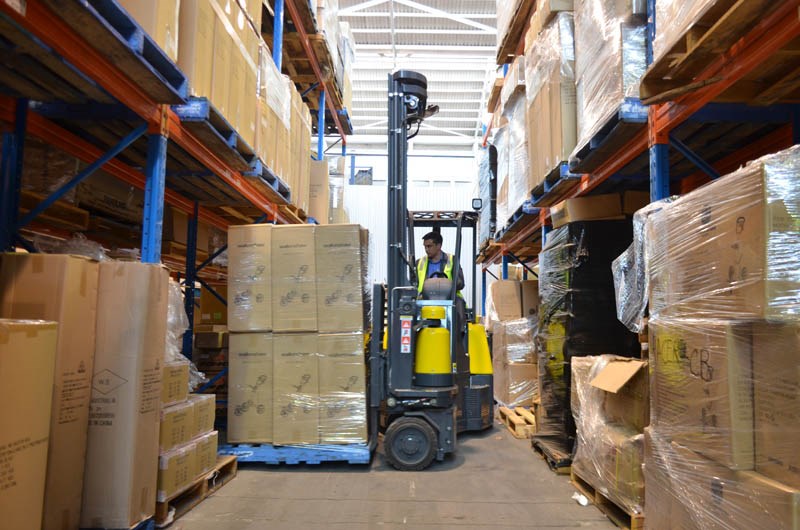 Typical workspace for the Aisle Master.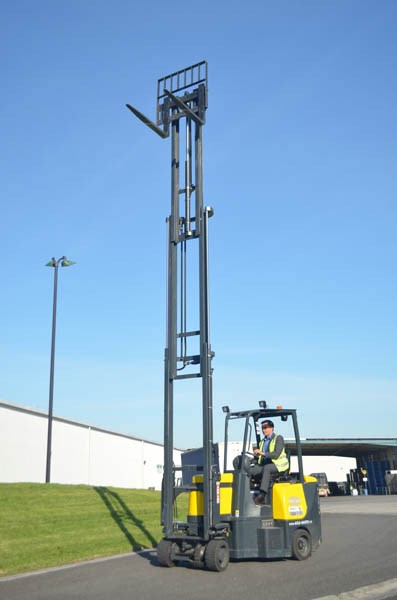 With a four-stage mast the Aisle-Master can soar to heights of 15m, which is really something to behold.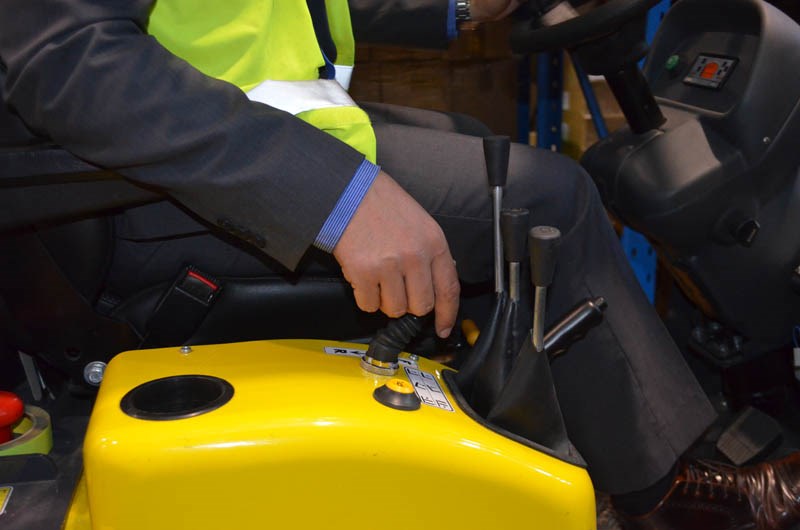 The forward/reverse lever is situated behind the fork controls, somewhere near your right elbow, which I found awkward to access.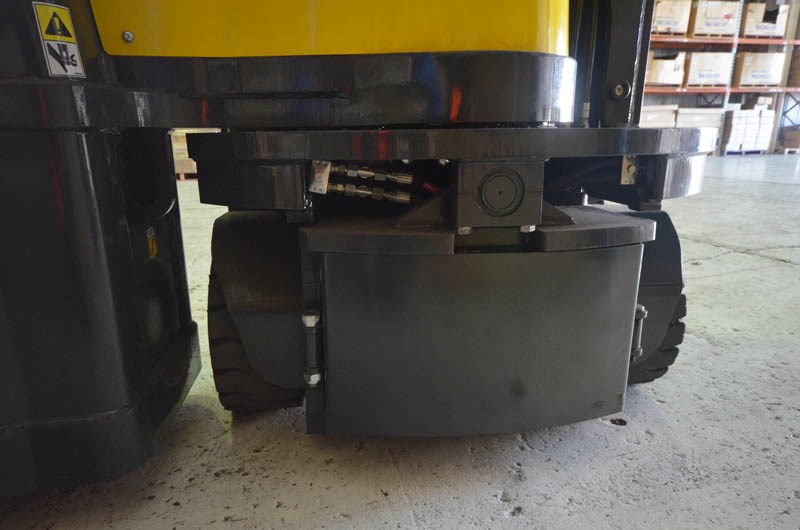 The AC drive motor is tucked away behind the front wheels.

The Aisle-Master in its element in a tight spot.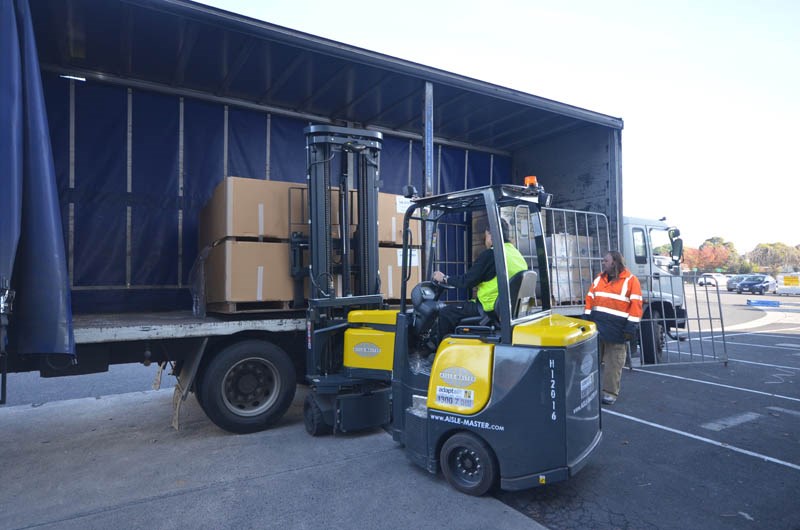 The Aisle Master is able to go from truck to racking with ease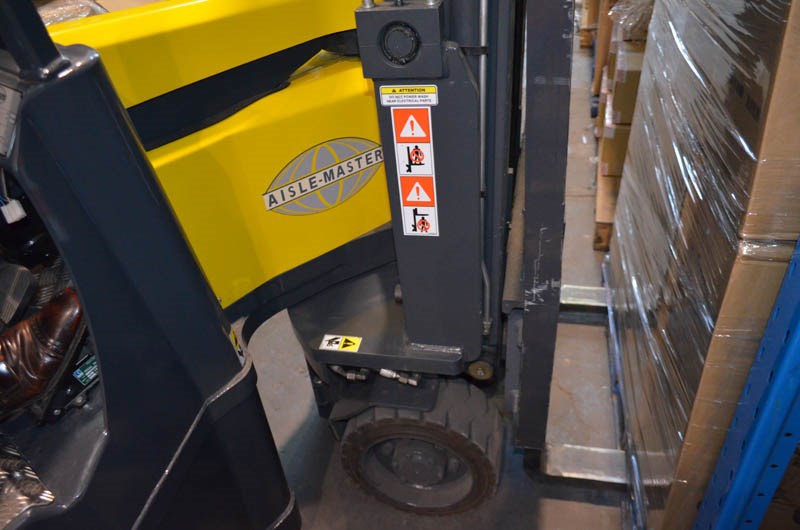 Close up of the Aisle Master at work

The Aisle-Master VNA takes a little getting used to at first but its nimbleness, once mastered, can't fail to impress.
As land prices increase and globalisation brings more competition, companies need to squeeze as much capacity into their storage spaces as possible.
It's battery farming by necessity. And battery farming could very well call for an adaptable, battery-powered forklift.
Enter the Irish-manufactured Aisle-Master, a Very Narrow Aisle (VNA) articulated forklift truck.
Of course, articulated forklifts are not new. Versions of this machine have been around for at least 20 years, but as Aisle-Master Australasian product manager David Edmonds tells me, modern requirements have resulted in essential refinements.
"Gaining warehousing efficiencies is so important these days," Edmonds says.
"The ability to maximise your space can be a game-breaker.
"We've got it down so the Aisle-Master can operate in aisles as narrow as 1.6m.
"We've increased the articulation to 205 degrees, which means you can work in a narrower aisle, and we've gone battery-electric, because people are wanting better, or no, fuel emissions."
In theory, it's a great idea: A versatile indoor/outdoor forklift that is a reach stacker and a counterbalance all in one. A one-stop machine that can unload a truck and distribute the goods straight to the racking without need for double-handling. A heavy duty forklift that can reach absurd heights, turn within its own circle and cruise narrow aisles with ease.
So how does the Aisle-Master Very Narrow Aisle (VNA) forklift stack up, then?
Aisle-Master Very Narrow Aisle (VNA)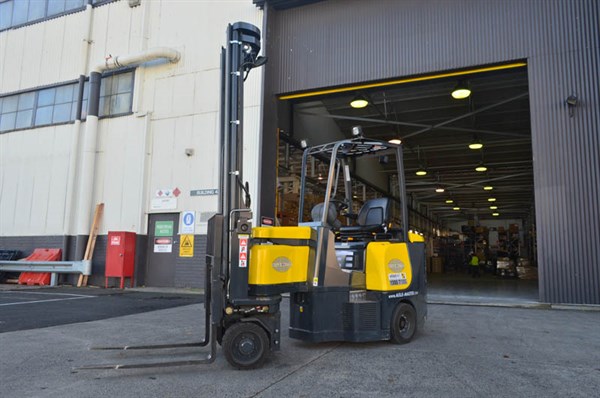 The Aisle-Master Very Narrow Aisle (VNA) forklift bears uncanny resemblance to a tractor when you first see it. It's longer than you'd expect, due mostly to need for the articulated forks' wheelbase to swing 90 degrees and beyond.
The mast is noticeably high, even when the tines are sitting on the ground, but for a forklift that can extend to 15m there's no getting around that.
The solid tyres are smaller than you would see on some counterbalances, and the maintenance-free AC motor means new tyres will be one of the few ongoing cost throughout the life of the machine.
The Aisle-Master Very Narrow Aisle (VNA) forklift is built well, there's no denying it. There's a simplicity you don't immediately notice if you concentrate only on its fancy, moving front end.
Drive motor
The simple, AC drive motor is located between the front wheels.
To access it you articulate the wheels 90 degrees and open a small panel. Edmonds explains the thinking behind the front-wheel drive AC motor.
"The drive motor is at the front so that when it articulates it only drives forwards or backwards, it doesn't push with the motors from the back," he says.
"You're going from the drive motor through the differential to then drive both wheels. All that's connected to the back wheels are drum brakes."
The Aisle-Master VNA forklift has a 19.5kW drive motor, which offers significantly more grunt than you'd get on a typical reach stacker which is more likely to run on 6kW.
You've got infinitely variable controls, which Edmonds likens to the volume knob on your stereo.
Battery-electric motors do seem to be making a run for the big time in the industry.
As battery technology increases their limitations become less of a burden.
Consequently the Aisle-Master has a maintenance-free motor. Servicing involves a bit of greasing, a chain lube and a blow-out every 300 hours. The battery is designed to last a full eight-hour shift of heavy use.
Cab and Controls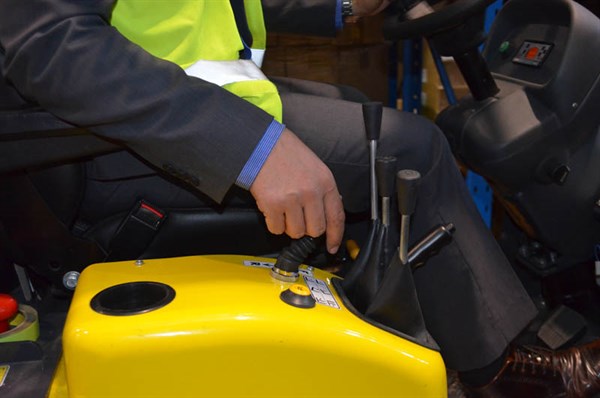 The cab is open and airy, and has an 'old-school' feel.
Personalisation for comfort consists of an adjustable steering column and a sliding seat. The digital display is unassuming and gives only bare essentials such as battery indicator and hour-count.
On the Aisle-Master VNA forklift, extras such as height selector and height indicator can be optioned.
Three standard levers on the right-hand side control the tines (raise/lower, tilt and side-shift). All work smoothly, although the tilt function's scope is very limited (2 degrees forward, 3 degrees back).
The forward/reverse lever is situated behind the fork controls, somewhere near your right elbow, which I found awkward to access. For a function that requires such frequent switching I much prefer the traditional position beside the steering wheel.
There are no fancy start-up procedures, no onboard diagnostics software or fleet management integration (on the factory model at least), no automatic acceleration control, no automatic handbrake.
In fact, you could almost imagine you're driving an automatic car, with front-wheel drive (and turn), two pedals only, and a level-style handbrake, which, just like a car, isn't strong enough to hold the vehicle still if the operator forgets it's on and drives off without releasing it.
It's not simply a matter of articulating the fork-face 90 degrees and driving straight in, as you would on a reach stacker.
As you drive into a pallet the front wheels pull the main body of the forklift, along with the rear wheels, towards the racking.
This has the effect of moving the direction the tines point so they are no longer at 90 degrees to the pallet.
As you drive in you need to compensate for this by turning the steering wheel away from the direction you are moving.
When reversing out you turn the wheel the opposite way — towards the pallet.
It sounds confusing, but you can blame the laws of mechanics and geometry.
In very narrow aisles the over-articulation will come into play as you reverse out.
It takes a little while to get used to, but it won't take long for the muscle-memory to kick in and operating to become second nature.
There's also the fact that unlike conventional, counterbalance forklifts, the rear wheels are fixed, while the front wheels turn.
This means you have to think things through differently when you approach a truck to unload, and when negotiating obstacles in the warehouse, but it has less of a foreignness than you might expect, and steering soon becomes intuitive.
Performance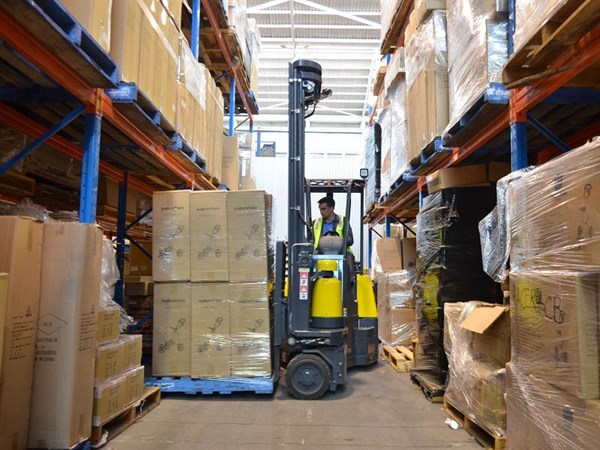 Getting started couldn't be easier. A key turn and you're away.
If you've only ever driven conventional counterbalances you'll need a bit of time to learn the ropes.
The tines are so far from where you sit they're practically in another room. In fact, most of the time you can't see them.
To help this problem a mirror is fitted just under the first stage of the mast, to help you keep track of how far off the ground your tines are.
It helps, but the lack of direct vision to your most important tool is still a bit unnerving.
With a four-stage mast the Aisle-Master can soar to heights of 15m, which is really something to behold. Operating at this height is not for the faint-hearted, however, particularly if you haven't got your head around the mechanics of how the thing pivots and drives.
The four-stage mast means not many gaps through the mast. This becomes less of a problem once you're lifting at a 90 degree angle, though. All of a sudden your load is right before your eyes, but it becomes lost again once (this time in the overhead guard) as you lift higher.
The Aisle-Master drives with good control. Acceleration is not blistering but is smooth and even. An advantage of not having steering on the back wheels is you don't have to worry about your rear-end swinging out and taking people by surprise.
Edmonds watches me drive his pride and joy down the aisle and beckons me to turn around and come back.
"Keep turning, keep coming," he calls, as I tentatively edge the Aisle-Master round. I'm convinced I'm going to have to make a three-point turn but still he calls: "Keep coming". Lo and behold the ugly duckling gets around the absurdly narrow space with room to spare. Impressive.
Stacking and lifting using 90 degrees of articulation is simple once you get used to it.
The simple rule to remember is drive forward until your front wheels are directly in the middle of the pallet (at 90 degrees i.e. side-on). Turn the wheel until the tines are facing the pallet then drive in, turning the wheel slowly away from the pallet to keep the tines straight. You'll soon learn what angles work best.
The Aisle-Master isn't as smooth on uneven ground as other 'normal' forklifts and the ground clearance small, so you'll need to be careful where you take it. But it's marketed as fully indoor/outdoor machine, so in theory it should be able to handle any condition that a conventional counterbalance can.
The versatility the Aisle-Master offers is likely to win the hearts of drivers, who will appreciate the multitude of options and angles that you can approach a task on, while those who watch the clock will enjoy the fact that the Aisle-Master can take goods directly from truck to shelf.
Verdict
Many companies already have and are happy to call on the Aisle-Master to get the most out of their warehouse. In some cases having an Aisle-Master can increase storage by up to 50 per cent, depending on layout.
There's an added degree of difficulty for the driver, and your average driver is likely to prefer driving a run-of-the-mill counterbalance, although good drivers will welcome the challenge.
It's expected that when you jump onboard an Aisle-Master you'll be operating in close quarters where precision is required. With the heights that the mast can reach you can't afford any lax attention, either.
There is little compromise in terms of lifting ability or capacity to what you'd find in a 2.5 tonne counterbalance, and little to criticise in its performance or construction.
There's no denying it's quite astounding what an Aisle-Master can do, and one thing's for sure: it's a fantastic option to have and it's sure to turn heads, and not just its own.
Aisle-Master VNA specs
Mast range: 4,300mm to 1,5000mm
Overhead guard: 2,270mm
Capacity: 1,500kg to 2,500kg
Ground speed: 16km/h
Lift speed (laden): 0.4m/second
Front tyre size: 412 x 174mm
Rear tyre size: 457 x 178/229mm
Gradability (laden): 12 per cent
Battery capacity range: 620Ah to 930Ah
Battery voltage: 48 volt
Weight (with battery): 6,400kg to 7,100kg
Standard colour: Yellow and grey
Subscribe to our newsletter
Sign up to receive the TradePlant e-newsletter, digital magazine and other offers we choose to share with you straight to your inbox
Follow our updates by liking us on Facebook.