Review: Kalmar DCG160 forklift
---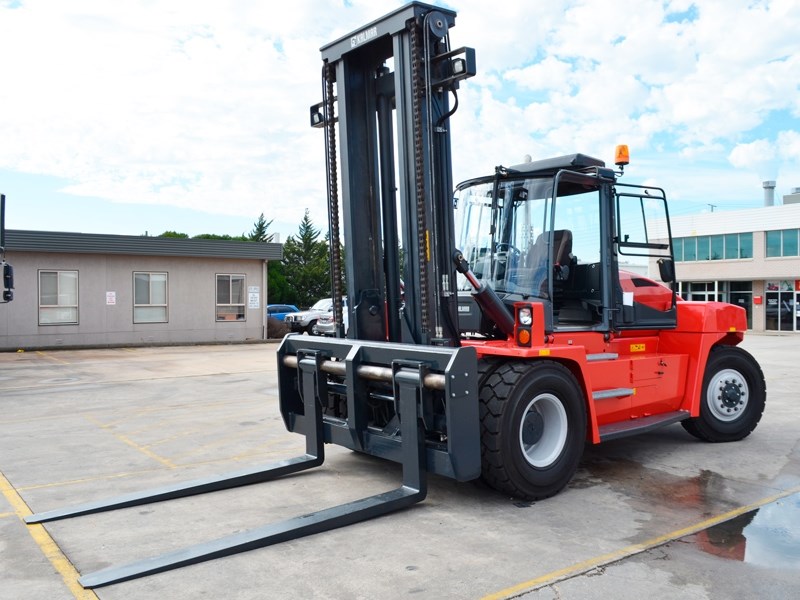 The Kalmar DCG160 stands out as bright as any fire engine, and in some lights you may mistake it for a Ferrari.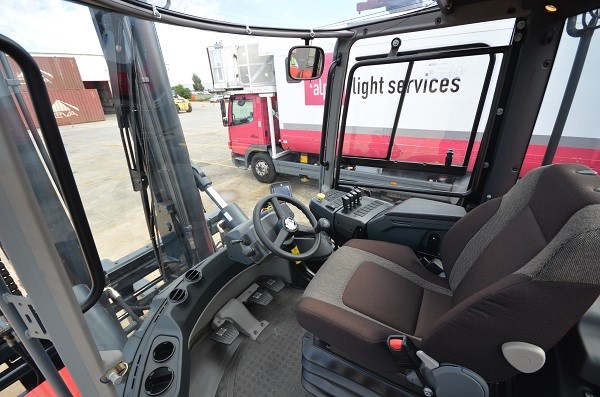 Kalmar's spacious EGO cab, made with the operator in mind.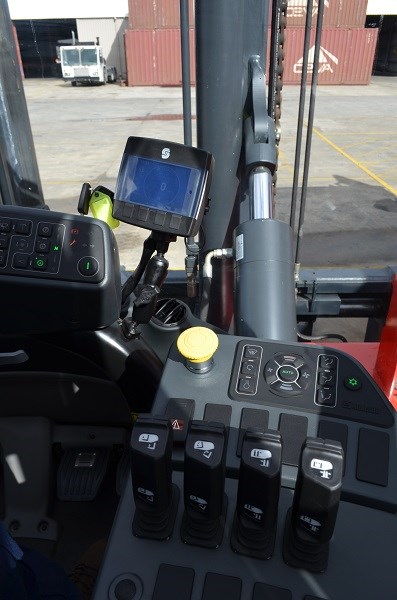 The 'canoe' with all its operating levers.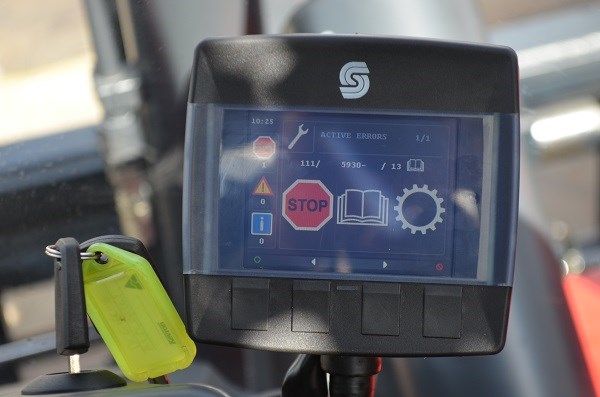 All diagnostics is done via the driver's screen.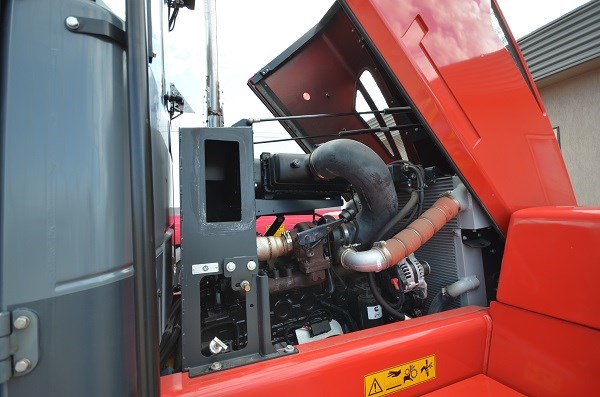 Engine components that shouldn't let you down.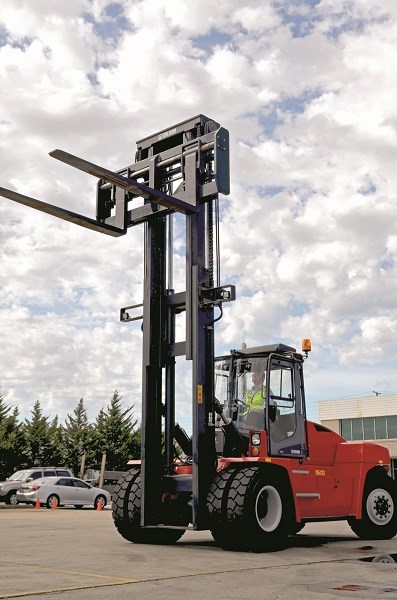 The DCG160 ready for action.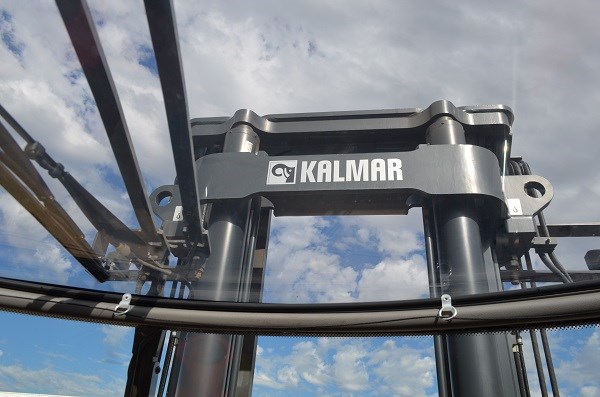 Sky views through the Lexan.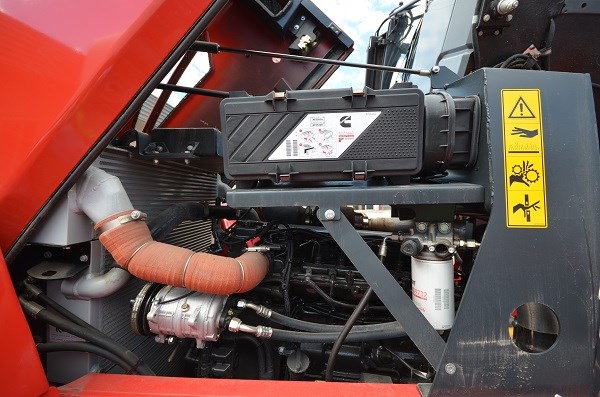 The filters and dipstick are within easy reach.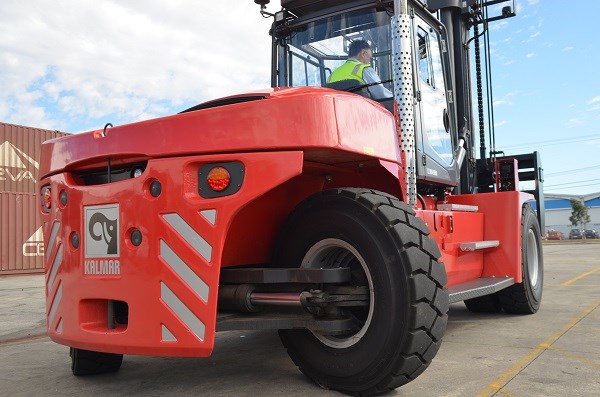 The Kalmar DCG160 turns a tight circle.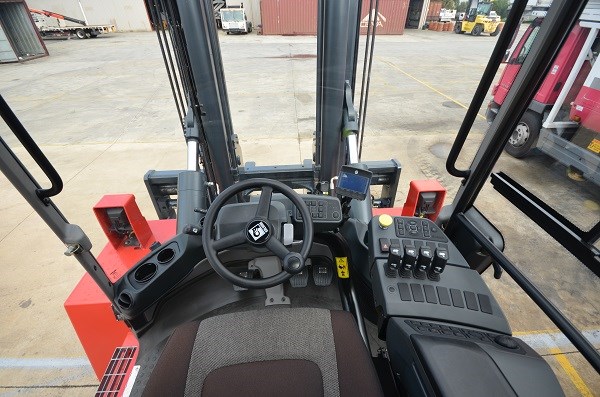 Visibility is excellent all around from the driver's seat.

The 16-tonne red Kalmar DCG160 forklift looks racy and has a work performance to back that up.
Swedish company Kalmar, a division of Finnish-based Cargotec, have been in Australia since the late 1990s, at first supplying wharf products, before hitting the forklift market.
Kalmar's technical training and support officer Ian Price is a man who lives and breathes the life-enriching forklift fumes, having worked on nothing else since leaving school in 1979.
"In 2003, there was a push to bring in forklifts," Price explains.
"Originally, we did the importing, all the support, the sales, everything. It was just me and a couple of service technicians."
Today, Kalmar has enlisted the help of various dealer networks and is supplying forklifts - like the Kalmar DCG160 forklift  - to every state in Australia, as well as New Zealand, the Pacific Islands and New Guinea.
Kalmar DCG160 forklift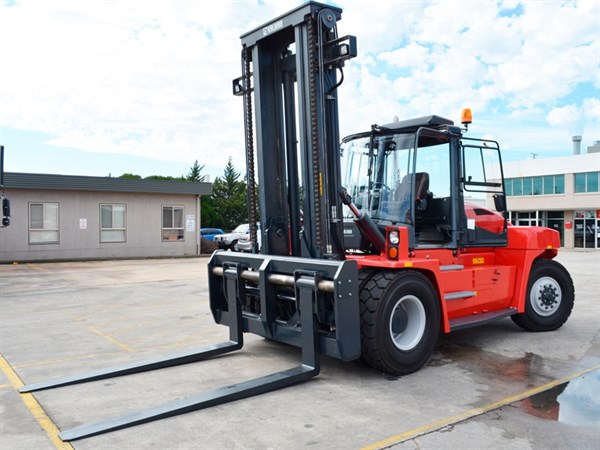 As the name suggests, it has a 16-tonne capacity, with a 600mm load centre.
It stands out as bright as any fire engine, and in some lights you may mistake it for a Ferrari - imposing without being obnoxious.
The carriage and fork attachments are matte black with thick cylinders. It's a tough-looking machine on the outside but with a sensitive interior.
Those familiar with Kalmar forklifts throughout the years will recognise much in this new 'G' series machine. Both preceding 'D' and 'E' series forklifts had the same chassis and mast and are almost identical in structure.
When you've got a good product why change it? Well, no product is perfect so you keep what you like and improve where you can. The two main areas where this 'G' Series forklift has evolved is in the CANbus and in the cab.
Engine and servicing
The Kalmar DCG160 forklift comes with a choice of engines - Cummins or Volvo and, breaking it down further, customers can choose either the 3A, 3B or 4 Final.
We're looking at the smaller option, the Cummins 3A (129kW).
Service interval is 500 hours and the good stuff is accessed by manually cranking up the cab which takes one minute of arm pumping. You can opt for an automatic system, if you don't fancy a workout.
The regularly accessed filters are all within easy reach from the top. You'll only need to go underneath to change the brake calliper pads and drain the oil (although you can option a hose that drains the oil out to a point behind the back wheel).
Interestingly there's no cooling fan on the front of the engine; you'll find the fan when you go round the rear end of the machine.
It's externally placed, hydraulically driven and will only run at the speed that is required — a fuel saving measure.
The wiring harness is pre-wired for all possible standard options, the plugs ready and waiting.
The Cummins stage 3A engine should do the trick for most, and it displayed good torque on the test drive.
Cab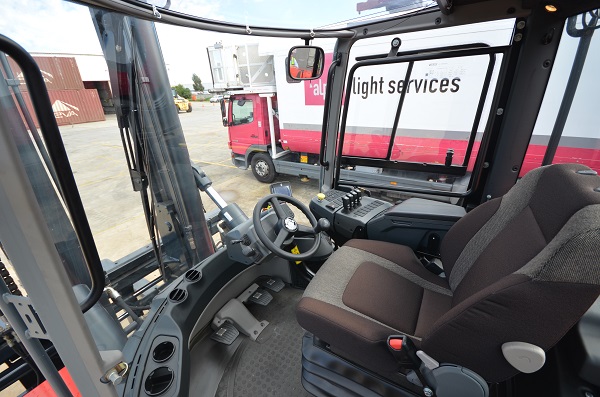 Another feature Kalmar is proud of in their 'G' Series range is the new spacious 'EGO' cabin. There's no steering column going down to the floor, which gives extra leg room.
A useful feature is the ability to adjust the position of the steering wheel with ease, whether it be up and down or front and back.
There is a fabric, low-back seat today but one can opt for a high-back, leather seat instead if desired.
On the right is what's known as the 'canoe' which is an armrest that houses all the mini-levers and controls that you'll use. The gear-shifting stick is positioned to the left of the wheel.
The canoe on the Kalmar DCG160 forklift is able to float forwards or backwards, and the levers can tilt towards your palm. These features mean the cab can be set-up for each operator's size and preferences, and then easily adjusted when a new person jumps in.
You might be alarmed to find no overhead guard except for a 6mm sheet of Lexan. Don't get me wrong, I trust Lexan completely but there's something a little unnerving about being physiologically exposed to the dangers from above when trapped inside a forklift cab.
More comforting was the thick, laminated glass window which provides great visibility out the front, side and rear of the forklift.
However for me the real highlight for me was the air-conditioning. I will happily work weekends for any boss that buys me a forklift with air-conditioning.
Operators have a tough and repetitive job, and deserve all the comfort they can get.
CANbus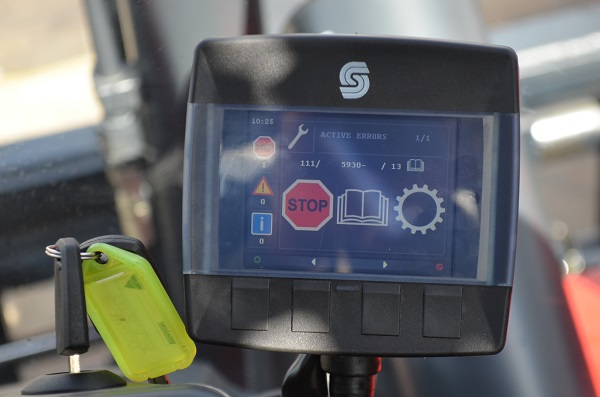 The CANbus system is probably the biggest area where this machine can lay claim to be more advanced than some competitors in that it's a full CANbus, rather than just an interface between the drive chain and the truck.
There are two CANbus systems: a J1939 from the engine and transmission, and a Kalmar system that links into other Electronic Control Modules (ECMs) around the forklift, and the whole system is connected in a loop.
When, for example, you want to open a valve to allow a function it's all done via the CANbus.
The chain of command goes: you push a lever — that voltage is sent to an ECM and converted into a message — that message is transmitted by the CANbus to another ECM in the engine — that ECM works out from the percentage movement on the lever how many milliamps are required, and sends the milliamps to the main valve, which opens the valve.
The CANbus provides the driver with multi-system monitoring, via a small driver's screen mounted on the dash. It's the amount you can do with this one small screen where the real innovation lies. All diagnostics are done through this driver's screen.
It's called the common electrical control system, and it's now exclusive to all 'G' Series Kalmar machines.
The basic idea is there is always a way to solve a problem with this system, providing your technician is sufficiently trained. It's a high-tech set-up designed to be easy, but you have to speak its language; it won't learn yours.
Performance
Confession time. I've never driven a 16-tonne forklift before. I didn't tell Price this as I roared out into the yard in his brand Kalmar DCG160 forklift.
My inexperience was actually a blessing, because I wanted to see how a new driver would react to this specific machine. Well, if they are anything like me, they will love it.
The DCG160 accelerates smoothly, beginning slow, as you would expect, but getting up a good head of steam fairly quickly.
But what impressed me was its ability to stop in a hurry, without fuss. It didn't lurch forward when called to halt or throw me around in the seat.
It does wonders for driver confidence knowing a machine like this will yield so willingly to your commands.
One feature I would have liked to have seen is a parking brake that comes on automatically when you lift your foot off the accelerator, as it wants to roll if not held to the ground with the brake pedal.
Lifting is slower than a smaller forklift, of course, but is smooth and reliable.
On reaching full height the mast gives an almighty jolt, which shudders the entire machine, reminding you of the sort of weight you're dealing with here.
A damping function when approaching full lock here would be welcome.
The turning circle is much tighter than you would expect for a machine or this size, and unlike a 2.5-tonner you never feel as though you might tip the thing over.
Vision in all areas is excellent; they've even thought to position the window wiper blade a third of way along the window — strange when you view it from the outside, but perfect when you're in the cab, as it becomes lost in the mast.
Verdict
Like everything European, you're going to pay a bit more. But are you paying for quality with the Kalmar DCG160 forklift ? The answer appears to be yes, especially when you analyse the components separately.
From carriage to engine to windows and everything in between, there's no skimping.
You're buying a modern machine with a CANbus system that will take some learning for service technicians, but could well save your bacon at some stage.
The focus is versatility, problem solving and being able to add options as painlessly as possible.
Whether or not some of these options should have been made standard from the start is a matter for the bean counters.
But with the luxury cab, smooth operation and components you can rely on, it's sure to be hard to top.
Kalmar DCG160 forklift specs
Make/model:                                                    Kalmar DCG160 forklift
Lifting capacity:                                                                 16,000kg
Truck length:                                                                      5,305mm
Truck width:                                                                       2,540mm
Height, basic machine, EGO cabin:                            2,920mm
Wheelbase:                                                                        3,500mm
Turning radius, outer — inner:                   4,785 — 420mm
Ground clearance, minimum:                     350mm
Lifting height:                                                                    5,000mm
Mast height, minimum:                                                 4,195mm
Mast height, maximum:                                                6,695mm
Length of fork arm:                                                         1,200mm
Service weight:                                                             19,200kg
Tyre type:                                                                           Pneumatic
Number of wheels, front — rear:                             Four — two (front driven)
Subscribe to our newsletter
Sign up to receive the TradePlant e-newsletter, digital magazine and other offers we choose to share with you straight to your inbox
Follow our updates by liking us on Facebook.