Review: TCM FGE25TF1 forklift
---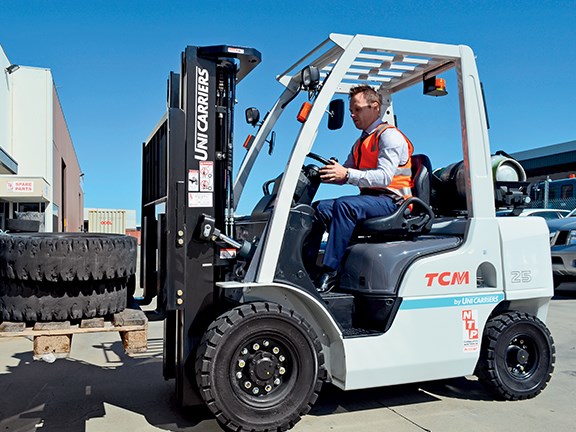 No job is too small for the TCM FGE25TF1 forklift.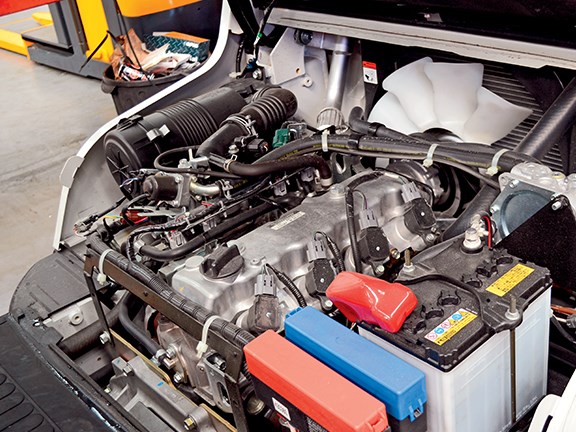 The TCM F1's Nissan K21 engine does the job with ease.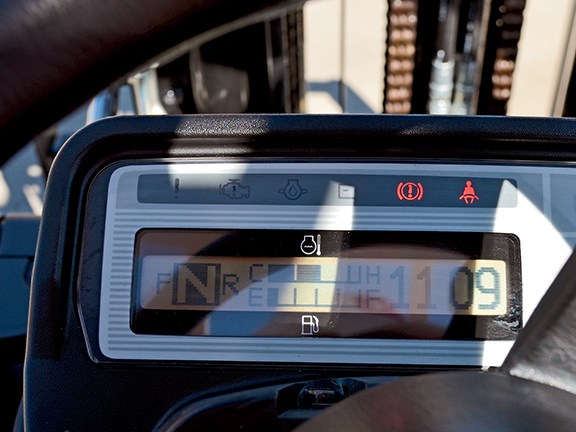 Simple, essential digital display on the TCM F1 forklift.

A Nissan by any other name, the TCM FGE25TF1 forklift is a no-nonsense workhorse for the warehouse and elsewhere.
It can sometimes take a moment to work out just what it is you're sitting on. As with many industries, the materials handling game is prone to frequent rebranding, marketing, mergers, take-overs and international distribution deals.
It's a competitive world, and any advantage gained by streamlining is invaluable and seized upon. The end result can sometimes be a product of not-so-obvious lineage, which could benefit from a free family tree with every purchase, to go with its spec sheet.
I'm driving a 2.5-tonne forklift with the model name FGE25TF1. It's distributed by NTP Forklifts Australia, has a UniCarriers badge alongside its more familiar TCM insignia and it looks a lot like a Nissan. You can call it the TCM F1. Let's take look …
TCM FGE25TF1 forklift
The TCM FGE25TF1 forklift is a good looking character, very dapper in white. There's a reason it resembles a Nissan: it is one.
That's not a bad thing. The Nissan K21 engine is a fine beast, well-known to mechanics and easy to get your head around.
UniCarriers has brought both TCM forklifts and Nissan under its wings, and both brands of forklifts are distributed in Australia; essentially the same machine with a different sticker.
NTP has been the Australian TCM distributor for nearly 20 years and has put together some appealing options for customers after a reliable, familiar product.
The F1 is available in 1,700kg to 3,500kg forms, and NTP Melbourne sales manager Chris Devanny shows me round the 2.5. This particular model has a 2.1-litre engine, but for an extra $500 you can upgrade to the 2.5-litre machine.
The workshop team has done a fine job in sprucing up the forklift, with detailing a Mercedes-Benz dealership would be proud of. It's a tough machine, as you would expect. Not the most compact or subtle forklift; it does have classic lines that inspire confidence.
On the TCM FGE25TF1 forklift there are no surprises when jumping into the operator's seat. Anyone with any forklift experience will appreciate the naturalness of all operations, from the intuitive seat-adjustment and recline to the memory-aided adjustable steering column.
A lot of forklift manufacturers make a big deal of seat comfort, and while the F1 saddle might be considered stock-standard it's certainly comfortable enough for long operations.
First things first. Turning on the TCM FGE25TF1 forklift requires a PIN code, a standard feature on this model. The appeal of the PIN is simple — it doesn't require a swipe card or integration with complex fleet management technology.
Devanny gives a good example of why you'd want a PIN in the first place.
"You might have a night shift that comes on, and they have no reason to drive the forklift, so you want to prevent that. Or maybe you have cleaners coming through," he says. "It's about ensuring your equipment is only used when it's supposed to be, and by authorised people."
Having to enter a PIN code every time you want to start the machine would be annoying. Luckily, you don't have to. A timer can be set so the PIN only needs to be set once during designated operating hours.
On the operation side of things, liquefied petroleum gas (LPG) injection, speed limiting options and a built-in weight gauge are all big positives. Safety features include an interlock system that senses when the operator has left the seat and will disengage the transmission and hydraulics, and fall back to neutral.
As far as innovation goes, the TCM FGE25TF1 is a fairly no-thrills forklift.
The marketing booklet points out relatively mundane features such as an ergonomically placed hand brake and an easy-reach cup holder, but in a way that is part of the appeal of this forklift. It's simple, clean and reliable, with nothing you don't need and most things that you do.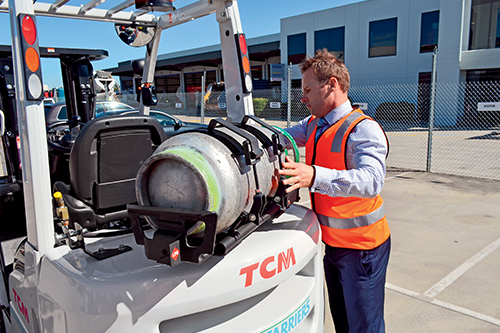 No heavy lifting
I've always dreaded that moment where the gas runs out and you immediately try to work out how far it is to walk to retrieve a new gas bottle. A full bottle is heavy, and if you don't have a trolley then lugging it back to the stranded forklift is an unwelcome workout.
By the time you reach the forklift and have kicked its tyres for running out of gas on you, your arms are fatigued and are then required to perform something of a clean and jerk to get the damn bottle up and over the counterweight and into position.
Most of us are not paid enough to be doing this, and simply don't have the strength.
The F1 has a nifty hinge mechanism though to get round this problem. The casing for the gas bottle swings out and down, to allow the changing of the bottle to happen at waist level, saving on both the health of the operator and on down time. Five stars.
A friendly machine
"Controls fall easily to hand" is a well-worn phrase (or cliché) in the reviewing game, but with the TCM F1 it's indeed very apt. There are three simple levers for fork raise/lower, mast tilt and side-shift; an uncluttered three-pedal set-up; a small steering wheel; and a small digital display giving essential information such as fuel level and lifting weight. To one side of the steering wheel is the indicator and to the other the hand brake. That's it.
It's a simplicity that gives the driver confidence, but also no excuse for mistakes. If you can't safely and correctly operate this forklift then you might as well hand in your licence.
On the job
The F1 doesn't exactly power away like its namesake model race car, but its acceleration is smooth and constant. The 2.5-litre version has more power and acceleration, with the trade-off being reduced fuel economy.
Brake application is sound. I was particularly impressed with the smoothness of the mast raise/lower operation. When going through the stages (three, on this model) there are hardly any of the customary shudder and bumps as a new extension limit is reached. It's especially noticeable when bringing loads down.
Often forklifts can give you a fright when you're cushioning a heavy, fragile load down from great height and the mast jolts as it enters a new stage. The F1's dampening feature makes the operation more one motion, increasing safety and driver confidence.
The particular forklift I tested did have a concerning screech when using the side-shift. Devanny explained it just needed oil, and he was probably right. Still, it would be something to test if you're considering a purchase.
The Nissan K21 engine gives you great performance, as you would expect. Improvements in the efficiency of this model claim to give it an 11 per cent reduction in fuel consumption. You can further the gains by flicking switch from 'power' to 'eco'.
When brought out of the warehouse the forklift was running on unleaded fuel, but the addition of an LPG gas bottle and the quick flick of a switch put us into gas land. Again it is simple, easy options.
The F1 doesn't boast an amazing turning circle, nor does it love being hurled into a dizzy state, with a slight shuddering on the steering wheel when at full lock, but this is not uncommon with this type of machine.
If a tight warehouse is your working environment then you might be better off with the F1 'S' model, the so-called 'Stubby' that offers the same output and torque, but with a shorter length, lower lifting height and a tighter turning circle (and a lower price).
The inching functions are accurate and highly responsive and a great deal of control can be had to position your tines in exactly the right spot.
Again, it's the simple, important things TCM are getting right. If you look up you'll find a three-piece overhead guard, which means repairs for any dings should be a simple matter of replacing a single part. I'd want an engineer's opinion on any compromise on strength though.
Overall, the driving experience is very pleasing. It's a forklift you feel you can trust to do its job and do it well.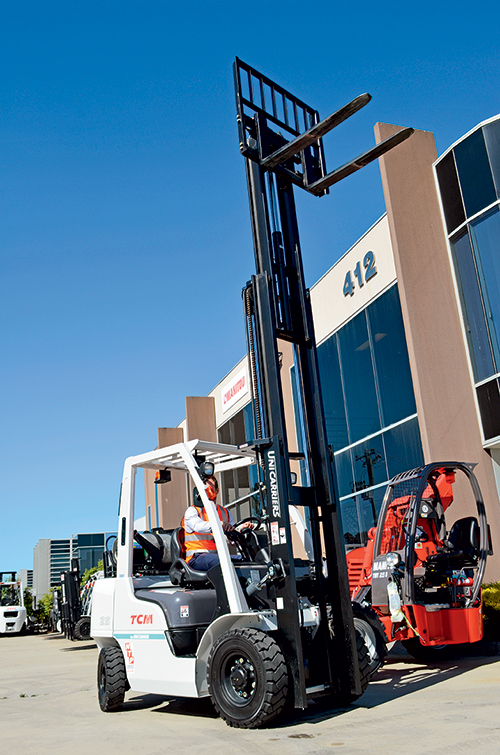 Full service
NTP offers full servicing of its products and the F1 is scheduled for a going-over every 250 hours.
Access to the engine is almost laughably easy and takes about five seconds. A belly plate under the engine helps protect the valuable stuff from dust and dirt. With easy access to all filters and frequently-changed components downtime is reduced.
In the event that things go wrong the F1 has an on-board diagnosis system that gives you an error code, which can then be relayed to NTP's well-drilled operations department.
The bottom line
TCM's F1 comes from a long and reputable line. UniCarriers is no dummy and snapping up the TCM and Nissan brand forklifts was a safe move, given the good track record of both machines.
It's a forklift that starts simple and can be optioned to include a multitude of extras and attachments, so you can be confident in getting the best product for your business's needs.
The pros and cons of LPG/petrol versus battery/electric should also be weighed up, particularly with the advancements in electrics technology. But if traditional forklifts are your thing, the white-faced TCM F1 could well be just the tool.


Subscribe to our newsletter
Sign up to receive the TradePlant e-newsletter, digital magazine and other offers we choose to share with you straight to your inbox
Follow our updates by liking us on Facebook.