Review: Hyster J2.5XN battery-electric forklift
---
The Hyster J2.5XN battery-electric forklift is a high-tech model that gives its fossil fuel-powered cousins a run for their money.
For machines that operationally have remained broadly unchanged since inception, forklifts are really starting coming of age. Some are even developing personality and self-awareness. Are the robots taking over?
Adaptalift Hyster want to take the simple running of forklifts to higher places, by supplying businesses with fleet-management capabilities with every machine that goes out. With a focus on innovation and technology it has become a major player in the industry, supplying forklifts to some of the biggest names in the game, including Qantas, Coca-Cola, Reece Plumbing and Landmark.
The company began in 1979 as Adaptalift, building attachments for forklifts. The engineering side of the business was sold in 1989 in order to focus on forklift sales and rentals. In the mid-2000s it made the plunge into fleet-management solutions with the acquisition of Speedshield — specialists in telemetry products for forklifts — and in 2009 the acquisitions continued with Hyster Australia, and Adapalift Hyster was born.
Major accounts manager Todd Alexander says with the owner of the business still heavily involved the company is able to be agile in its movements and make decisions quickly. One of the big moves of recent years was the decision to ditch liquefied petroleum gas (LPG) forklifts and go to battery-electric. The focus here is the Hyster J2.5XN forklift, and a few of its close relatives.
Hyster electric battery forklifts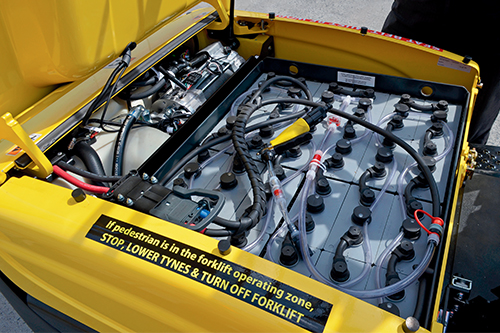 How far have forklift battery-electrics come, given that this is one of the newest models on the market? The same technology is shared from the Hyster J2.0XN right through to the J5.0XN; the difference being the Hyster J2.5XN forklift and upwards operate on an 80-volt system, which should convert to give you up to and over 60kW of power.
Not bad at all. While I don't have time to drive the Hyster J2.5XN forklift truck for days on end to test battery life, Alexander assures me a fully charged battery will last at least two shifts, before needing an eight-hour charge. Another option is to top-up the battery via a rapid-charge charger, which can be used through the week, before giving it a full charge at the end of the week.
Hyster battery-electric forklifts are designed to be able to work anywhere an LPG forklift can, be it dusty, wet, indoors or outdoors.
The days of having to lug a new LPG cylinder over to your forklift after it loses juice while unloading a semi-trailer may be over, but other diligence is still required to prolong the life of your electric Hyster machine. The batteries will need to be well-watered, once a week.
On the Hyster J2.5XN electric forklift, customers can choose to option an automatic battery watering system — a nifty plug-in hose attached to the battery power leads that you hook up to your water supply, thereby ensuring batteries get a drink as they get charged.
With businesses factoring in cost of ownership over a piece of equipment's entire life, the extra money you pay for this modern machine up front could be recovered in a few ways. First, buying this battery-electric means you're paying for five years' petrol up-front. Second, servicing and maintenance could become almost obsolete, which might be bad news for mechanics, but welcome news for those who hold the purse-strings.
The electric Hyster forklifts run two independent AC motors: a hydraulic motor and a steer motor. It's quite a torquey system, and one which should in theory eliminate much maintenance. With no wearing parts you shouldn't need to touch the motors, or even the brakes ('wet' oil disc brakes that should last the life of the truck and never need servicing).
There are no filters; nothing to change. It claims to be a maintenance-free truck.
Of course, the real maintenance comes from fixing superficial damage, dents from dings, ripped seats, etc. Because the motors act fully independently there's no clutch and no diff.
You can't spin the tyres, you can't throw the truck forward as you floor it along the warehouse in reverse. Ram control means no need for a park brake, either. As soon as you take your foot off the accelerator the forklift slows down and the park brake clicks on, then clicks off again when you put your foot back on the accelerator.
This is part of the regenerative braking (which you can dial up or down depending on the structure and fragility of your load) and the intended result is less wear and tear on the brakes, as well as safety. The forklift will stop on its own accord, even on a slope, if no one is depressing the accelerator or is occupying the seat.
I can immediately see the advantages of not having to perform the endless on/off dance with the park brake lever every time you jump off to adjust a load or move obstacles.
ForkTrack essentials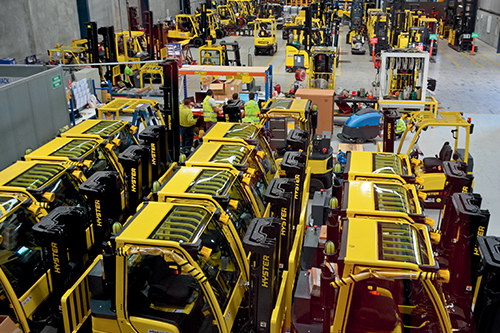 Here's where the story gets interesting. Lifting pallets is but one aspect of a forklift's job these days. An industry focus on fleet-management has meant Adapalift Hyster has installed a system called ForkTrack; the brainchild of Nathan McKenzie, CEO of subsidiary company Speedshield. ForkTrack aims to be a complete fleet-management system that makes both man and machine accountable to the company for their actions.
Gone are the days where a new forklift arrives and is thrown to the wolves to be used, abused and then sent to the flustered and overworked mechanic to diagnose and fix the machine when it inevitably goes down in a puff of black smoke.
With ForkTrack every operator has their own swipe card. Once swiped, the digital display will prompt you to confirm that all pre-operation checks have been carried out, before choosing one of four performance parameters.
If the operator sees a problem he can punch in a code and a report will be sent instantly to a designated person.
ForkTrack sees everything you do. Impact-sensing means it will dob you in if you have a prang. It will also be wise to drivers who are constantly getting out of the seat or overloading the forks. The aim isn't to snitch as much as drive a culture of change: get drivers into the habit of reporting accidents, and make operators more accountable.
ForkTrack also takes care of important indicators such as speed-controlling, lift-height speed reduction, stability control, battery charging, hour-metering and more. Is it a gimmick, or is it heeding demand? Alexander says the numbers tell the story, with the company now making up to 7,000 ForkTrack kits a month, all coming out of a manufacturing plant in China.
It all comes down to efficiencies, and reducing costs for the life of the forklift. ForkTrack means each truck can tell its own story to you; it tells you where it hurts.
Drivability
With all the new technology it can be easy to forget that someone still has to get in and drive this forklift, so how does it operate? The seat features fully-adjustable suspension, which you can manually adjust to your weight. The seat can also swivel to place you in a more ergonomic position when reversing. A reversing grip-handle also comes in handy, and ensures you keep your hands inside the vehicle.
If you'd never entered the world of mini-levers, some practice may be required before you can operate the forklift with confidence. Controls for all fork operations are situated at the end of the right arm rest, so you feel like you have a bionic arm, or are driving a high-powered, super-useful mobility scooter.
It didn't take long to get the hang of the small adjustments needed to raise and lower the forks and switch between forward and reverse (no neutral setting here, which takes a bit of getting used to). All lift and tilting speeds are fully adjustable, so you can set up the forklift for your needs and environment. For operators who spend hour after hour in the seat the mini-levers will be celebrated, as the weight of your arm is supported and no reaching for clunky levers is required.
A possible downside is observers can't anticipate a forklift driver's actions by watching where his hands are going and which levers he's about to operate; something I've got in the habit of doing over time.
Out the front vision on the Hyster J2.5XN forklift is good, even for a three-stage mast. It's a narrow mast, which means especially good vision down the sides so you can clearly see the edges of your pallet or load. It's also a very high-rating mast due to the thick steel, and the rating capacity doesn't drop much at full height (on the 2-tonne truck it derates only 400kg at full height).
The lift is very rigid, with little sway. There is no oversized concrete counterweight at the back; the counterweight is the battery itself, so there's a more centralised centre of gravity. This equates to good vision out the back and no dangerously-swinging concrete rear-end. Tyres are solid-pneumatic (pneumatic outside with a solid rubber profile in the middle).
Drive-wise, the electric J2.5XN forklift features Hyster Stability Mechanism (HSM), which makes auto-adjustments to your speed, to prevent rollover as well as engine wear. I experimented by driving straight ahead at full speed and then throwing the forklift into a 90-degree turn. The forklift slowed itself down going into the turn and then powered up again going out. It is part of the regenerative braking system, and it also serves to create a drip-feed of energy back into the battery as you slow down.
Then there's the CANbus wiring system, which looks after all the thermal management, meaning the forklift will know when it's getting hot and turn itself down to a lower mode of power (and all the way until it shuts itself off if need be). Features like these are great for driver-confidence.
This sort of artificial intelligence mean the forklifts are not so much fool-proof as bomb-proof. One of the great things about driving a battery-electric is the lack of noise compared to an LPG. Another under-rated advantage in my books is not getting that blast of dirty, hot exhaust when you walk round the back.
It would be remiss of me if I didn't mention the stupefyingly tight turning circle of these forklifts. The rear wheels turn a full 90 degrees, and the forklift turns within its own circle, helped along by front wheels that rotate in opposite directions (it's those damn clever independent AC motors again). I was impressed to find no vibration on the steering column when turning at full lock. While the ability to turn on a dime might not be to everyone's requirements, if it is then this forklift simply can't be matched.
The bottom line
With its high-tech, state-of-the-art fleet-management systems and self-aware forklifts, Adaptalift Hyster is clearly targeting the big players who understand the need to invest wisely in their machines. Qantas was convinced enough of the benefits of battery-electric to switch its entire fleet over from LPG. Whether or not you take that as a recommendation, the fact remains battery-electric are fast catching up to LPG in terms of performance, practicality and overall cost of ownership, and with this new Hyster range there's every reason for thinking they may have just nudged in front.
If you're after a simple, knockabout forklift to plough through your wrecking yard, or if you're a small business on a tight budget then these aren't going to be for you. But for those serious about getting ahead of the field and setting a high standard of professionalism, and have the budget to do so, you'll be investing in so much more than just a great forklift. 
Subscribe to our newsletter
Sign up to receive the TradePlant e-newsletter, digital magazine and other offers we choose to share with you straight to your inbox
Follow our updates by liking us on Facebook.