Review: Cat GP25N LPG forklift
---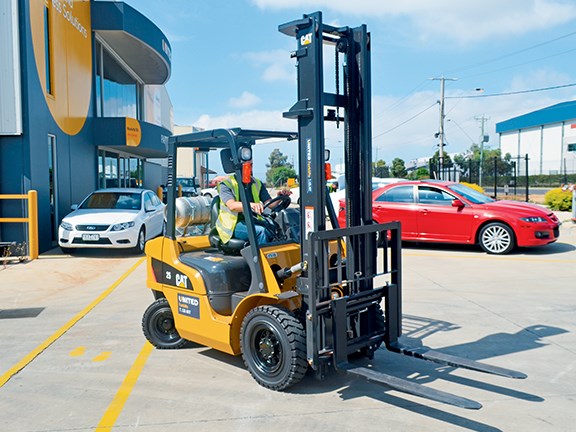 The tough Cat GP25N forklift ready for another work day.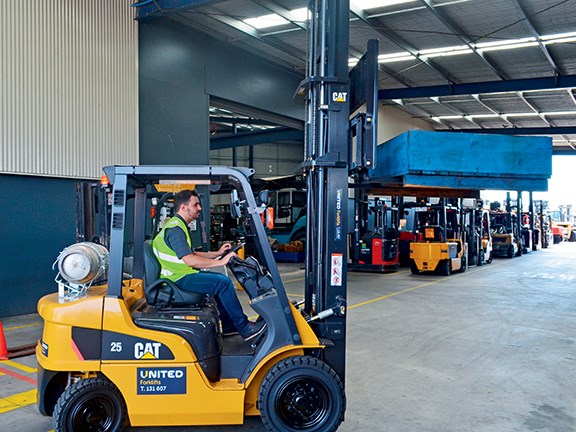 United Forklifts service coordinator Peter Muscat behind the controls of the Cat GP25N.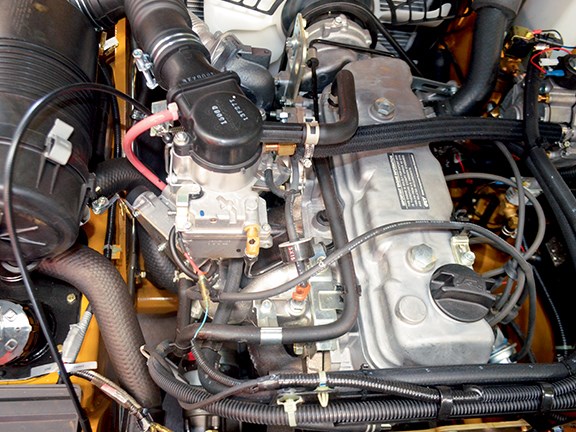 The simple, clean and accessible engine of the Cat GP25N forklift.

Caterpillar' s 2500kg load capacity Cat GP25N forklift is an efficient and simple warehouse forklift.
Cat is a name normally associated with large, earthmoving equipment; the stuff of huge projects, every little boy's Tonka truck dream come to life. The Caterpillar brand is not instantaneously associated with Cat forklifts. Yet with bases in all Australian states and territories except Australian Capital Territory, South Australia and Tasmania, United Forklifts and Access Solutions are bringing the Caterpillar brand of warehousing forklifts into the mainstream.
With an increasingly diversified range of product, Cat now offers every type of forklift and load-lifting machine you can think of, and its warehouse mainstay is the Cat GP25N forklift.
While Cat dealers such as United Forklifts don't have the economies of scale that big players such as Crown, Linde or Toyota have, it is starting to grow, according to Victorian sales manager David Morley.
"We're starting to build a name," Morley says. "A lot of people don't associate the Cat name with forklifts, but that's beginning to change."
After spending a morning with the Cat GP25N, it's clear if a no-thrills, reliable, easily-serviceable forklift is what you're after you could do a lot worse than opt for this warehouse-standard forklift.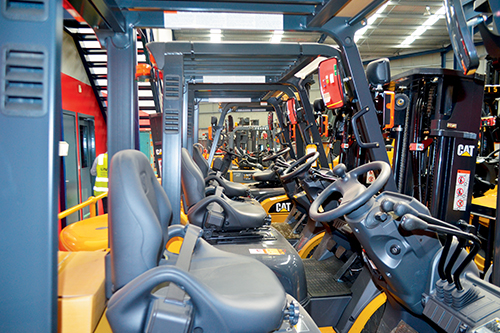 Cat GP25N forklift
On first inspection the Cat GP25N looks like … a forklift, and that's essentially the point. There are no bells or whistles (apart from the horn) and the machine's operation is completely intuitive and stress-free. Well, almost.
Inbuilt safety features are becoming increasingly tougher to bypass, but this forklift really raises the bar.
Morley explains the correct 'sequence' to get the Cat GP25N forklift operational. It's all to do with the order in which the seatbelt gets plugged in. As such, no forward movement will be achieved if you don't sit, turn the ignition, plug in seatbelt, release handbrake, engage gear — in that exact order. Get it wrong and you'll have to start again.
While this might seem pointless and frustrating at first, it's all an attempt to get around the cavalier attitude of some people who keep the seatbelt fasten permanently (then sit on top of it) to defeat their machine's Presence Detection System (PDS). Drivers will be justified in being peeved though to discover the seatbelt will need to be released and re-fastened (in the correct order with everything else) should they turn the machine off to have a brief conversation with a co-worker.
The PDS on the Cat GP25N forklift will also disengage the transmission if the operator leaves the seat (although curiously you can still raise and lower the forks) and enact a nagging beep. It takes a little practice to get the sequence committed to memory, but regular users will have no trouble with the system, and bosses who cringe when their employees do anything to invite the wrath of WorkCover will love the extra safeguard. One nil to the Cat.
Keep it simple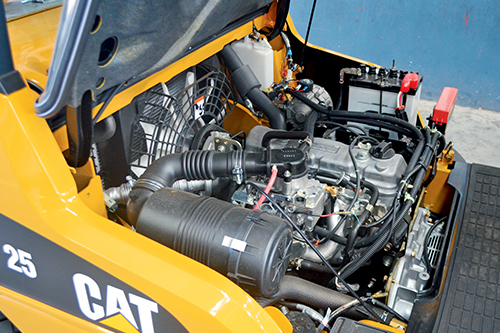 The Cat GP25 is not the most compact forklift around but the ease of operation (once you get the thing going) is first class. In fact, the seat felt like a first-class chair on an A380 to my skinny rump. Forklift drivers are forever jumping in and out of the cab to adjust loads and move obstacles, so the wide entry, ease of access and a suspension-laden seat is a godsend. Adjustments of the seat position are made manually and easily.
The steering column can be adjusted within a 12-degree range to accommodate any driver's taste (or belly), but the thing that impressed me most from a driveability point of view was the excellent sight-lines, born from simplicity of design.
With a two-stage mast, the hydraulic lines and lifting chains on the Cat GP25N forklift are orderly, unobtrusive and relatively few. The fork face is simple yet sturdy. You can see exactly what you need to and nothing you don't. The mirrors are well-built and adjustable. Be wary though of the relatively high mast, particularly if you've just jumped in after driving a low, three-stage mast forklift. I've seen these suckers take out water pipes in a warehouse before, with spectacular results.
When reversing, the low-set counterweight means rear vision is pleasingly unobscured, but I would have liked to have seen an extra horn on the rear pillar of the operator guard (comes in handy when reversing). The front left pillar demonstrates its potential usefulness by serving to funnel rain water collected on the acrylic roof of the operator guard down to the ground and well away from the driver's lap. Very classy.
The handbrake is lever-operated to the left of the steering wheel with the digital instrument panel under the wheel. The panel indicates speed, load weight (accurate to plus or minus 50kg), fuel and oil levels. The instrument panel also serves to warn of faults, the idea being to aid quick and efficient remedying (more about this later).
In the standard model there are three levers: fork raise and lower, mast tilt and fork side shift. A fourth, fork positioning lever is optional. Manual positioning of the tines can still be made. Other optional extras include a rotating fork, hinged fork, load stabiliser and bale clamp.
The Cat GP25N forklift model I tested was fitted with pneumatic tyres, but truth be told I didn't notice any difference in feel to the solid tyres I'm accustomed to. I imagine you would notice the difference on dirt or uneven ground though.
As with almost all cars, the transmission uses helical gears (gears cut at an angle) which helps with smooth engagement and eliminates jolts you'll often experience when throwing the thing from forwards to reverse (or vice versa), not that you should you be doing that anyway.
The Cat GP25N drives well and performs a tight turning circle with more than adequate torque. There's a slight vibration on the steering column (and slight reduction of grunt) with the wheels fully locked to one side, but this is common to just about every forklift I've ever driven.
Brake application is smooth and constant and the inching pedal works in perfect harmony with the transmission. Lifting is free of jolts and stability is good even at full reach.
Under the hood
United Forklifts amicable service coordinator Peter Muscat, gave me a tour of the good stuff. He flicks a latch of the gas bottle plate and the bottle pivots back to make room for the hood to open.
"Maintenance-wise, Cats are my favourite forklift to work with," Muscat says, and he proceeds to show me why.
Some forklift engines resemble Gondwanaland before continental drift began — components jammed up against each other with barely room to fit a flat-head screwdriver. This one is a picture of orderly living, and clean as a whistle. Muscat points out the oil filter, and how easily it can be reached by top or bottom. Yes, by bottom. The Cat GP25N has no floor plate, meaning servicing can take place from underneath, an option sure to be a hit among mechanics. Access to the air filter is literally a breeze, and the air intake takes in air from the right-hand side of the vehicle.
The whole thing is powered by a more-than-adequate 2-litre Nissan K21 motor and a standard 12-volt battery.
With today's attention to efficiencies, the less time you can spend servicing a machine the better. The simple, easy-to-understand engine and accessibility of access of this forklift is sure to be a selling point. I ask Muscat a bit more about the onboard diagnosis system, which is managed by the Engine Control Module (ECM). Systems such exhaust and cooling are all regulated through the ECM.
"If there's fault you'll get a fault code show up on the digital panel, and from there you can plug in your computer and work out exactly where the fault is," Muscat says.
Servicing is recommended every 500 hours, or three months, but United Forklifts will help customers curate a servicing schedule appropriate to their forklift's work load and environment.
The bottom line
With its foray into smaller, warehousing vehicles, Cat is demonstrating you don't have to be the glitziest to get results. The options that United Forklifts offer with the diverse Cat range take it closer to becoming a one-stop-shop for warehousing equipment.
Choice is the most important thing on offer here. Remember, at the end of the day a forklift is simply a tool in your toolbox. Everyone's needs are different and you need to choose the right tool for the job.
The Cat GP25N is an efficient, simple, small-sized workhorse, which for many companies will be exactly what they're after. Just as long as you can remember the starting sequence.
Subscribe to our newsletter
Sign up to receive the TradePlant e-newsletter, digital magazine and other offers we choose to share with you straight to your inbox
Follow our updates by liking us on Facebook.