Review: Mitsubishi Grendia FD70N diesel forklift
---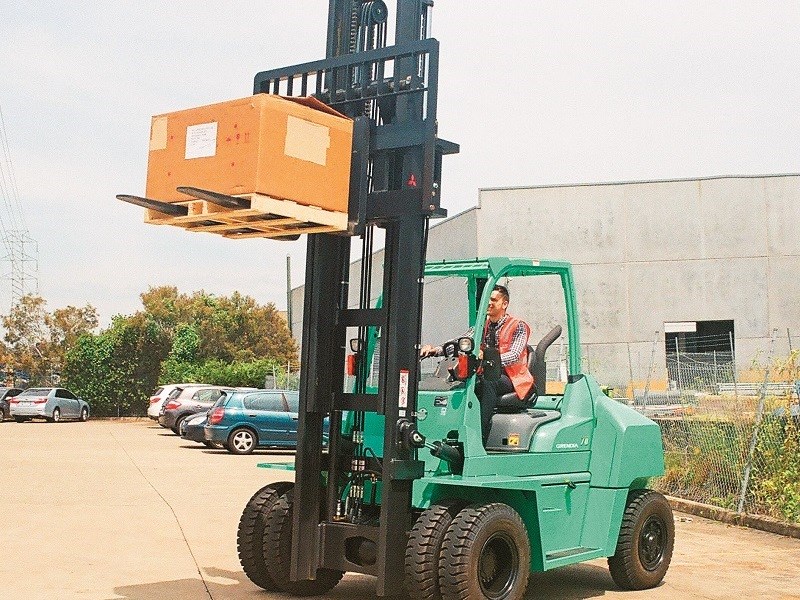 The Grendia struts its stuff on a hardstand.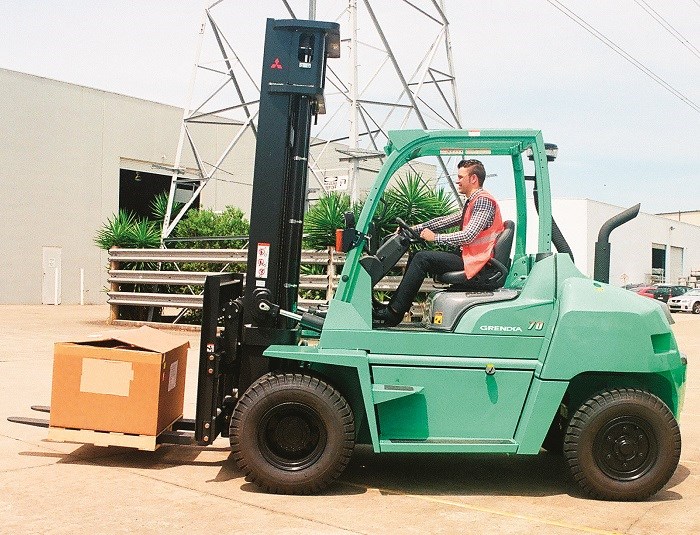 The FD70N has compact overall dimensions for load capacity.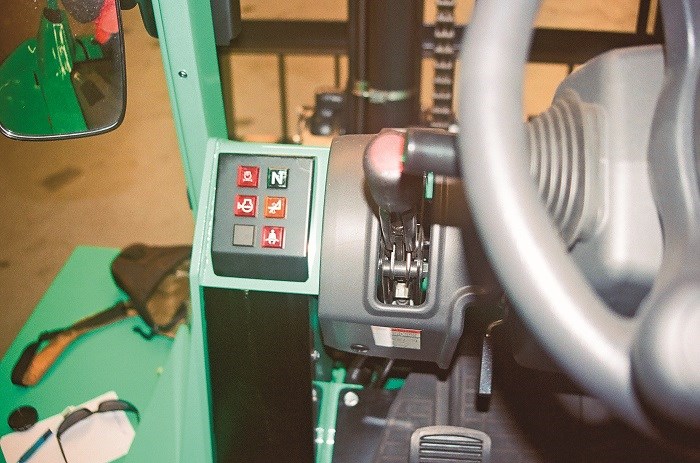 To left of steering wheel, forward-reverse gear selector and handbrake grouped together.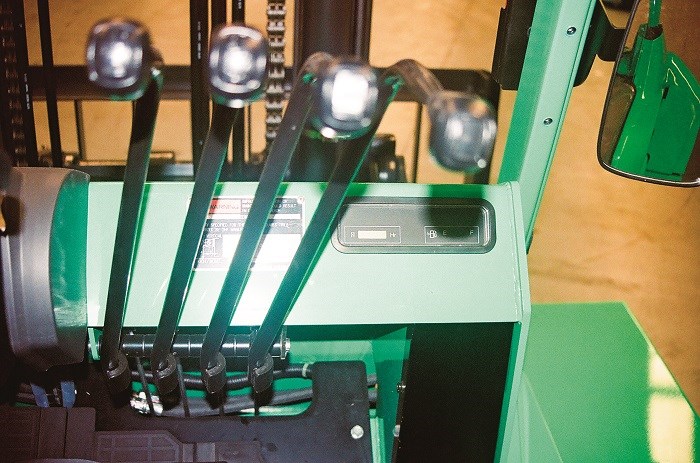 Four vertical levers Additional standard lever for grab/rotate function.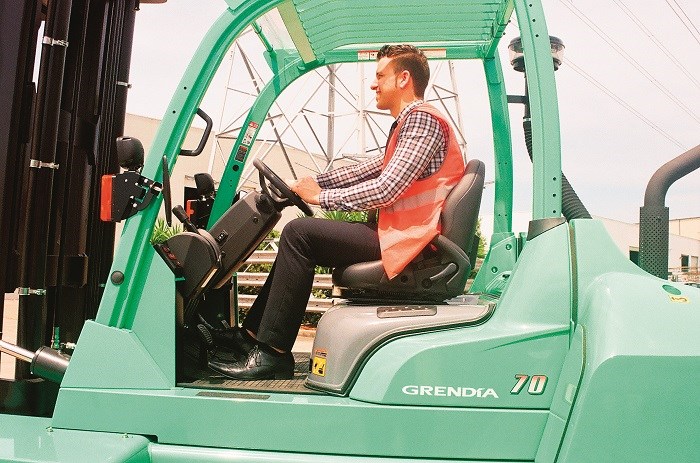 High driving position allows operators to know where forks are at all times.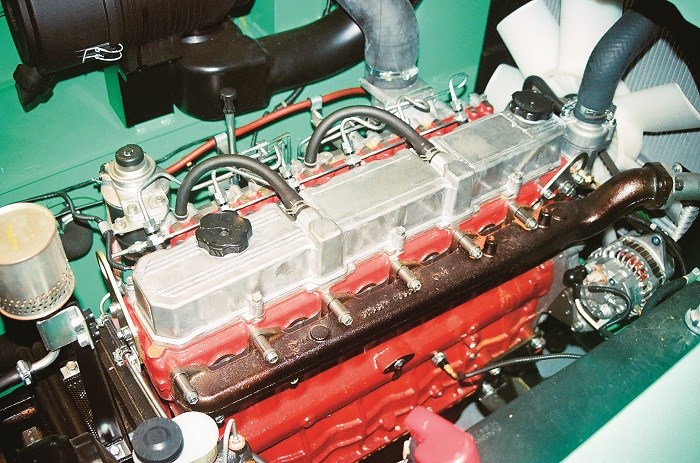 The S6S engine is a joy to work with.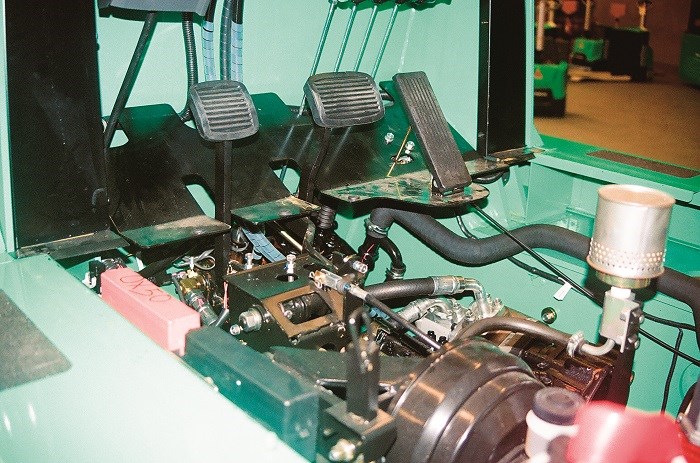 Front floor removal allows easy access to transmission and hydraulic pump .

The heavy duty Mitsubishi Grendia FD70N forklift is built to deliver sturdy, energy efficient and remarkable performance, but even better — no numb bums.
During the past 24 years of reviewing forklift trucks I've experienced bum-numbing drives with some diesel models. This is fine for porkers like me who desperately need flab reduction, not so good for slimmer drivers who have little backside cushioning.
But Mitsubishi has changed that with its FD70N. The combination of fully floating power train and suspension seat reduce transmitted vibration to the extent where it's sensed rather than felt. Though Mitsubishi's beautifully balanced 6 cylinder S6S engine has a lot to do with this.
Mitsubishi Grendia FD70N: An overview
The first thing you notice about the Japanese-made FD70N is its compact dimensions relative to load capacity.
The overall length to fork face is just 3,592mm. Yet the height to the overhead operator guard with mast lowered is 2,610mm, so the vehicle looks shorter than it actually is. Stability is not an issue as dual front wheels are fitted, bringing the maximum width to 2,173mm.
Sensibly Mitsubishi has fitted the same 8.25–15–12PR pneumatic tyres (solid optional) front and rear with vacuum-assisted self-adjusting drum brakes all-round. Drum brakes are straightforward to service and have a long service life.
Mitsubishi Grendia FD70N power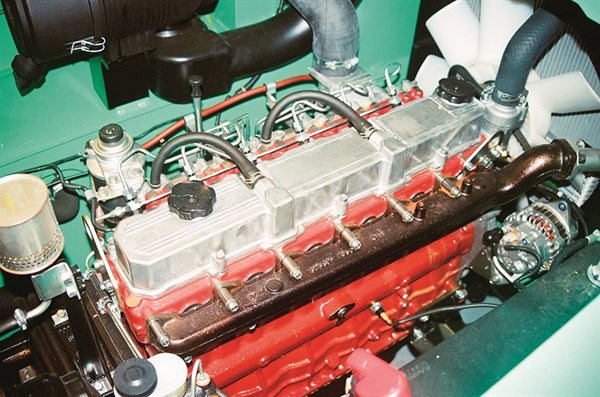 The S6S has plenty of grunt down low, just where it's needed for moving the full 7-tonne rated load plus dry vehicle weight of 9.5 tonnes.
Having tested marine engines for almost 32 years, it would also make an excellent power plant for displacement cruisers or work boats to nine metres, but this review is not about boating.
Mitsubishi Grendia FD70N safety
Operator safety is Mitsubishi's number priority so the FD70N is fitted with IPS or Integrated Presence System. Catchy name, but the mast and transmission are linked to the operator's seat.
If the operator stands up the mast and transmission are deactivated, though if the vehicle is on a slope it will still move due to gravity. When the ignition switch is turned off the mast and forks will remain static to prevent injury to workers around the forklift.
Mitsubishi Grendia FD70N operating station
The driving position itself is simply brilliant. Access to the seat is encouraged from the left but the right side is still uncluttered for alternate access.
A well-positioned grab handle on the A-pillar and non-slip step pads make climbing up to the cab easy. And the handle didn't flex under my bulk.
Once seated with the lap sash seat belt clipped in the high driving position gives excellent vision down to lowered fork level or over counterweight. Just in case an operator backs up too close to a wall the tail lights are recessed into the counterweight.
Atop the operator guard is a clear acrylic rain cover that's plumbed to drain down the left A-pillar to the wheel arch. No dumping of rain on your lap when running down a slope. Both A-pillars have the normal lights for low light or night time operation.
Mitsubishi Grendia FD70N controls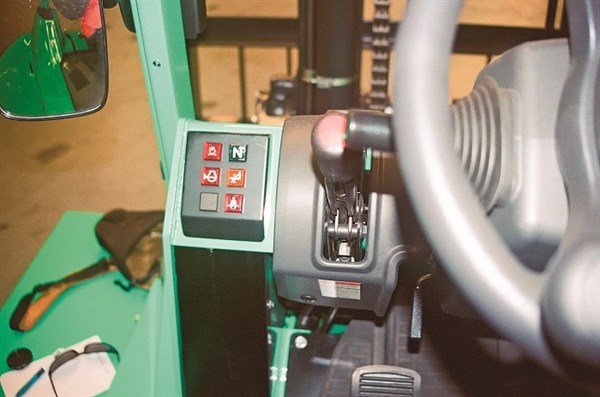 To left of the steering wheel with its rim knob are the mechanical handbrake and a bank of indicator lights (such as neutral position) and to the right an instrument panel containing warning lights for engine overheat and low oil pressure, parking brake and glow plug on and an hour meter and fuel gauge.
Standard are four levers in the normal position: fork raise and lower, mast tilt, fork side shift and an auxiliary control for a prong rotator with the hydraulics for this plumbed in.
Mitsubishi Grendia FD70N servicing
Servicing intervals are every 500 hours or six months with a three-year or 3,000-hour factory warranty. According to MLA Holdings, which imports Mitsubishi forklifts, the S6S engine has a 9,000-hour overhaul interval but with regular maintenance can last twice that period.
By lifting the seat base and shroud the S6S is revealed in all its glory, right back to the aluminium-cored radiator that's more efficient at heat dissipation than a copper cored unit and cools not only the engine but also the hydraulics.
The battery and exhaust manifold are to the left of the engine. Mitsubishi stuck with a 12-volt system for easier component replacement. The cyclonic air cleaner is to the right, indicating the FD70N was clearly designed for right-hand drive.
Also to the right are the intake manifolds and fuel pump with injectors. The huge canister oil filter is fitted on its side so that when the oil is changed it won't dump all over a workshop floor.
Ahead of the rear-hinged shroud is a removable metal floor and rubber mat to directly access the transmission and diff. With these removed and the shroud hinged up, servicing access is the best I've ever experienced in a forklift, reducing servicing technicians' time to get on with the job.
Mitsubishi Grendia FD70N performance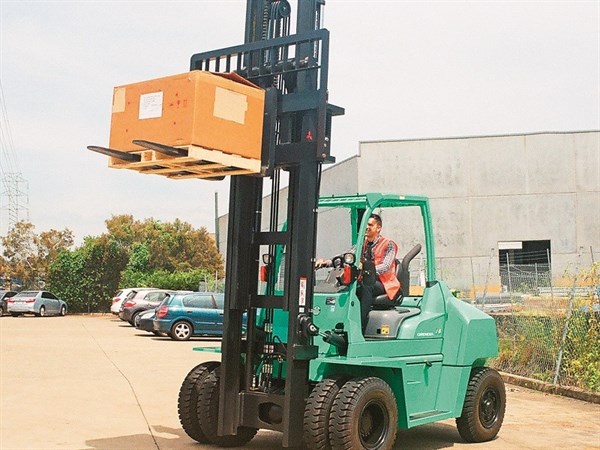 Driveability, ride quality and speed
After a brief glow plug warm-up the S6S engine started instantly with no black smoke appearing.
After getting used to the controls I tried the 2-speed powershift transmission, operated by a small lever to the left of the steering wheel.
With my foot firmly on the brake, I released the well-placed handbrake and selected forward, which engaged with barely a clunk. At about 10km/h it shifted positively into second gear and I accelerated to about 15km/h.
Mitsubishi claims top speeds of 22km/h laden and 28 unladen, but 15 was plenty fast enough in that car park. The brakes worked quickly with just gentle pressure, so standing on the brake pedal to stop the machine wasn't needed.
In the open the exhaust noise levels were sufficiently low not to affect my tinnitus but ear muffs may be needed in a factory.
Having a relatively short wheelbase, the ride was a bit choppy over the undulating concrete surface but the suspension seat eliminated any shocks through my bum flab.
In reverse the demo unit changed up at about the same speed and by using the steering wheel knob and turned to look over my shoulder the vehicle could be positioned exactly where wanted.
The combination of short wheelbase, light hydraulic steering and tight turning radius were great for reaching cargo in tight spots. The engine torque kept the vehicle turning without needing any throttle opening, so my foot could be kept over the brake pedal.
Lifting
MLA had thoughtfully supplied a pallet loaded with valuable engine parts, so God help me if I speared the box instead of the pallet.
Because of the massive bottom end torque of the engine, on level ground I could inch the forks into the pallet without using the inching pedal, instead applying varying pressure on the main brake pedal.
In my opinion being able to keep my foot on the brake at all times was safer than using accelerator and inching pedal, though on up slopes this combination would be needed.
The lift and mast controls fell to hand and with the high seat position I could clearly see the forks for inching into the pallet.
A gentle raise, mast back slightly, then onto the accelerator for rapid lift or lower. The overhead guard rails and clear roof panel didn't affect my view of the cargo.
The S6S responded instantly each time without hesitation and I even placed the pallet on the ground where directed without the slightest bump. Phew.
The Verdict
The FD70N won't make flabby forklift operators any fitter but I'm sure there are lesser diesel machines up to the task.
Mitsubishi has put a hell of a lot of effort into designing and engineering this machine. Its ergonomics will reduce operator fatigue and the easy servicing access will save a lot of wasted time.
The S6S engine and 2-speed powershift are way better than just a single speed torque converter and I really liked having two speeds in reverse as well as forward.
Mitsubishi Grendia FD70N specs
Maximum load: 7 tonnes at 4.5m mast height, 5.6 at 6m
Load centre: 600mm
Maximum fork height: 3,300mm
Free fork height: 220mm
Maximum fork length: 2,500mm
Mast tilt: 12 degrees back, 22 forward
Maximum mast reach: 4,580mm
Maximum grade ability: 33 per cent
Turning radius: 3,310mm
Wheelbase: 2,300mm
Ground clearance: 170mm
Dry machine weight: 9.47 tonnes
S6S maximum output: 67.7kW (90.8 brake horsepower) @ 2,300rpm
Maximum torque: 290Nm @ 1,600rpm
Piston displacement: 4,996cc
Fuel tank capacity: 130 litres
Subscribe to our newsletter
Sign up to receive the TradePlant e-newsletter, digital magazine and other offers we choose to share with you straight to your inbox
Follow our updates by liking us on Facebook.