Raymond 8510 low-level order picker review
---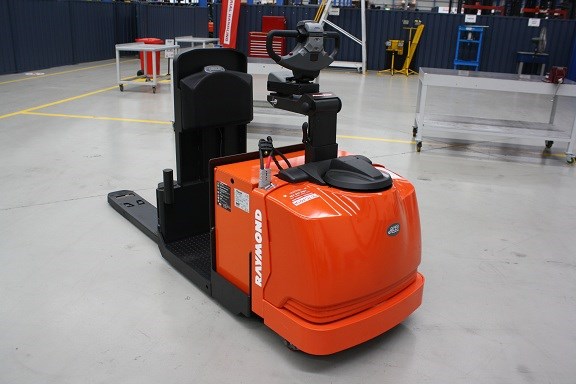 The Raymond 8510 low-level order picker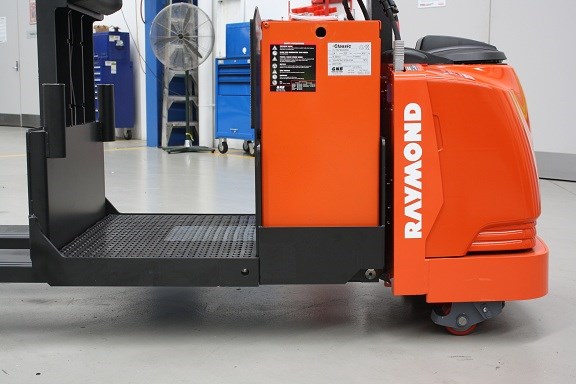 The Raymond 8510 low-level order picker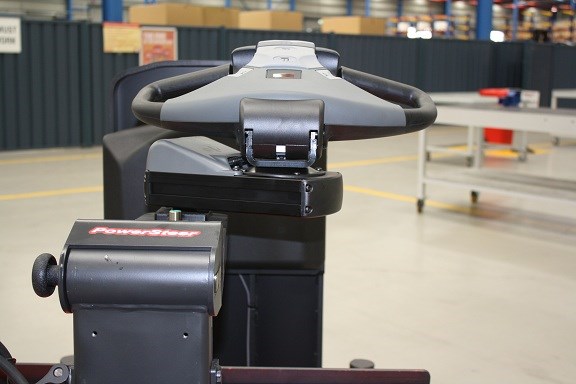 The control tiller can be offset to make the unit to operate in 'walk-beside' or 'jog' mode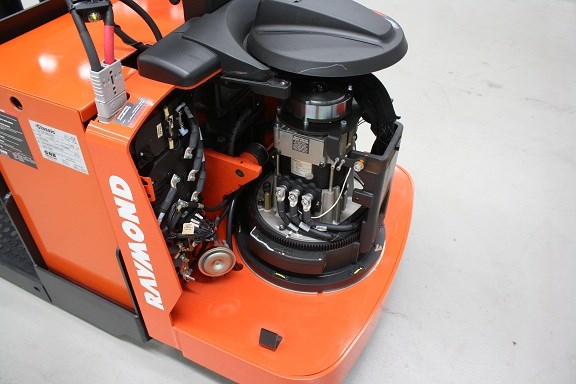 With the polyurethane snout of the machine removed all electronic components are easily reached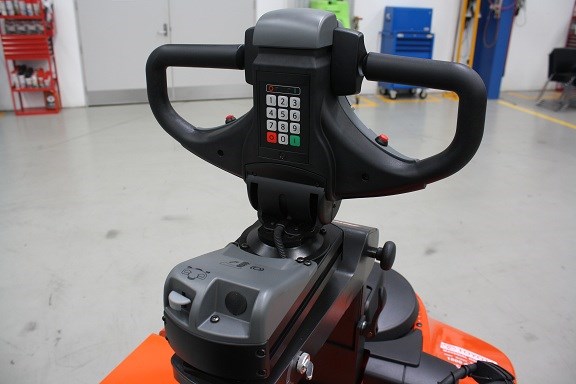 The tiller control handle controls are easy to use and help provide smooth operation

The standout feature of the new Raymond 8510 low level order picker is the availability of power steering. Matt Wood reports
When you look at pallet handlers and low-level order pickers you could be forgiven for thinking that they probably don't have to be too robust, especially when compared with larger materials handling machines like fork lifts and reach trucks, which have masts, carriages and multiple hydraulic rams. After all, pallet trucks only have to lift a pallet or two a few centimetres off the ground. It can't be too stressful, can it?
Well, high weights, high speed and irregular warehouse surfaces can provide a punishing work environment for these machines as they barrel in and out of trucks, over the top of dock levelling plates, and negotiating the daily bump and grind of a busy warehouse.
As a general rule these machines, regardless of brand, do tend to share a simple, basic layout: single or double pallet rails out front, battery in the middle, and a steering tiller with the drive motor and other electronic components underneath.
This means that there tends to be some key areas where pallet movers really do cop a hiding. The most obvious is the polyurethane drive wheel, which often spins, flat spots and skids creating uneven wear. But underneath, the bell-crank area beneath the battery tray is often the lowest part of the machine when the fork rails are raised, and this is usually the part of the pallet truck that collides with dock levellers, or raised sections in the warehouse floor, causing wear and in some cases damage. All in all, pallet trucks and low-level order pickers tend to have a pretty hard life.
Steering has traditionally been an area where this configuration of machine has been found lacking. The ride-on or walk-behind pallet mover and the conventional tiller control that is used on most of these machines is, for the most part, a simple and easy-to-use layout.
However, once the drive wheel wears, gets chipped or gouged on a sharp object or just wears unevenly, controlling the machine can become a real issue. At best, this becomes an annoyance as the tiller arm wobbles about while the truck is in motion; at worst, it can become a real safety issue if the operator has to fight against the steering of the machine.
This issue also goes for low-level order pickers, or centre-rider pallet trucks. I've had the pleasure of scooting the length of a van body trailer on an out-of-control pallet truck with a dodgy drive wheel, and it's not a great deal of fun. You tend to ping-pong off the walls until coming to a sudden stop at the end - not so great for the dignity either!
The standout
With this in mind, the new Raymond 8510 low-level order picker is worth a second look for its power steering alone, as it has the potential to remove a lot of stress and strain from an operator over the length of an entire shift.
The Raymond brand is a part of the Toyota Materials Handling Australia (TMHA) group and is sold alongside Toyota-branded products as well as the Toyota-owned European materials handling giant BT lift trucks.
The American-designed and manufactured Raymond occupies a niche in the TMHA line-up that calls for an extremely tough and durable product that is still light-weight and value for money.
The 8000 series range includes ride-on pallet trucks, walkie pallet trucks and tow tugs as well as the aforementioned order picker.
And, I recently had a chance to get a hands-on look at the 8510 centre-rider and see what was new with the quiet American.
As manufacturing continues to decline in this country, it's a no brainer to realise that warehousing will only continue to increase, and materials handling demands along with it.
Stock pickers, reach trucks and electric counterbalance fork lifts are becoming increasingly popular and so too are quick turnaround pick-and-pack roles that are handled by trucks like the 8510.
These trucks need to zip along fast enough to be efficient, yet be safe, manoeuvrable and driver-friendly at the same time.
Raymond claims its trucks are up to 6 percent more productive than their competition, putting this down to the relatively light weight of the machine and the powerful acceleration provided by its AC drive train.
But, performance aside, the 8510 does have a couple of interesting features. For a start the fork rails and bell cranks are made of ductile iron. This is reported to give these components more flexibility yet superior strength to cast iron.
As mentioned previously, these areas are prone to impact so it's easy to see the advantages there.
Another high impact area are the pivot blocks which hide under the fork rails, these block sit behind the small load bearing fork wheels and pivot up and down when raising and lowering the fork rails. The pivot blocks are also made of ductile iron and, as they're bolted into place they're also easily removed. Ask any fork lift mechanic to name his 10 worst jobs to do in the field and chances are cutting the pivot blocks out of a pallet truck with an oxy torch will get a mention.
Given the layout of these machines in general, the Raymond 8510 doesn't look a great deal different to other competing machines on the market, although one feature does grab your eye straight away. The cover that encloses the drive engine and electronic components is made of polyurethane instead of steel. As this cover forms the snout of the machine it's often the part that gets hit in a collision. This cover won't dent or crack and, for the most part, will spring back into shape.
Switching on the machine meant waiting for the 8510 to go through a short self-test before letting out a satisfactory beep. The control handle sat in the hands easily and is shared with its BT stable mates. All of the controls proved smooth and precise, the contactless sensors in the switches were also quiet without any click when engaging.
The truck was quite nimble, being both smooth and punchy, as I drove it around the TMHA training area; and was very comfortable to stand in.
I felt the 'jog' mode was a nice touch as this enables the operator to offset the steering tiller to the side of the vehicle that they are working from and walk beside it at low speed with limited steering, which saves time when order picking.
But, for me the standout feature of the Raymond 8510 is its use of a DC stepper motor to steer. This results in a very precise, but effortless system where a constant current is passed around a series of electromagnets inside the motor in steps. The end result is an easy to manoeuvre, and effortless truck to operate.
Subscribe to our newsletter
Sign up to receive the TradePlant e-newsletter, digital magazine and other offers we choose to share with you straight to your inbox
Follow our updates by liking us on Facebook.