Review: OMG Neos II 16 SE reach truck
---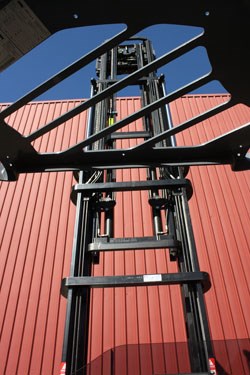 The twin ram mast provides excellent visibility at ground level or at full stretch.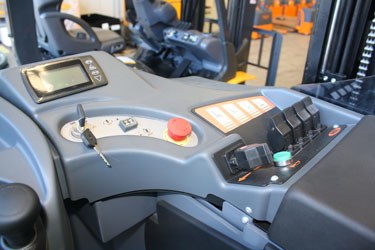 OMG use a control layout that will be familiar to most operators.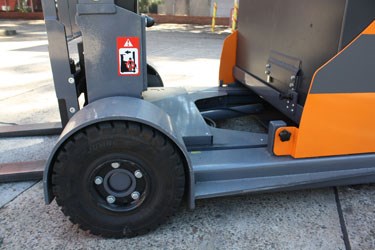 The super elastic tyres of the SE make it possible for the reach truck to operate on uneven concrete surfaces.

OMG stands for Officine Maccaniche Gongaza. How does the OMG Neos II 16 SE reach truck perform?
When first coming across the OMG brand of fork lifts, you could be forgiven for thinking the name is an effort to cash in on our Facebook-ing, iPad-ing internet age of acronyms. So, it may come as a surprise to find out that the Italian OMG company predates the internet by a couple of decades. It well and truly had the acronym in place before a new generation of keyboard junkies got hold of it. Instead, it's keeping the Italian tradition of acronyms alive, in line with the likes of Fiat and Iveco.
OMG manufacture materials handling equipment and have been making fork lifts since 1983. Interestingly, a big part of the company's focus is maintaining a very large, long- and short-term rental fleet, traditionally throughout Europe, that is until the recent introduction of the brand here in Australia, as well as forays into Brazil and south Asia. The OMG range consists of the usual suspects: reach trucks to 2 ton capacity with lifts heights to 10.5m, walkie stackers, order pickers and low level order pickers. A key goal of OMG's approach to the design of their equipment has been durability; over 50 percent of the units that OMG manufacture go into the company's own rental fleet. To put it simply, if they build a problem, they are building a problem for themselves as they own the majority of the units on the ground. 
The OMG brand is distributed in Australia by Komatsu or, to be more precise, Komatsu Forklift Australia. Just to place the organisation correctly, Komatsu Forklift is owned by 'the' Komatsu i.e. the company that also makes mining and construction machinery for the global market. Komatsu Forklift uses the OMG range to complement its range of internal combustion trucks and electric counterbalance (ECB) trucks; a relationship that is being used in other countries as well. As a result, OMG is supported by a network of 11 branches around Australia.
I recently visited the Komatsu Seven Hills New South Wales dealership to cast an eye over the OMG range. It was here I met product manager Gary Hodge, and he walked me through the OMG products on offer, as well as checking out some Komatsu machinery.  One unit in particular caught my eye, and that is the OMG Neos II 16 SE reach truck, the tell-tale clue in that little jumble of letters and numbers is the SE which stands for Super Elastic. The Neos SE is fitted with super elastic wheels which gives the machine more ground clearance and driveability over uneven concrete surfaces. I find it surprising that this kind of reach truck isn't more common on the ground in this day and age; there are certainly at least a couple of other manufacturers who provide this kind of truck. An elastic-tyred reach truck is one of the few that can actually be used to load and unload a truck as well as stack pallets into warehouse racking, effectively doing the job of a counterbalance fork lift outside and a reach truck inside. A business may divide its materials handling requirements into indoor/outdoor requirements, focussing on battery electric units for warehousing, and order picking and internal combustion trucks for outdoor loading and unloading activities. The elastic-tyred reach truck manages to bridge the gap between these two roles, and depending on business size can eliminate the need for a second fork lift or reach truck.
Recent advances in electric fork lift technology mean that many of these units are now effectively weatherproof and dustproof. The international scale used to measure this is the IP scale, the IP stands for Ingress Protection and the drive motors on this truck meet IP66, the first digit represents dust protection, of which 6 is the highest rating and the second number represents water protection of which the highest rating is 8. The 6 rating for waterproofing means that it can be cleaned with a pressure washer, but, it can't be driven in a lake. 
The Neos SE reach truck possesses many of the features that we expect to find in modern battery electric units such as AC drive motors, regenerative braking as well as the aforementioned IP66 rating on the drive motors. AC drive motors are virtually maintenance-free and regenerative braking extends battery life. However the Neos SE also features AC drive for all hydraulic functions, lift, tilt and reach as well as drive, making them even more efficient, 1.6 to 2 ton units also feature hydraulic braking on the load wheels as well. All these features have previously only been found on top-end premium level units, as far as market pricing goes, Gary Hodge explains that OMG fits neatly into the mid-range of the market.
As luck would have it, I was able to take the Neos II 16 SE for a drive, both indoors and outdoors to get a feel for the machine. Climbing aboard the reach truck I was faced with a simple digital readout, and a small bank of control levers arrayed in the usual order by my right hand. In front, the steering wheel is set into the control panel, the control lever and foot pedal layout follows the same format that operators of other brands would be familiar with, and are easy to access and operate. One advantage of this truck stands out immediately, and that is the superb visibility provided by the twin hydraulic ram mast, this is standard across the range. By using two lift rams on either side of the mast, the operator can look through the mast without having his or her vision obscured. Overhead visibility is also excellent with a clear view through both the top of the cabin and the fully raised and extended mast - in this case 7.5m off the ground.
On the uneven asphalt and concrete surface outside the reach truck proved both zippy and stable, and aided by the suspended driver's seat rode comfortably. In fact the machine on initial impressions felt every bit as comfortable as a counterbalance machine, and perhaps more so when working in high-level racking. Another feature that I appreciated was the 9 degrees of tilt available: 4 degrees of forward, and 5 degrees of backwards tilt, nearly as much as a conventional counterbalance truck, and very handy when lifting pallets out of racking at full stretch. The mono-bloc chassis appeared quite rugged with no plastic or vulnerable materials used outside the driver's compartment, which should see it handle the rough and tumble of a hard day's work without expensive damage. As mentioned earlier there are some very clear advantages to be had by using an elastic-tyred reach truck and OMG, while still a relatively new kid on the block in this country, has provided a solid, easy-to-operate, no-nonsense example of the breed.
Subscribe to our newsletter
Sign up to receive the TradePlant e-newsletter, digital magazine and other offers we choose to share with you straight to your inbox
Follow our updates by liking us on Facebook.