Review: Jungheinrich EFG320 electric forklift
---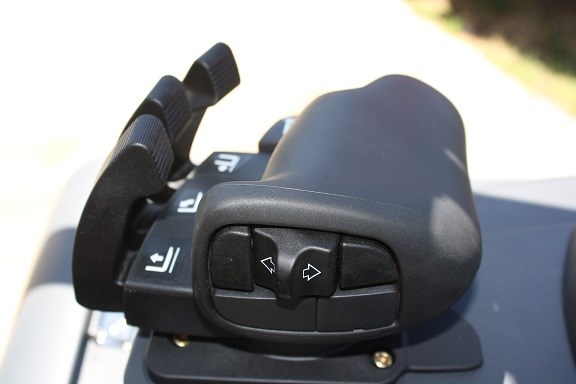 Jungheinrich EFG320 electric forklift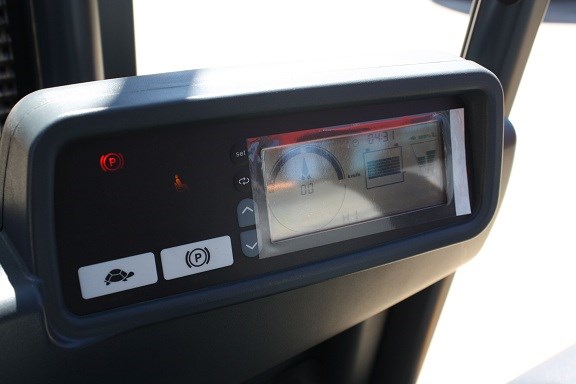 Jungheinrich EFG320 electric forklift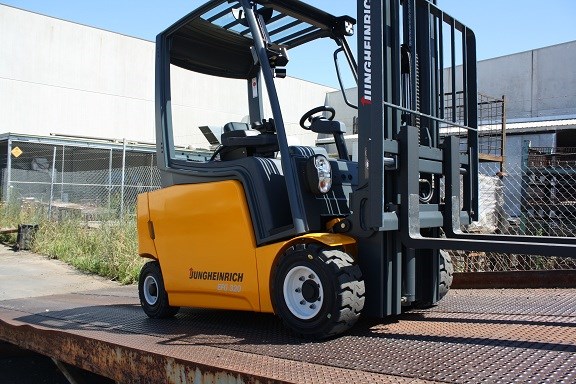 Jungheinrich EFG320 electric forklift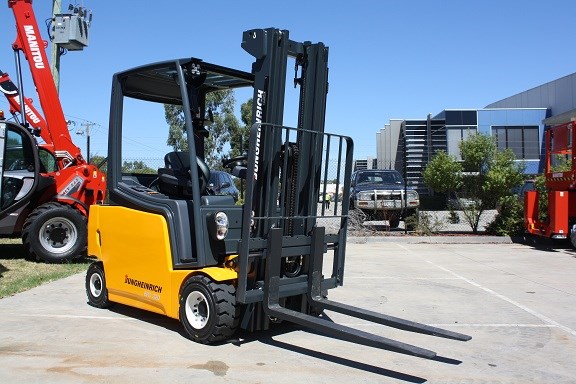 Jungheinrich EFG320 electric forklift

The Jungheinrich EFG320 is an example of the huge changes in electric forklift technology.
There used to be a certain soundtrack to the busy electric forklift environment. The air would often be filled with the click and whizz of electrical contacts and the whirr of electric drive motors, as battery electric fork lifts scurried to and fro, sounding not unlike a mad professor's clock factory.
For a long time, battery-powered electric materials handling equipment was considered a necessity rather than a choice, dictated by the operating environment; enclosed spaces, freezers, cold storage etc. Where possible most have stuck to using LPG and diesel-powered machines, traditionally these trucks have offered superior performance and don't require infrastructure based around batteries, chargers, battery changing equipment and shift batteries.
And these days, the heavy, expensive, sometimes clunky and fragile electric truck has well and truly become a thing of the past. German materials handling heavyweight, Jungheinrich have been at the forefront of many of these developments, pioneering features like alternating current (AC) drive motors, regenerative braking and proportionate hydraulics among others.
Jungheinrich electric forklifts
While Jungheinrich has maintained a modest presence here in Australia, it is currently the third largest supplier of materials handling equipment in the world. As these fork lifts have become more efficient, and more ergonomic, Jungheinrich is prepared to put the electric counterbalance fork lift forward as a feasible alternative to the traditional LPG-powered fork lift.
Huge advances in battery technology mean that trucks like Jungheinrich's EFG  three and four wheel fork lifts can complete a couple of shifts on one charge, reducing the need for replacement shift batteries, battery stands and lifting devices.
Jungheinrich Sales Manager Greg McNamara has been working with the brand for more than 25 years and has seen many major developments along the way. He is very keen to point out how well the four wheeled EFG320 can compete in a traditional internal combustion (IC) market. The 2-tonne capacity EFG320 I'm here to look at is hard to miss in its bright yellow livery. But as with many things in this day and age the most interesting developments occur beneath the surface.
Jungheinrich has been using AC drive motors on its electric forklift trucks since the mid-90s. Other manufacturers have since adopted AC technology as well, however this is the fourth generation of AC technology from Jungheinrich.
The advantages of AC drive motors are pretty clear, for a start there are no carbon brushes to wear out and they are virtually maintenance free. Jungheinrich's motors, for example, are completely sealed; there are conductive coils around the inside of the motor casing with a three-phase rotor inside.
When AC power is passed through the coils a rotating magnetic field is created and the rotor starts to spin, and voila, you're mobile. This also makes regenerative braking possible; once the operator takes their foot off the throttle the vehicle starts to brake automatically. Such a regenerative braking function is completely 'wear free' so brake maintenance is also now a thing of the past. The power generated by this braking force is captured and fed back to the battery, again helping to extend battery charge life over the course of a shift.
A common 'Achilles heel' with many electric forklift units is dust and moisture. The Jungheinrich EFG320's sealed drive motors along with sealed wiring loom connectors and encased command modules makes it possible to pressure wash the machine with no possibility of harm. Something unheard of with electric machines, until recently.
As with other European forklift brands I've driven, operator comfort is a high priority. The EFG320 has rubber-mounted cab suspension supporting the driver's compartment as well as a sprung and very ergonomic seat. Once seated, I was able to adjust the height of the driver's armrest to a comfortable level, with all of the forward/reverse and hydraulic controls situated at the end of the armrest.
The ergonomic advantages of this are easy to see. I was able to drive the truck forwards and backwards, toot the horn and operate the hydraulic controls, all without removing my hand from the steering wheel or my arm from the armrest. The steering wheel is also adjustable for both height and rake to obtain the best driving position.
This truck was fitted with controls in a 'Solo-pilot' configuration which mirrors the traditional fork lift lever set up of lift-tilt-and side-shift. Also available is Jungheinrichs 'Multi-pilot' joystick which has more in common with many reach truck control levers. Being more used to the traditional control set up I found the EFG more than easy to operate.
Jungheinrich has chosen a proactive rather than reactive approach to safety with features like 'Curve Control', which automatically reduces the speed of the fork lift if the steering wheel is yanked around in too sharply while on the move. A demonstration of this was provided when I spun the truck around on full steering lock with the accelerator pedal flat, and then abruptly straightened the wheel, the result was a braking and slowing of the truck stabilising it instantly.
The other feature I quite liked about the Jungheinrich EFG320 electric forklift was the automatic park brake. If you take your foot off the accelerator pedal the truck will just stop, if you then put your foot back down the brake releases automatically and away you go, without any roll back. I was able to drive halfway up a container ramp and actually leave the vehicle (albeit a bit nervously); the truck just stayed put where it was.
All in all the EFG320 was a smooth, comfortable yet zippy machine to operate. Compared to many IC and electric trucks, the 2-tonne capacity, four wheeler felt light years ahead even just in terms of changing direction from forward to reverse.
In a traditional IC truck you would be braking to a halt, flicking the transmission lever and accelerating away again. With the EFG it was just a matter of lifting my right foot and flicking the direction selector, the time and efficiency savings alone are obvious.
Jungheinrich EFG320 price
There is an upfront price premium for this Jungheinrich electric forklift over an equivalent capacity LPG-powered truck, however, running costs drop dramatically when the need for LPG bottles are taken out of the picture. Maintenance costs of the Jungheinrich EFG320 electric forklift are also significantly less with servicing required only every 1,000 hours.
According to McNamara, electric fork lifts currently account for around 53 percent of the Australian market. After my drive of the EFG320; I can see that share growing.
Subscribe to our newsletter
Sign up to receive the TradePlant e-newsletter, digital magazine and other offers we choose to share with you straight to your inbox
Follow our updates by liking us on Facebook.