Review: Hangcha XF forklifts | 1.8 and 2.5-tonne LPG series
---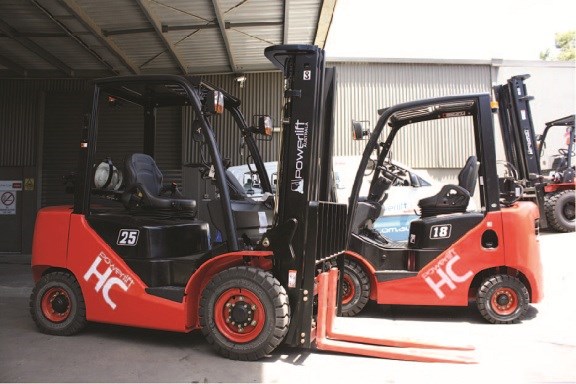 HC XF LPG forklift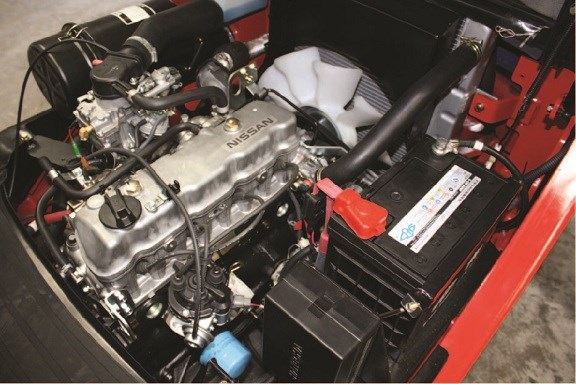 A Nissan sourced K series motor is standard across the XF range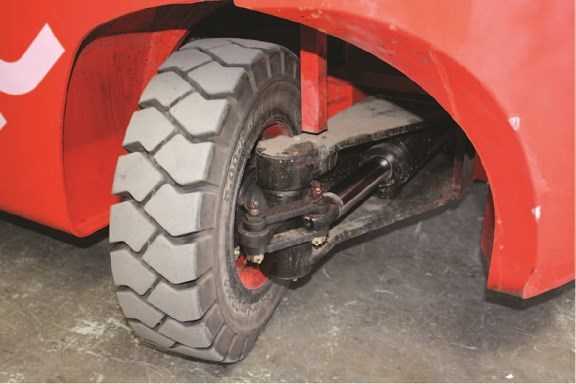 A double knuckle joint on the steer axle lets the wheels turn to 89 degrees

Hangcha forklifts hasn't tried to reinvent the wheel. The Hangcha XF range 1.8- and 2.5-tonne LPG units are round and affordable.
These days it's hard to imagine a supply chain without the existence of the humble fork lift. We tend to take transport innovations, like fork lifts, pallets, and shipping containers for granted. When the likes of Yale and Clark first started building fork lifts in the 1920s, who could have foreseen that the fork lift truck would become the essential tool for manufacturing and industry it's become in 2012.
A current model 2.5-tonne fork lift represents a significant outlay for a business, however technology has advanced to the point where both electric and IC (internal combustion) fork lifts are capable of working double shifts around the clock, earning their keep.
But what of the small to medium size business? It's hard to justify an outlay in the vicinity of $30,000 on one or two new machines that, while indispensable, may only be used for a few hours a day. These small and medium sized businesses are often quite happy to do without features like fuel injection, ECM's (electronic control modules), or suites of other gadgets to monitor both machine and driver efficiency. And it's this part of the market that Powerlift Nissan is aiming its range of HC counterbalance fork lifts.
Hangcha forklifts
HC or Hangcha is the largest fork lift manufacturer in China, cranking out 50,000 fork lifts a year. The cynics will no doubt be dubious of the build quality and longevity of Chinese manufactured machines, but I suspect that time will prove otherwise, as it has with Japanese and Korean built products.
I recently had a chance to check out both the Hangcha 1.8- and 2.5-tonne LPG units from HC's XF range, which encompasses the very competitive 1.8-tonne to 3.5-tonne part of the market. In keeping with Powerlift's Nissan line-up, both units are powered by a carburetor induced Nissan K series engine. The engines themselves are made in Japan and shipped to the Hangcha factory while the rest of the components are manufactured locally.
Both units come fitted with Cascade side shift as standard, while the carriage and mast will accept the usual compliment of attachments from paper roll clamps and bale clamps to rotators. Beside the lift, tilt and side shift valve levers there are blanks in the dashboard to allow attachment controls to be fitted. The 2.5-tonne unit was fitted with a four-ram, three-stage wide view mast. The hydraulic rams on this mast run up the outside corners of the mast, this keeps forward vision through the mast unobstructed. Lift heights range from 3m to 7macross the range with container and standard type masts.
On the safety side of things, Hangcha forklift units are fitted with a seat cut out switch, meaning if an operator leaves the seat while the truck is in motion the transmission will neutralise. The cut out switch also prevents the hydraulics from operating unless the driver is seated, and a warning buzzer sounds if you jump off the truck without pulling the handbrake on.
While all of this is pretty much standard fare, I liked the grab handle and horn button mounted on the rear pillar of the overhead guard. When a driver is travelling backwards, looking over their shoulder, they can steady themselves with the handle and sound the horn without having to turn around or adjust the placement of their hands.
Forklifts of this size generally handle pretty well and it stands to reason that, given the nature of their duties, they are going to need a decent turning circle. I found the double knuckle joint on the steer axle made both trucks surprisingly nimble, letting the rear wheels turn to 89 degrees. They could just about turn on the proverbial dime, with the 1.8-tonner turning in a radius of 2015 mm. The universal wheel size and stud pattern means the trucks are available with standard solid or pneumatic and non-marking tyres.
The folks at Toyota are probably not amused at the swing down LPG bottle bracket that comes standard on LPG powered HC forks, considering the concept first appeared on the 7 series trucks. Nevertheless the swing down bracket does make bottle changing a lot easier on the back, especially those using steel rather than aluminum bottles.
The overall impression you get from Hangcha forklift trucks is one of simplicity; there are no gizmos or computer generated bleeps from these machines. They are well set out in the manner of most IC forks on the market today with a decent seat, good pedal placement and visibility, and a cinch to operate. I did find the trucks a bit noisier than some of their competitors, but considering these forks are aimed fairly and squarely at the one or two fork lift business, I doubt this is going to be much of an issue.
Hangcha forklifts price
The Hangcha XF range of forklifts come in at around $7,000-$9,000 cheaper than a premium brand equivalent and come with a 3-year, 3600 engine hour warranty. Numbers like that are hard to ignore and make an attractive proposition for a business needing a couple of value for money fork lifts.
HC Forklfits are distributed in Australia by Powerlift Nissan .
Originally published in SupplyChainReview magazine issue 128, February 2012
Subscribe to our newsletter
Sign up to receive the TradePlant e-newsletter, digital magazine and other offers we choose to share with you straight to your inbox
Follow our updates by liking us on Facebook.