TMHA launches electric forklifts
---
Toyota Material Handling Australia (TMHA) has added four new counterbalanced forklifts to its line-up, the 9FB series, with load-bearing capabilities ranging from six to eight tonnes.
The four new electric counterbalanced forklifts include the 9FBM60T, 9FBM70T, 9FBM80T and 9FBH80T models.
Previously, TMHA's dedicated battery-electric models covered one to five tonne capacities. The new additions to the range allow businesses seeking to reduce their emissions to do so.
TMHA Counterbalance Product Manager Glen Ryan says the new range of high-tonnage electric forklifts are designed and manufactured in Europe to the highest standards.
"The range has been available in Europe for some time now and we're really excited to now have it here in Australia," he explains.
"We have recently added a 9FBM70T to our demonstration fleet so we can showcase this range."
The advantages of this latest range of electric forklifts, from an emissions and cost of ownership point-of-view are considerable.
"The range is essentially designed and built as a true alternative to an engine-powered forklift dual-fuel models," Ryan says.
"Traditionally our core counterbalanced range is internal combustion engine-powered, however there is certainly a shift towards battery electric.
"Previously our dedicated electric forklifts were in the 1.0 to 3.5 tonne capacity, then we added 3.5 to 5.0 tonne, but now with the launch of our new higher tonnage dedicated electric forklifts we can handle 6.0 to 8.0 tonne configurations. Now we can go from one tonne all the way up to eight."
"The bottom of these forklifts are cut-out in a U-shape so if you have to change batteries over the course of multiple shifts, all you have to do is drive underneath it with a capable forklift or specialised pallet mover, raise the battery and drive out."
"They also have a full floating cabin, so the cabin sits on four suspension dampers which reduces vibration transmission to the operator, making for a very comfortable ride."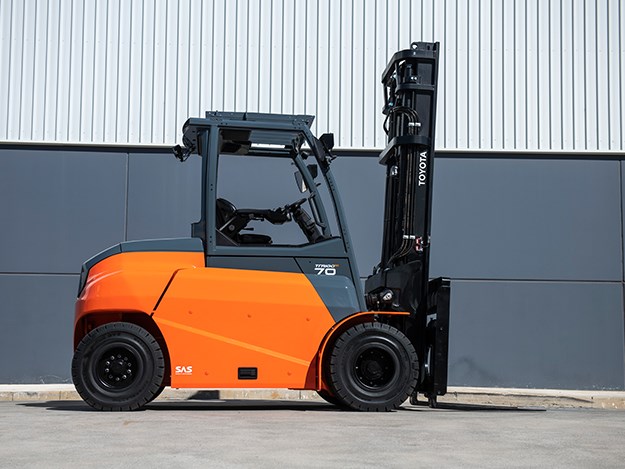 All models also feature electronic power steering (EPS) which for a high-capacity forklift make it feel nimble. "For such a large-tonnage forklift it has a minimal turning circle and is effortless to manoeuvre, giving you the feeling that you're driving a much smaller machine."
"They also have shock-less landing, so when you're lowering the mast down to the ground there's a nice, soft, cushioning effect. There's no jolting and the load is protected."
Another new feature is an automatic park-brake as standard. "Normally, a forklift has a car-style hand brake lever or foot-activated parking brake, but with these new machines they automatically apply the parking brake when standing still, when the operator leaves the seat or can be manually engaged by the operator pressing a push button.
"Also, another benefit of the automatic park brake is when you come to a stop on an incline, the forklift won't roll back. And when you apply the accelerator to take-off again, there's no lashing or jolting motion."
Like all Toyota Material Handling counterbalanced forklifts, the 9FBM60T, 9FBM70T, 9FBM80T and 9FBH80T feature Toyota's exclusive System of Active Stability (SAS) as standard.
"SAS is the first system in the world to monitor and control their forklifts through a combination of advanced sensors linked to an on-board controller, enabling assured load-handling performance and, therefore, safety.
In the seat
The operator has easy access to all mini-lever controls; an armrest, plenty of storage and a multifunction display screen with features including a wheel direction indicator, speed indicator, load indicator and battery discharge meter.
"Operator comfort and the all-round visibility is excellent, which can assist to reduce fatigue and increase productivity."
All models are 80-volt battery-electric, providing a comparatively long battery life.
"Another advantage is the driving behaviour software. This detects how the machine is being used, which in turn provides predictable and intuitive forklift control with wide fine-tuning possibilities. The 9FBMT also has a remaining operating time (battery power) indicator, three different power-select modes, programmable speed setting and an auto-off function, if the forklift is left idle for a pre-determined amount of time."
"They can take a large load from the ground and not relinquish much capacity as the mast rises - they all have excellent capacity-retention at height."
From a servicing point-of-view, the machine is very accessible for technicians. "The response from our technicians has been extremely positive regarding access and component locations, particularly how this can assist with faster turnaround times on preventative maintenance."
Although a battery-electric forklift has a higher initial purchase price than an internal combustion engine-equivalent, it can yield a better return-on-investment and lower total cost-of -ownership.
"Charging a battery of course costs money, but it's not as much as traditional fuel costs." There will still be some scenarios where a traditionally- powered counterbalance forklift would be a more suitable fit, but all in all battery-electric is the way of the future."
Subscribe to our newsletter
Sign up to receive the TradePlant e-newsletter, digital magazine and other offers we choose to share with you straight to your inbox
Follow our updates by liking us on Facebook.