Volvo XXL: eXXLent adventure
---
What started as essentially a long distance sleep-over in Volvo's new XXL Globetrotter cab quickly morphed into much more as the 700hp Swedish flagship turned in a stunning performance hauling four trailers and 120 tonnes to the Top End. Heading north just days after starring on Volvo's stand at the Brisbane Truck Show, it was the maiden voyage to beat all maiden voyages
It is, in every sense, an extremely long haul from the cloistered corridors of Volvo world headquarters in Gothenburg, Sweden, to a few random moments parked on one of those old World War II airstrips that run alongside the Stuart Highway on the outskirts of Darwin.
In this case, however, it also marks a journey of remarkable resilience and unwavering determination by a group of Volvo realists advocating something special for a truly special market. Our market. Australia!
Obviously enough, this is the story of the Volvo XXL Globetrotter cab and sure enough, it starts in Sweden. But not, perhaps, quite as routinely as you might think. 
As good fortune would have it, in the back half of 2012, I was one of only two Australian truck writers invited to be part of a thousand-strong audience of high-end customers and media types flown in from many parts of the world for the glitzy, big budget unveiling of Volvo's new FH generation.
No question, this was a big deal for Volvo. Massive! The new model's predecessor had been a stellar success almost from the day it first broke cover in 1994 and everyone knew this new generation would need to be good, very good, if it was to build on the success of a range being superseded at the peak of its powers.
Even so, first impressions of the new models were hugely favourable. In fact, it didn't take long to start thinking this new truck was not only good enough to pick up where its predecessor left off, but critically, also good enough to win even more business for the Swedish conglomerate.
For starters, the cab was heaps bigger, sporting greater dimensions at almost every angle, especially above and ahead of the driver. More spacious, better equipped, smarter technology and boasting even greater safety than its forebear, there was lots to like.
Anyway, everything was going really well. Until!
Sidling up to one of Volvo's chief designers after all the speeches and spectacle, it seemed only fair to ask: "So, when do we get the XXL version?"
It was, I reasoned, a straightforward, even predictable question given that the XXL cab on the previous range had given Volvo a significant advantage over its continental competitors in several markets, not least Australia where the FH was, of course, also battling Kenworth's formidable K-series and back then, Freightliner's Argosy.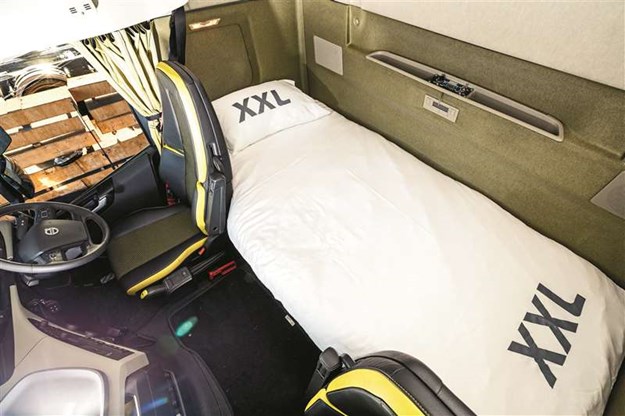 The original XXL concept was, in fact, the brainchild of Volvo Trucks Australia, specifically former chief engineer Ken Cowell and in my simplistic view, there was no good reason for the new FH to forego the bigger sleeper for some markets. Notably ours!
Quizzically, some senior Volvo people had other ideas. "We don't need it," was the blunt, somewhat dismissive and utterly surprising reply from the design guru, accompanied by comments about the bigger cab giving the driver more space than ever before.
But hang on a sec! "Sure, it's a bigger cab but nearly all the extra space is above and in front of the driver, and the standard bunk won't be big enough for a lot of long haul work in Australia."
Midst the excitement and corporate confidence of the occasion, it was an assertion that went down like a brick off a bridge. Next question, anyone! Better still, shut up Brooks!
Fast track to mid-2019 and like I said, it's a long way from Gothenburg to Australia's Top End where a man and woman in a four-wheel-drive towing a camper trailer suddenly pull up alongside a truck and quad-trailer combination parked briefly on an old runway about 20km south of Darwin.
"I read Volvo was doing a bigger cab," the man says with obvious excitement, striding straight to the truck.
"We were hoping to get to the Brisbane Truck Show to see it, but we've been up here touring around. Couldn't believe it when I saw it pull in here. Can we have a look inside?" Within seconds they're both sitting in the cab, peering into the bunk.
"Yeah, this is heaps better," the man mutters with an approving nod. "Been a long time coming."
Indeed it has, yet as recent events suggest, it seems Volvo's Swedish masters have actually been considering an XXL version of the current Globetrotter cab for quite some time. Apparently, as far back as late 2013 when early feedback from Australian customers and some media reports signalled both surprise and disappointment at the new FH's lack of a bigger bunk for long haul work. (Nowadays, the cynic in me likes to think there's a guru in Gothenburg still bearing the bruises of the decision to dismiss an XXL cab from initial development of the current FH.)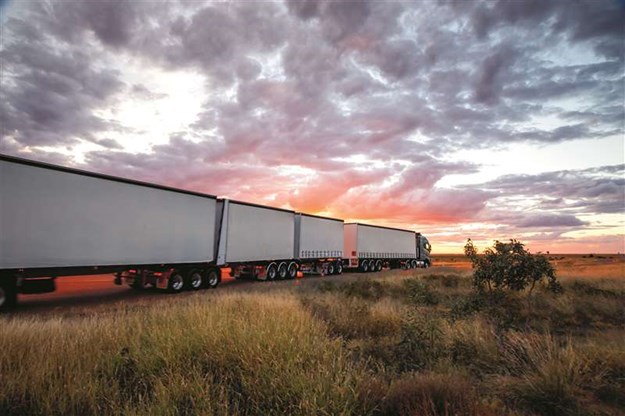 Nonetheless, with Sweden obviously wanting some assurances before investing in development and testing, the onus to prove the business case for a reborn XXL cab was thrown square in the lap of Volvo's local leaders. Understandable I guess, but given Australia's relatively small volumes, it was a task easier said than done.
Undeterred, and to their considerable credit, Volvo Group Australia operatives from the top down have, over the past five years or more, steadfastly pushed, prodded and ultimately persuaded Sweden to dedicate the money and resources needed to bring the XXL back to life.
The first real indication of the bigger cab's comeback appeared a few years ago when local images of a prototype version were released. Soon after, on the eve of the 2017 Brisbane Truck Show and with Volvo entering the most successful period in its Australian history, several top-tier executives within Volvo Group Australia were even predicting the XXL's 'imminent return' to the Wacol (Brisbane) production line.
---
Relive our famous Volvo vs. Kenworth Clash of the Titans, here
---
Still, Sweden would not be rushed, especially when it came to durability and safety. Indeed, any alteration to the structural design of a Volvo cab means an entirely new round of safety tests and the new XXL was certainly no exception. As a recent press statement details, "… with extra C-pillars the cab is strong enough to meet Volvo's stringent Swedish Cab Strength Test safety standards and the latest European Cab Strength ECE R29-03 which now includes roll-over simulations." 
In effect, the XXL had to endure much the same smash, crash and bash tests originally inflicted on its XL sibling.
So finally, the Globetrotter XXL can once more call Australia 'home', making its first official appearance as an FH700 at this year's Brisbane Truck Show and without too much surprise, stirring a huge amount of interest from customers, drivers, commentators and competitors alike.
Simply put, this is the cab Volvo needs for long haul work. Big time!
CRUISIN' & SNOOZIN'
The raw details are easily explained and just as easily appreciated. For instance, the rear wall of the existing Globetrotter XL was pushed back 250 mm to increase the bumper to back-of-cab dimension to 2475 mm and in the process create an XXL cab with 40 per cent more sleeping area and a bed 130 mm longer than the standard shed. Yet arguably the most surprising and perhaps impressive factor of all, according to Volvo's information, is that the new cab offers 13 per cent more sleeper space than the original XXL, which was widely and rightly acknowledged as the best of the continental sleeper cabs, bar none.
The previous XXL was, in fact, the only European sleeper cab with the ability to even remotely match the sleeping quarters of US cab-overs.
However, this new version is even better equipped, not least with a specially developed inner spring mattress featuring, according to Volvo, "… a pillow on top of every spring unit."
At the passenger end, and for those occasions when there's time to watch the TV mounted above the driver's door, the mattress can be also raised and lowered by switches on the front edge of the bunk. It's a smart feature which has more merit than first impressions might suggest.
There's also additional overhead storage in the new XXL and typical of the high-rise Globetrotter layout, ample standing room between the seats.
For two-up work, there's an easily attached safety net between mattress and seats while one driver sleeps and the other drives, or alternately, the option of a second upper bunk.
Yet, of course, the best way to judge any sleeper cab is to not just sleep in it, but effectively live in it for a few days or more.
True, the existing XL Globetrotter cab is fine for one night, maybe two, but as countless drivers will attest, it falls well short of suitable for much more than an overnight stay. 
This was certainly the opinion a few years back, during a highly publicised event known as 'Clash of the Titans' where a Volvo FH600 Globetrotter and a Kenworth K200 'Big Cab' punched by a 600hp (447kW) Cummins were run head-to-head with identically loaded B-double sets on the Melbourne-Sydney-Brisbane-Melbourne triangle. As one of the two drivers in that exercise, I can confirm that over the course of several days and nights the two trucks performed faultlessly, running neck 'n' neck in every department, with one hugely glaring exception. When it came to sleeping quarters, the inadequacy of the Volvo sleeper and the absolute need for the return of the XXL cab were never more brazenly exposed.
So, a few years later when there was a whisper that Volvo was planning something special for the return of the XXL, it took just a nanosecond to pick up the phone and tap the potential for something more than simply an overnight haul. 
It eventually became apparent that Volvo's plan was to take the same pre-production FH700 featured at the Brisbane Truck Show and, just three days later with little more than 600km on the clock, run it from Volvo's Wacol base to Toowoomba as a fully loaded B-double with a two-axle dolly in tow. At Toowoomba, the outfit would be reconfigured as a roadtrain double at around 80 tonnes for the 350km drive west to Roma where a pair of A-trailers would be added to form a 53 metre BAB Quad outfit for a run to Darwin. All up, 3,600km over four days and nights, with around 3,000km travelled at a gross weight of 120 tonnes.
Believe it or not, I didn't have to be asked twice to either drive the truck or spend each night in the bunk. However, I would not be alone, sharing the driving – but definitely not the sleeper – with Volvo product trainer Bill Manton.
Now for those who don't know him, Manton is a man of vast experience, substantial skill, sternly set ways and virtually no tolerance for mediocrity, especially when it comes to the operation of roadtrains in general and Volvo roadtrains in particular. What's more, with many years as an owner-operator and in senior operational roles at Simon National Carriers, the Brisbane to Darwin route holds no secrets.
Overall, he is a man who has two ways of doing things – the right way and no other way. Affable and abrupt all in the same breath, a sharp sense of humour often attached to even sharper advice, he is never anything less than totally professional and safe.
Moreover, just when you think you're a reasonable driver with an ability to handle most things well, not least a top-shelf Volvo, Bill isn't at all shy about sharing the finer details that altogether deliver a better performance from both truck and driver. You just have to be willing to listen and occasionally, accept there might be a better way.
All up, it was a pleasure to share the wheel with someone of such standards, and better still to stand back and watch the wrangling of multiple trailers by an individual of such experience and pride. On ya, Billy!
In this exercise, though, nothing could overshadow the potent performance, brilliant ride and road manners, and overall finesse of the FH 700. In every instance, every road condition, it was nothing short of outstanding for a truck to perform so willingly and so faultlessly on what can only be described as a highly demanding maiden voyage. 
It is, of course, easy to expect plenty of a truck punched by an advanced 16 litre engine dispensing such awesome outputs – 700hp (515kW) from 1,550 to 1,800rpm and a stump-busting 3,150Nm (2,323lb-ft) of torque on tap from 1,000 to 1,550rpm: Figures revealing that when top torque peaks at 1,550 revs, peak power comes on stream at the same point.
Feeding through Volvo's supremely smooth and intuitive I-shift 12-speed transmission – actually, in this instance it was a 13-speed with the addition of a crawler gear to make lift-offs almost effortless – the tenacity of the D16G engine, even at this weight and with such modest mileage under its belt, was nothing short of remarkable.
Nowhere was the big six's grit and grunt more evident than on the severely taxing haul through the hills around Mary Kathleen between Cloncurry and Mt Isa. The routine was the same on all the sharp climbs – move to manual mode, engage the power divider to spread the effort evenly through the diffs, let engine speed drop to around 1,100rpm before tapping the selector button twice to drop two gears rather than one.
Thus, on a warm day over the steepest pinch of Mary K, the big Swede dropped back to 4th gear at part throttle while a constant eye on digital readouts of engine and transmission oil temperatures showed that internals were barely raising a sweat. Again, a hugely impressive performance for a big bore engine hauling big weight on its maiden run.
Inside the cab, the shared opinion was that on big hills at big weights, there's nothing mightier than muscle and fuel economy, by necessity, must occasionally take a back seat to brawn. That said though, with the overdrive transmission feeding into a 3.4:1 diff ratio, and cruise control engaged to hold around 90km/h at a thrifty 1,250rpm on those vast flat stretches through outback Queensland and the Northern Territory, the ability to dig deep into the rev range can also deliver surprising standards of fuel efficiency.
Indeed, the fuel return of the FH700 measured through Volvo's on-board monitoring system over the entire trip from Wacol to Darwin was a blatantly impressive 1.38km/litre, or 3.89mpg. As a quad combination running at 120 tonnes from Roma to Darwin, the figure was 1.31km/litre, or 3.69mpg.
To my mind, these are phenomenal figures proving yet again that big power doesn't necessarily equate to the biggest bucks at the bowser. Not by a long shot.
SUMMING UP
When it's all boiled down, this was an exercise largely designed to judge a bunk and from the first night at Morven, Queensland, to the last night at Mataranka in the Northern Territory, it was clear that just as it did with the previous XXL cab, Volvo can rightly claim to have the best sleeper of all European cab-overs. By far!
In fact, it remains to be seen if the decision makers of other continental brands will even consider development of a similarly enlarged cab for the unique requirements of the Australian market. Somehow, I don't see it happening.
Still, the XXL is neither the biggest nor the best bunk in the business. That title would arguably go to the top-shelf stand-up sleepers attached to a few US conventional models, specifically Kenworth and Western Star. Similarly, the space and appointments available in Kenworth's K200 'Big Cab' set a particularly high standard in the cab-over class.
What's more, the absence of vents in the side walls of the XXL sleeper was certainly noticeable – yes, you can flick the windows down but that's not much fun when it's raining or the mozzies are marauding. Likewise, the lack of a towel rack and (call me picky) a reasonable space to hang clothes, didn't go unnoticed.  
That said, though, and with due consideration for the impacts of the extra weight and depth of the bigger cab on some combinations, nothing detracts from the fact that this latest version of the Globetrotter XXL adds a powerful weapon to the Volvo armoury. Sure, the seats still carve into the front edge of the mattress but with the greater depth of the cab and an exceptionally comfortable mattress, Volvo has not only developed a sleeper to significantly enhance the brand's driver appeal but, more importantly, delivered the comfort and space to fight fatigue with something every long haul driver must have – a good night's sleep.
It is not a luxury. It is a necessity.
Finally, the most conclusive and perhaps contentious comment has been saved for last: Over many years and many roads, I have had the distinct privilege of driving some exceptional trucks of all shapes and sizes; many brilliant examples of engineering expertise and paramount performance.
However, none have been more impressive than the FH700 Globetrotter XXL driven in this exercise. For a truck literally straight out of the showroom, the overall road manners, handling, operation, comfort, performance and efficiency were nothing less than stunning.
Truly, exxlent! 
Dolly with a Difference
One of several outstanding features of the quad combination on the run to Darwin was the exceptional tracking of the trailers.
"Leaves a conventional triple roadtrain for dead," was Volvo product trainer Bill Manton's blunt assessment.
Accordingly, Manton insists much of the tracking quality was due to the arrangement of the trailers – a typical B-trailer behind the truck, pulling a dolly coupled to what is effectively a B-triple combination consisting of a pair of A-trailers and a B-trailer coupled by fifth wheels.
As he remarked on several occasions, the closer the dolly is to the truck, the better the whole thing tracks. This was, however, no ordinary tandem-axle dolly and, like the FH700 XXL Globetrotter, was making its maiden voyage just days after featuring on the MaxiTrans stand at the Brisbane Truck Show. 
Developed as a 'proof of concept' project by the Australian Trucking Association's Industry Technical Council (ITC) and leading trailer company MaxiTrans – with strong support from Hendrickson, Alcoa Wheels, Bridgestone, Jost and Wabco – the dolly breaks with convention by using a rigid rather than hinged drawbar.
"The project explores the further development of a rigid drawbar converter dolly and comes after ITC discussions regarding the dynamic issues with hinged drawbar dollies, especially brake reactivity and tyre wear," ATA chief engineer Bob Woodward says.
The advent of A-double combinations on regular freight routes has certainly thrown the spotlight on dolly design and performance, with MaxiTrans group general manager Andrew McKenzie commenting that while a dolly is "… an essential part of the trailer combination, it is sometimes neglected or overlooked (and) while the rigid drawbar may or may not suit every combination, we are confident that initial trials will demonstrate the safety benefits to the wider transport community."
Ongoing trials will determine if the rigid drawbar design meets durability and dynamic performance goals but, for the two blokes perched in the big Volvo, the view through the mirrors was one of a dolly on its first outing showing absolutely no inclination to wander off line, no matter what the road condition.
Subscribe to our newsletter
Sign up to receive the TradePlant e-newsletter, digital magazine and other offers we choose to share with you straight to your inbox
Follow our updates by liking us on Facebook.