Hitachi-Sumitomo SCX1000A-3 crawler crane arrives in Aus
---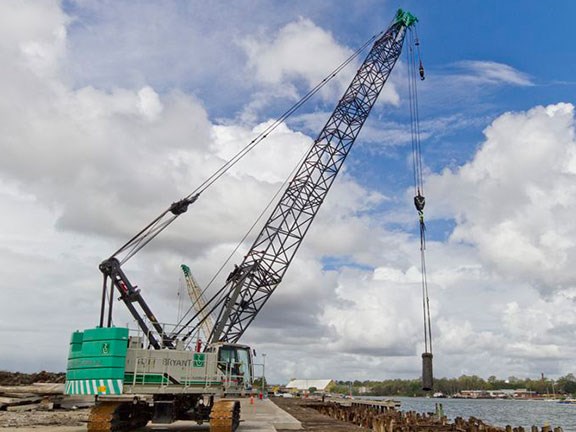 A Hitachi-Sumitomo SCX1000A-3 crawler crane in operation

The innovative, 100-tonne-capacity Hitachi-Sumitomo SCX1000A-3 crawler crane has been introduced to Australia by Tutt Bryant Equipment.


The compact crane — the first of the new SCX-3 models to hit our shores — features a number of upgrades such as an automated variable counterweight system, improved transportation dimensions and a factory-fitted remote sensing system.
The SCX1000A-3 is the first Hitachi-Sumitomo crane brought into the Australian market that is fully EN13000 compliant.
"Versatility is not a description commonly associated with crawler cranes," Tutt Bryant says.
"For project managers, the process to transport, set up and operate a crawler crane onsite can often be seen as cumbersome and time-consuming; but with a host of new technological developments we're beginning to see more advanced crawler cranes reaching our shores that challenge this notion of rigidness."
The variable counterweight system in the SCX1000A-3 uses sensors to detect the amount of counterweight placed and automatically selects the correct load chart, enabling the crane to operate in one of four preset configurations — as a 70-tonne, 80-tonne, 90-tonne or 100-tonne crane.
Crawler cranes in the 100 tonne class and lower are mostly suited to operations such as small-to-medium construction sites, foundation works, civil concrete construction, and structural steel and precast panel erection.
 "This level of versatility in crawler cranes is unheard of until now," Tutt Bryant says, "and provides greater flexibility for a diverse range of worksites, including high locations and within tight areas where the operating weight allowed might be limited.
"Its automated nature is also foolproof, thereby eliminating the risk of operator error in selecting the wrong load chart against the actual amount of counterweight."
Impressive transportability together with quick and efficient assembly and disassembly are also hallmarks of the new SCX1000A-3, the company says.
Intelligent features include a retracting device that changes the width of the crane, a multi-stage assembly monitoring system, folding gantry with hoisting cylinder, lugs for boom and side frame lifting, lighter weight components and a new 6-piece counterweight set.
All of this means the Hitachi-Sumitomo SCX1000A-3 crawler crane is easy and safe to transport and set up.
The crane is only 2.99m wide with the tracks off and 3.4m wide with them on. Tutt Bryant says the latter will be the default transport configuration in Australia, leading to "significant cost and time savings in transportation and assembly/disassembly".
Other features include a factory-fitted remote sensing system, high line-pull option, factory-fitted hand-rails, combined hydraulic circuits, optimised lever and switch layout and a new ergonomic cabin design.
The remote sensing system allows crane owners and operators a single portal through Hitachi-Sumitomo to continuously monitor a crane's operating conditions even when the unit is working in a distant location away from its home base.
The system can provide the complete history of a crane, so there is greater visibility and certainty when assessing its lifespan and potentially reduce the cost to inspect and overhaul at the 10-year mark. The system is also worldwide so it is expected to assist in a crane's resale either domestically or overseas.
Tutt Bryant says it has worked with Hitachi-Sumitomo to ensure the crane meets all design, operational and safety requirements and standards applicable to it, adding: "It is critical to know that the SCX1000A-3 is fully EN13000 compliant and ISO4302 certified."
Subscribe to our newsletter
Sign up to receive the TradePlant e-newsletter, digital magazine and other offers we choose to share with you straight to your inbox
Follow our updates by liking us on Facebook.