EWP tool holders aim to make life easier and safer
---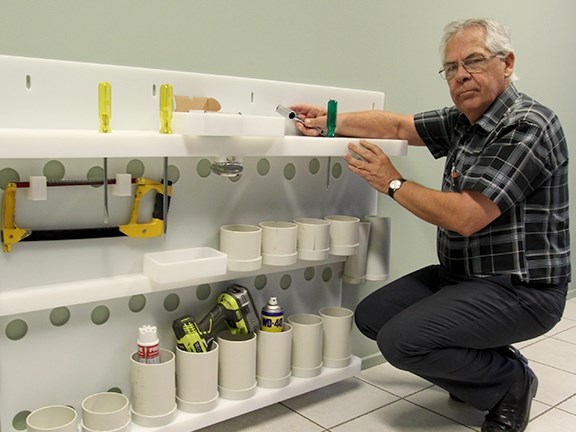 Pat Flood of Cut To Size Plastics with an HDPE tool holder

Sydney-based Cut To Size Plastics is making a range of high density polyethylene (HDPE) tool holders aimed at making life easier and safer for those working in cherry pickers, elevated work platforms (EWPs) and enclosed workplaces.


The tool holders have a number of benefits, the company says, not least of which are their cost efficiency, impact resistance, chemical resistance, easy wash-down and insulation qualities — which makes them ideal for use in electrical environments such as powerline maintenance and building electricity systems, where metal tool holders can't be used.
"Not only are the tool holders custom-fabricated ergonomically so workers' tools are easily to hand for tricky jobs," Cut To Size Plastics NSW manager Pat Flood says, "but also they give an immediately safe and secure environment in which to place small, sharp, hot and/or hazardous tools and chemical solutions when they are not in use.
"People working at height and in tight spaces often say they need an extra set of arms to cope, so these designs give safety and efficiency a real helping hand by reducing unwanted problems and increasing efficiency."
For the past 35 years Cut To Size Plastics has been manufacturing components for applications across Australasia and Asia-Pacific from its head office in Sydney, where facilities include CNC machining facilities coupled with GibbsCAM and Solidworks software.
Its safety and efficiency products have been used by organisations involved in local government,  water, telephone and power services, construction and infrastructure services, electrical, manufacturing and materials handling, oil and gas and mining technology, minerals and metals processing  plant, materials handling, electrical and electronic component production, primary and agricultural product processing and production engineering.
"Materials used typically include HDPE, but can also include specialist engineering plastics such as UHMWPE and other high performance plastics where particular performance characteristics are required, such as those relating to radio frequencies, electrical currents and electromagnetic emissions," the company says.
"HDPE is proven globally in applications extending from protective coatings, cable jackets, insulating and hygiene components, through to natural gas and minerals processing technology, solar panels and cryogenic components, helmets and safety equipment and agricultural chemical and beverage containers," it adds.
"HDPE's wide temperature tolerance — it can stand continuous temperatures up to 110 C — is complemented by its low friction non-sparking qualities and ready customisation to accommodate differently shaped tools, containers, drills and trade tools and instruments."
Subscribe to our newsletter
Sign up to receive the TradePlant e-newsletter, digital magazine and other offers we choose to share with you straight to your inbox
Follow our updates by liking us on Facebook.