Panic buying thwarts food relief efforts
---
The ramifications of the Covid-19 virus is straining the logistic chains of charities
Food charities around Australia are being inundated with demand from Australians suffering sudden food insecurity due to the Covid-19 crisis.
Geelong Food Relief Centre is one such charity that has been hit by a massive surge of requests for food and other essential items following sudden job losses across the country.
Like many such charities, Geelong Food Relief Centre relies heavily on the logistics chain to locate, pick-up, transport and deliver items of need in the community.
Geelong Food Relief CEO, Collin Peebles, says that his charity was struggling to meet the unprecedented demand as the supply chain cracked.
"I have been involved in supermarket retailing for 30 years and I have never seen anything like it," Peebles says.
"It has just been so hard to source volume food."
Geelong Food Relief Centre supplies food and other essentials to people in Geelong and surrounding areas through a combination of food rescued businesses, food that is donated as well as food that it purchases from a major supermarket supplier.
Peebles says the organisation recently arrived at a supermarket's huge distribution centre on the outskirts of Melbourne to pick up volume food, but there was hardly anything left as a result of the recent panic buying.
"It had been smashed and was basically cleared out," he adds.
The charity's Fuso Canter and Renault vans drove three hours to another distribution centre in regional Victoria and managed to grab some desperately needed supplies despite their low stock levels.
The sudden closure of several restaurants and cafes in the Geelong region meant the charity received a short term boost with a rapid donation of food that was no longer required by the businesses, but now they are closed and can no longer make ongoing food donations.
"A lot of family-operated restaurants and other related business in the region closed overnight and unfortunately, some of them will not come back," Peebles says.
"While they were kind enough help with their unwanted stock, we will miss their ongoing donations, which helped make a difference to people in need."
The economic turmoil that has shaken the country and closed many businesses has also driven up demand for food and other supplies from the charity.
"We have seen a 200 per cent plus increase in demand, overnight," Peebles continues.
"It has been absolutely incredible."
Geelong Food Relief has always been busy, but the spike in demand was instantaneous.
"More people in the region rely on the food, hospitality and tourism industries in the region, which is not as dependent on manufacturing as it once was, and most of those people were retrenched overnight."
"A lot of these people were on tight budgets as it was, but you can't budget if you don't get paid," he says.
Peebles hopes the Australian Federal Government's moves to boost Newstart allowances will help provide food security for many of those who have been affected by the COVID-19 epidemic.
However, he worried that given how highly-geared many people in the community are with large mortgages, the projected long term unemployment from the COVID-19 fall-out could mean many people will need to rely on charities like Geelong Food Relief Centre into the future.
Peebles says the charity was having to purchase more food than ever before due to food donations drying up and was thankful for a recent increase in monetary donations from everyday Australians.
Geelong Food Relief Centre helps more than 35,000 people suffering from food insecurity in the Geelong region with the assistance from 90 volunteers.
It provides more than 1 million kg of food across the region every year and operates two mini marts in Geelong and also delivers to 45 mini food banks around the region.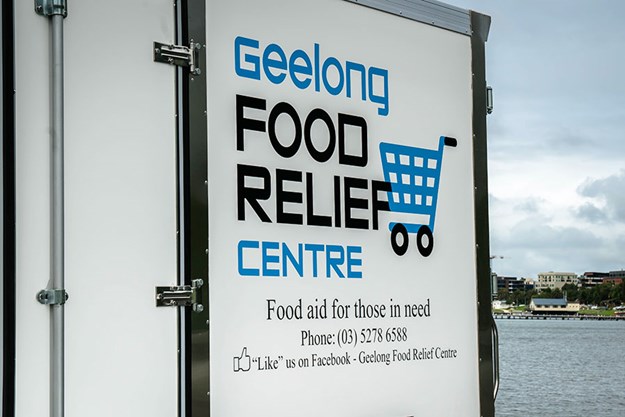 There are 40 assessment agencies in the region run by the likes of The Salvation Army, United Care and St Vincent de Paul, who are able to give food vouchers to those who are deemed to be suffering from food insecurity. These people can then visit the mini marts in the region and use their vouchers to purchase a good amount of food and other items.
For more information about Geelong Food Relief, visit www.geelongfoodrelief.org
Subscribe to our newsletter
Sign up to receive the TradePlant e-newsletter, digital magazine and other offers we choose to share with you straight to your inbox
Follow our updates by liking us on Facebook.