Hilco APAC machinery auction bonanza
---
Adam Scharer and Michael Hayes, the duo behind the launch of Hilco Global's Australasian arm, talk about their journey so far and plans for the future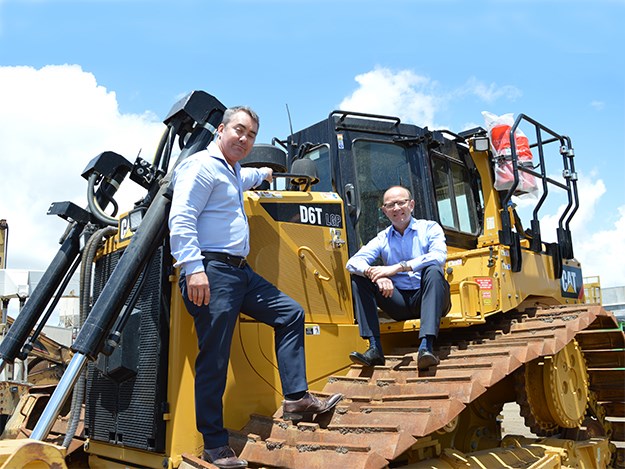 Commercial asset valuation and disposal company Hilco Global has been in Australia since 2011. Back then it was focused around distressed retail where it helped in the disposal of goods for companies that were involved with retail gear selling out of shops.
Later, it set up a valuation practice, helping to evaluate plant machinery or businesses that were buying other businesses.
In July 2019, Adam Scharer and Michael Hayes teamed up with Hilco Global and Macquarie Bank to launch Hilco Global Australasia, an industrial and commercial asset valuation and disposal company that specialises in online auctions and negotiated sales within Australia and South East Asia.
Working with businesses in transport, manufacturing, earthmoving, agriculture, mining and construction industries, Scharer and Hayes, who are the chief executive officer and chief operating officer respectively, are building a marketplace for new and used equipment sale that is driven through auction and negotiated sale.
"We've launched an auction platform – www.hilcoapac.com – to sell a wide range of gear ranging from trucks and transport equipment, and equipment for construction, civil, mining and agriculture," Scharer says. "We've also got a big salvage part of the business that deals with the after effects of fire and flood. We also deal with some consumer equipment."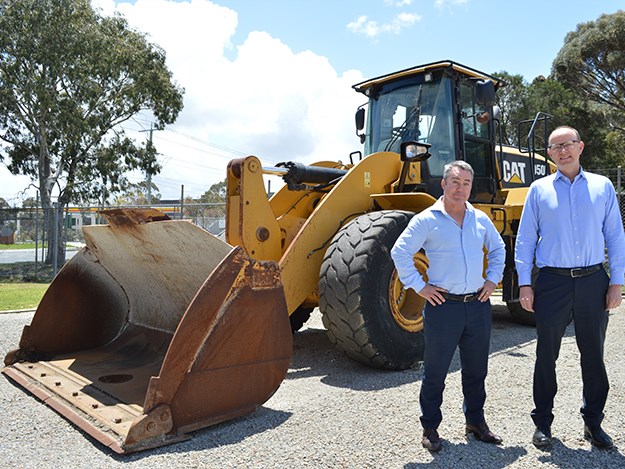 Scharer and Hayes saw a gap in the market where although there are quite a few businesses that help move gear locally, there wasn't a global platform based in Australia for industrial gear to be moved across different countries. With that aim they set out to build a global marketplace where gear could be moved from where it was not needed to where it could be.
Hilco Global Australasia works with a wide range of clients.
"We work with big corporates, small and medium-sized enterprises (SMEs), owners and operators, and clients who are downsizing, upscaling or refreshing fleet," Hayes says.
"We also work with banks and insolvency companies, helping move the assets for them in cases where there has been a shutdown of a business that they are dealing with. So basically we deal with everyone and everything – from an ongoing, regular, repeat vendor through to one-off corporate closures."
The journey
Hayes and Scharer's friendship goes back three decades. Coming from different educational backgrounds – Scharer from an engineering side while Hayes specialising in accounting and law, they both started working with GraysOnline in the early 1990s.
Scharer worked with GraysOnline for nearly 25 years starting in catalogue sales and gradually moving up to managing its auction business, during which time the company was floated on the Australian Stock Exchange. Meanwhile, Hayes ran GraysOnline's consumer and building materials division in New Zealand. Five years ago he set up his own auction solutions company.
Scharer's expertise in advisory asset monetisation and Hayes' expertise in auction salvage, combined with their vision to launch a global industrial marketplace and auction platform led them to launch Hilco APAC. "An idea became a company that it is today," Hayes says with a smile.
Partnership
To establish the business they partnered with Hilco Global and Macquarie Bank who, they say, were both excited by the opportunity of being part of the global platform.
"Hilco is the best in class internationally but they don't have a presence in Australia and they only have a couple of people in South-East Asia. So we liked that geographical fit," Scharer says. "We liked Macquarie Bank because they finance and own a lot of assets across the globe and they needed a platform to offer their clients access to new markets.
"So we liked this combination where we had our geography and team, Macquarie wanting something to sell their gear through, and then Hilco that are best internationally but weren't represented down here in that industrial area."
Currently, Hilco Global Australasia has offices in Melbourne, Sydney, Adelaide and Brisbane, with a new office opening in Perth in early 2020. It also has offices in Singapore and a new office opening in Philippines and Indonesia each in January 2020.
Flexible financial and sales options
Being a part of the Hilco Global brand means Hilco Global Australasia can offer flexible financial and sales options to its clients in the heavy equipment and mining industries, including outright purchase of assets, guarantees or commission structures.
"Our aim is to help those companies find equipment that they're looking for, help them sell equipment they no longer need and we'd offer a variety of tailored solutions for them. So some clients can say I'd like to sell this equipment and get what I get for it, others could offer us to buy their equipment because they want money in a hurry, and there could be other clients who could say with all this equipment can you give me a guaranteed result and if it goes better everyone benefits," Scharer says.
Future plans
"With the government bringing forward more infrastructure spending, a lot of people will be looking to upgrade and invest into buying new gear for their contracts and that's where we can help them. We can help those clients sell their older gear without hassle," Scharer says.
In December 2019, Hilco APAC had its first major auction for an Adelaide-based transport company, selling a range of used equipment and fleet including prime movers, trailers, tipper trucks and other equipment.
One of the challenges for the company as it continues to find new deals would be to continuously find buyers to keep its supply and demand in check. "One of the ways to manage this is to have a strong website so people can easily find what they're looking for," Scharer says. As a result, their current focus is on developing a strong website that offers good user experience. At this early stage of business their second focus is on supporting their team to prepare for the growth that they both anticipate in the near future.
"In the next one year we plan to build our Australian presence, have an office in Indonesia and Philippines, and connect our Australian website (Hilco APAC) to markets in Singapore, Indonesia and Philippines. And in the one year after that we plan build a global platform by connecting this website to Hilco Europe, South America and North America, thereby allowing people to source products from offshore or selling specialised gear to new international markets," Scharer says.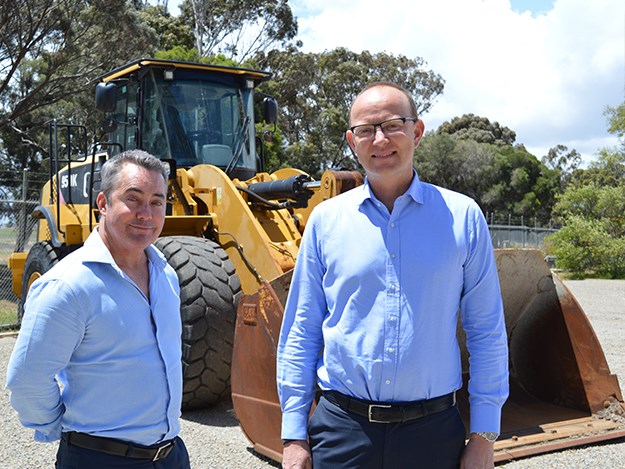 "The idea is to have a website that is multi-lingual, multi-cultural and a multi-currency platform where we see opportunities where there's product in other regions move to Australia or vice-versa. The long-term plan is to have a multi-national platform for marketplace and auction," Hayes says.
"When we came up with the concept of building this business we thought it was very important to not just be a local participant but to open up new markets for clients that weren't previously available," Scharer says. "There is also that sustainability aspect where if there is a piece of equipment that's no longer needed here rather than sending it to landfill we can help find a new home for it in a different country where it can be put to use."
Their five-year plan is to set up offices in all Australian capital cities and develop strong relationships with companies within those industries.
Before the launch of Hilco APAC, Hilco's global arm had a small footprint in Australia that was run by a team of three. Since July 2019, the team has expanded to 30. Every person in the team has been hand-picked by Scharer and Hayes.
"We have brilliant partners, we have the best in the breed of people working with us, and we know we can do it. We just want to take things slowly and calmly as we set out to achieve our goals," Hayes says.
"There are limitless opportunities out there. We are working on what our priorities are, and managing efficient job-sharing. Adam and I have been friends for 30 years so there's a really good open line for communication, certainly a lot of learning but we're up for the challenge. It's a very exciting experience for both of us."
Subscribe to our newsletter
Sign up to receive the TradePlant e-newsletter, digital magazine and other offers we choose to share with you straight to your inbox
Follow our updates by liking us on Facebook.