Toll-Nike: low-carb warehousing
---
Toll's custom-built Nike warehouse in Melbourne's Altona North is hailed as the first facility in Australia to achieve a whole-of-building carbon neutral certification under the National Carbon Offset Standard
The certification of the Toll-Nike logistics facility, owned by Stockland, caps off Toll's significant investment in energy efficiency at the site, which was named Best Industrial Project at the National Energy Efficiency Awards in 2017.
The site's energy efficiency program features upgrades to a 2.5km conveyor system, which is powered by 145 individual electric motors, and the retrofitting of 1,300 light fixtures with high efficiency LEDs.
This has led to a halving of the site's total electricity consumption, exceeding the greenhouse reductions required by the National Carbon Offset Standard (NCOS).
The site has also received a Green Star performance rating, the first Green Star rating for Nike and Toll, and the first in Stockland's Logistics portfolio.
Toll energy and emissions manager Mark Jones, pictured below, says the 18,000 square-metre warehouse and fit-out were designed with environmental efficiency in mind, featuring energy efficient lighting systems that were designed and installed by NuGreen Solutions and powered by best-in-breed LED technology suited to Nike's warehousing needs.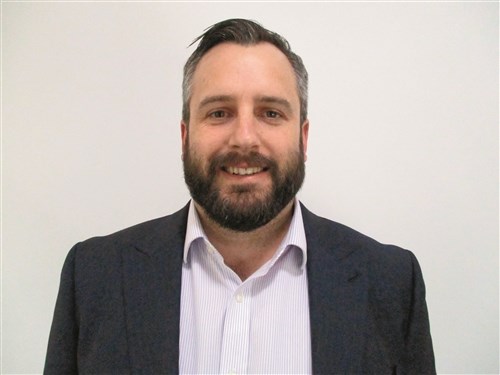 The system also improves visibility and safety, with motion sensors fitted to limit power usage to occupied areas.
The warehouse features translucent roof sheeting to maximise daylight inside so warehouse lighting can be switched off when ambient light is sufficient, Jones explains.
The roof is insulated, helping assist with temperature control, with the site featuring an optimised conveyor system, which was rewired and reprogrammed to operate in relation to product volumes, eliminating unnecessary movement.
The site's power consumption is down by 54 per cent compared with the same time last year.
The certification is a reflection of a true partnership, according to Toll.
"The certification demonstrates what can be achieved through long-term partnerships and with the commitment of both organisations required to achieve sustainable outcomes," Jones says.
STEADY GROWTH
Toll Group entered the specialised warehousing market with key customer Nike in 2000.
Due to its tremendous growth in the 1990s, Nike Australia recognised that in order to maintain its high service levels and to continue operating as effectively as possible, it needed to integrate all of its logistical functions, Jones says.
The custom-built warehouse handles up to 24,000 stock keeping units (SKU), and has implemented a full RF receiving, put away, picking and dispatch functionality.
Toll has been implementing projects as part of its Smarter Green program since 2010.
The site had an energy audit completed as part of this program which identified two key projects to reduce energy consumption and greenhouse emissions, he adds.
"Through Smarter Green, our electricity use over the period has reduced by 30 per cent compared to 2010," Jones says.
"Our customers are increasingly wanting to understand their supply chain impacts.
"Toll has a range of services that can lower greenhouse emissions including carbon neutral facilities.
"Toll is working through similar projects with other customers who wish to partner with Toll in this space."
Nike and Hurley are being serviced through this facility.
EFFICIENT SOLUTIONS
For Nike operations director Marie Varrasso, the success of the facility reflects its commitment to reducing its carbon footprint whilst delivering efficient solutions and savings, which can be passed on to its customers directly.
"Through this collaboration, continuous improvements have been introduced into the supply chain, which ultimately benefits Nike's footwear, apparel and equipment customers," Varrasso says.
"It's a unique relationship, with innovation at the heart of everything we do."
Toll Global Logistics president Chris Pearce acknowledged that it was the partnership between Toll, Nike and Stockland that made the carbon neutral certificate and Green Star rating possible.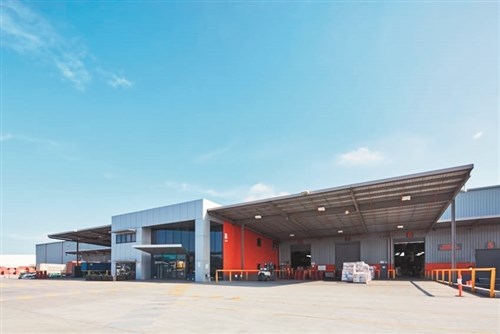 "Toll and Nike's relationship began when this facility was built in 1999. It was the first distribution centre to be built by Toll's specialised warehousing division and, at the time, this type of supply chain offering was virtually non-existent in the market," Pearce says.
"It's fitting that almost 20 years on, Nike, Toll and Stockland have been awarded this landmark certification – a testament to our continuous innovation.
"This is a milestone achievement for all and demonstrates our collective commitment to reducing environmental impacts and introducing smarter, more sustainable solutions across our operations."
Stockland logistics and business parks general manager Tony D'Addona says his firm is thrilled to be awarded carbon neutral certification and a Green Star rating for its Altona distribution centre.
"We have all worked hard to complete a range of sustainability initiatives at our Altona distribution centre over the last few years, with the ultimate goal of reducing the warehouse's greenhouse gas emissions," D'Addona says.
"The carbon neutral certification process has certainly helped up improve our management approach to sustainability, and has been a worthwhile education process for our warehousing and logistics business.
"Securing our first official Green Star rating for a logistics property has also helped us improve our approach to sustainability in our logistics assets and we look forward to continuing to build on this and apply our learnings to future development, and in operations."
Toll and Nike have offset the remaining greenhouse emissions generated by the building by investing in forest conversation projects in Tasmania as well as in an energy recovery waste water treatment plant in Thailand.
These projects protect local biodiversity and native species and support jobs in local communities and reduce greenhouse gas emissions.
THE SOLUTION
As Nike is the first customer of Toll's specialised warehousing division, Toll has worked to ensure that the company's requirements were met by streamlining and integrating its four existing distribution facilities into the one complete site.
"With Toll now entering our 13th year of supply chain partnership, we continue to work closely with Nike's team, and have a renewed focus on the lean journey," Jones says.
"Toll has implemented many improvements onsite to remove waste and optimise productivity, such as continuous remodelling of the warehouse layout as the business changes, incorporating other Nike brands such as Hurley into the supply chain, upgrading the warehouse management system, changing the picking systems and storage profiles, and re-engineering the receiving process," he adds.
"With all warehouse staff trained in lean thinking, and with several lean practitioners onsite, the team have embraced Nike's lean philosophy and provided increased efficiencies and cost savings to Nike.
"As part of Toll's Smarter Green program, the Nike warehouse has also taken steps to reduce energy, including reducing use of cardboard, increasing the use of recyclable plastic pallets and supporting the Reuse a Shoe program."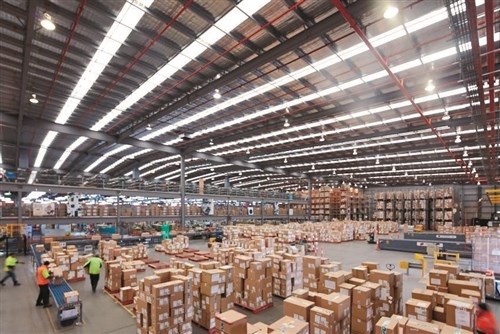 There is still a huge potential across the economy to improve energy efficiency, not only within the built environment but more broadly in the logistics sector, he adds.
"Toll is investigating heavily in a global fleet renewal, LED lighting and solar which is having profound impacts on our overall greenhouse emissions," Jones says.
SUSTAINABILITY
Sustainability solutions provider South Pole has helped Toll, Nike and Stockland achieve the first NCOS-certified carbon neutral building through two high-quality reduction projects: the Tasmanian Native Forest Protection project and Nakhon Biogas, an energy recovery project at a cassava starch factory in Thailand.
South Pole carbon and energy senior manager Jay van Rijn sees the achievement setting a new benchmark in sustainability for Australian businesses.
"Commitments and partnerships between leading organisations help set an example of strong action on climate change for others, and South Pole is excited to help a growing number of businesses make those commitments and transition to carbon neutrality," van Rijn says.
The Nakhon Biogas project mitigates greenhouse gas emissions and prevents local air pollution from the starch plant by capturing methane and generating sustainable energy, which also benefits local communities.
Cassava starch is a large industry in Thailand but its production produces large amount of wastewater. When stored in large open lagoons, this wastewater emits methane into the atmosphere.
The project has significantly improved local air and water quality. At the same time, the fossil fuel use of the starch plant has been significantly reduced.
The native forests of the Tasmanian Central Highlands have in the past been subjected to logging or agricultural clearing, which has severely impacted the biodiversity of the area.
Carbon revenue protects a total of 32,771 hectares of land from further degradation and ensures the protection of the nine endangered and 22 vulnerable species within a 5km radius of the project areas.
Subscribe to our newsletter
Sign up to receive the TradePlant e-newsletter, digital magazine and other offers we choose to share with you straight to your inbox
Follow our updates by liking us on Facebook.