CSIRO creates graphene using soybeans
---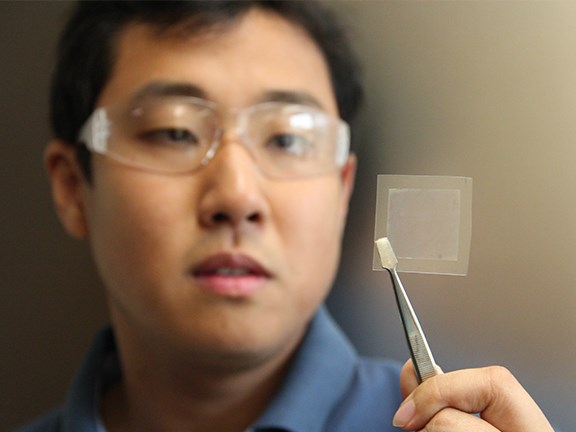 CSIRO Scientist Dr Dong Han Seo holds a piece of graphene film

Soybeans are being used to make the world's strongest material, graphene, more commercially viable in a breakthrough process led by CSIRO scientists.

The highly-conductive carbon material is one atom thick, making it well-suited to applications ranging from miniaturised electronics to biomedical devices.
It is able to be used in small amounts to great effect, enabling thinner wire connections, providing extensive benefits for computers, solar panels, batteries, sensors and other devices
Previously, the high production cost of graphene has prevented it from being commercially viable, but Australian agriculture may soon change that.
The CSIRO says it has grown graphene in a highly-controlled environment with explosive compressed gases, which required a long, vacuum-controlled operation at high temperatures.
The new process grows graphene film in ambient air, and is much faster and more cost-effective.
 "This ambient-air process for graphene fabrication is fast, simple, safe, potentially scalable, and integration-friendly," CSIRO scientist Dr Zhao Jun Han says.
"Our unique technology is expected to reduce the cost of graphene production and improve the uptake in new applications."
Dubbed 'GraphAir', the process uses some heat and soybean oil to acquire the components required to create graphene in a single step.
"Our GraphAir technology results in good and transformable graphene properties, comparable to graphene made by conventional methods," CSIRO scientist Dr Dong Han Seo says.
The team also created graphene using other renewable and waste oil, such as leftover cooking oil.
"We can now recycle waste oils that would have otherwise been discarded and transform them into something useful," Seo says.
The potential applications of graphene include water filtration and purification, renewable energy, sensors, as well as personalised healthcare and medicine.
Graphene also has excellent electronic, mechanical, thermal and optical properties. Because of this, it can be used for improving battery performance in energy devices, or manufacturing cheaper solar panels.
CSIRO says it is looking to partner with industry to find new uses for graphene.


Subscribe to our newsletter
Sign up to receive the TradePlant e-newsletter, digital magazine and other offers we choose to share with you straight to your inbox
Follow our updates by liking us on Facebook.