Rally Car vs. Komatsu Dump Truck
---
Mighty Machines called upon the help of pro rally car driver Molly Taylor to race a Komatsu HM400-5 Dump Truck
What started out as an extraordinarily-farfetched idea quickly turned into reality for the Mighty Machines crew and Komatsu. Harrison Hunkin was strapped in for a hair-raising rally ride around a Blue Mountains quarry
From memory, the initial conversation went something like this. "Do you know what would make unbelievably cool television? We should use Komatsu machines to carve out a rally track and get me in the passenger seat as a rally champion zooms the car around a quarry."
I think I blanked out from nerves after that, but I'm presuming a few raised eyebrows followed, then a few chuckles, a few sweaty palms perhaps. All rightfully so, the idea was pretty audacious.
Yet, fast-forward four months to one sunny weekend in June and there I was, hanging on for dear life, as I rode shotgun to one of the country's best rally drivers.
WALKER QUARRIES
Let's rewind again. After the dust had settled on our crazy Mighty Machines TV idea, I got a call from the crew at Komatsu.
Not only did they like the idea, they even said they had the perfect place to film this. A smallish, tidy operation in the Blue Mountains called Walker Quarries.
Walker Quarries is a relatively young quarry, with its mining lease only granted in 2009. It also has NSW government approval to produce up to 500,000 tons of aggregates per annum – so we certainly had the right location.
So, with the help of Walkers Quarries and the team and Komatsu, we set off on an adventure to make this idea come to life.
STEP 1: BUILD THE TRACK
Obviously, we needed track for the rally car, so we called upon the help of some Komatsu gear. In particular, the Hybrid 335LC-1 digger, a D65PXi-18 IMC dozer, and the HM 400-5 articulated dump truck (plus a cameo appearance from a Komatsu WA500-7 wheel loader).
Thanks to Komatsu's Smart Construction drone technology, the crew were able to survey the quarry site before our arrival. This aerial data was used to form a design of the rally track, which was then delivered to the D65PXi-18 IMC intelligent dozer for it to carve out the perfect circuit.
The Komatsu Hybrid 335LC-1 was also used to move large amounts of excess soil and dirt to clear the way for the rally track.
The best bit about the Komatsu 335LC-1 excavator is its hybrid technology, which reduces fuel burn and exhaust emissions.
With the track carved out, and all the heavy lifting done, it was time to meet my driver.
STEP 2: MEET YOUR DRIVER
Say hello to the one and only Molly Taylor. Taylor is one of Australia's greatest rally car drivers, taking out the Australian Rally Car Championship in 2016.
Not only is she a star in the car, but she is also a role model and tremendous ambassador for her sport, so I was in safe hands.
And that spruiked a thought.  What do a rally car driver and this quarry have in common? Simple really, they both have extreme trust in their precision machinery.
It's true when you really think about it; the two share some strong similarities.  A rally driver spends their whole career perfecting their craft, trusting their car on every slide and turn. As does Walker Quarries and its Komatsu fleet of machines. It relies on the precision of the machinery every day to keep its operation going.
Once we inspected the track and the car rolled off the trailer, we were ready to rumble.
STEP 3: RACE
A little bit about me. I'm a total chicken shit. I'd be inclined to sit on 110km/h on a German autobahn… I've never even been on a roller coaster for goodness sake – yet I was about to haul around a quarry in a rally car.
It was fair to say I was packing my dacks a bit.
I put my race suit and helmet on and said my prayers before I was tightly secured into the passenger seat.
It was to be a Subaru rally car against a new Komatsu HM400-5 articulated dump truck, presumably an easy win for me and Molly.
However, the producers notified us that we were to take the "long way round" as a bit of a handicap.
What followed next was glorious!
To say it wasn't terrifying, yet a career milestone would be a massive understatement. Plus, it marked my final shoot for season 1 for our highly successful TV show, Mighty Machines.
It would do the segment a massive injustice if I attempted to write about it, so I'd suggest you head to TradeFarmMachinery.com.au/mighty-machines/1908/mighty-machines-episode-10 and witness all the action in full.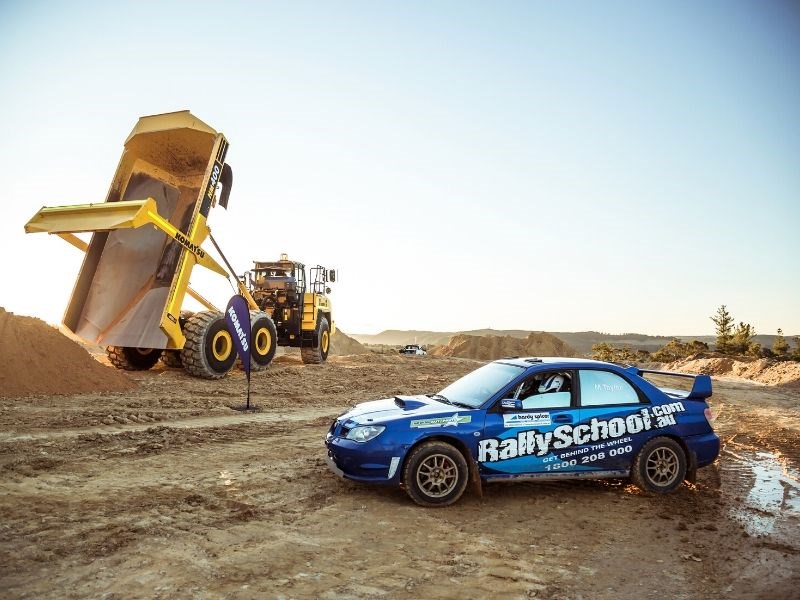 The finish line – check out the video to see the result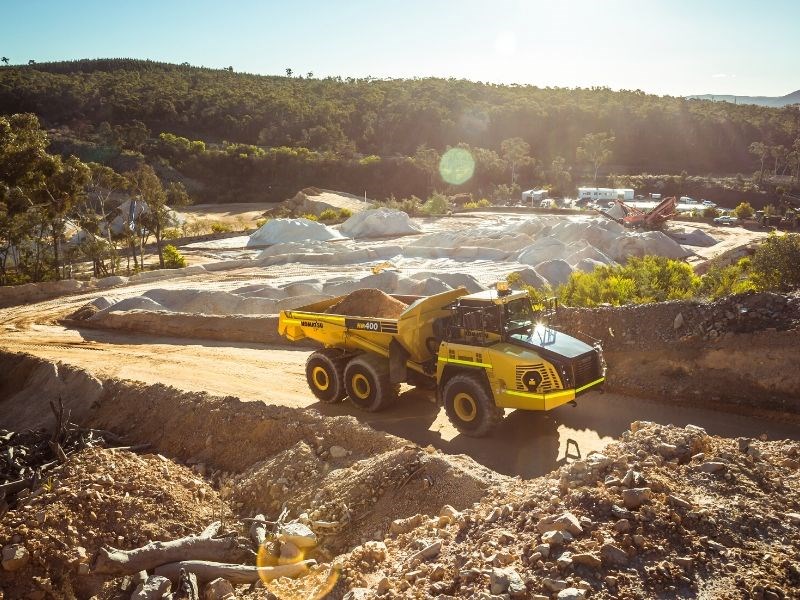 Believe it or not, the HM400-5 has a top speed of 55km/h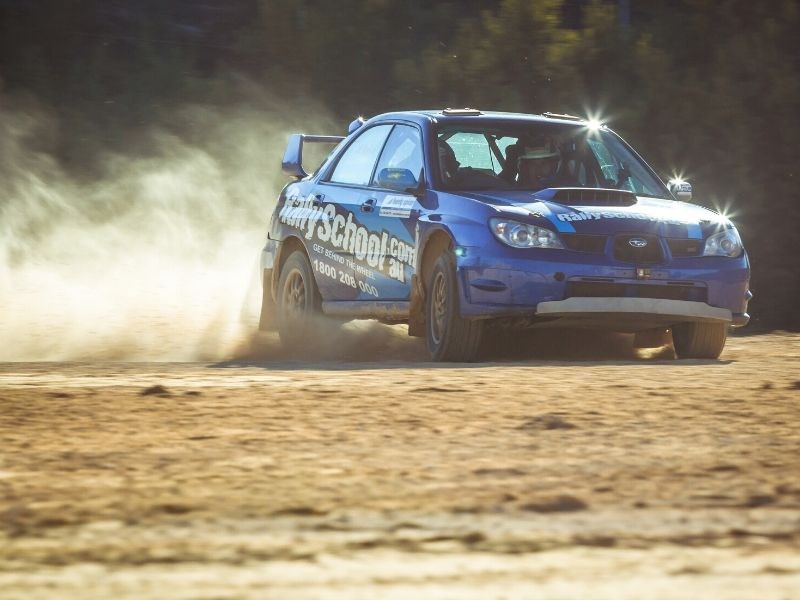 Molly Taylor in total control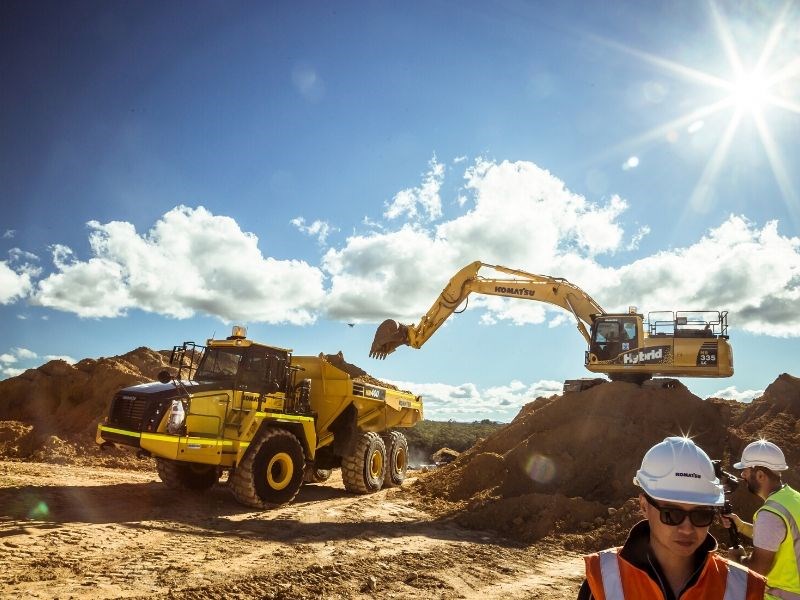 The Hybrid 335LC-1 diggers shifting some dirt into the HM400-5 dump truck

Subscribe to our newsletter
Sign up to receive the TradePlant e-newsletter, digital magazine and other offers we choose to share with you straight to your inbox
Follow our updates by liking us on Facebook.