Forklift tech: safety and efficiency are big winners
---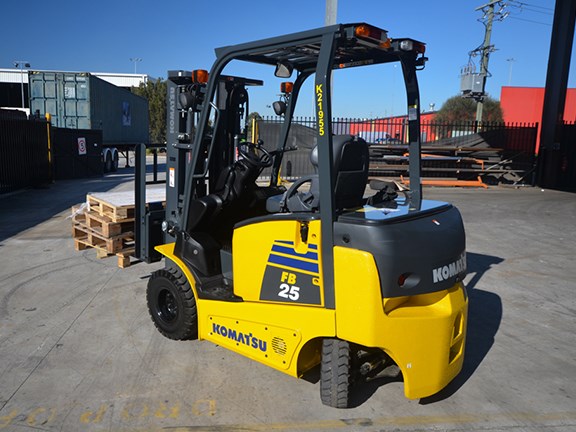 The Komatsu FB25-12 forklift is one of a new breed challenging our preconceptions of electric propulsion.

Forklifts sure have come a long way since I first started reviewing them 25 years ago, back in the days when manual forklifts were common, writes ANDREW NORTON.


Replaced in torque converter trucks by the inching pedal, the manual clutches were easy to use, but murder on the left leg and foot of an operator during an eight-hour shift.
Since then, the biggest changes have been in ergonomics for operators and improving operating efficiency, particularly in battery trucks.
Changes move at a slower pace in Australia than in Europe and the US, and sometimes that isn't a bad thing.
In those parts of the world, the latest trends are hydrogen fuel cells for IC trucks and lithium ion for battery forklifts.
I can see the merits of fuel cells in reducing running costs and exhaust emissions, but why anyone would want lithium ion batteries in a forklift is beyond me, unless it's about dramatically extending intervals between charges.
Lead acid batteries are perfectly suited to counter balance forklifts. Not only is their hefty weight an advantage, but these batteries can be constantly trickle-charged between usages to maintain a full charge.
Try doing this with a lithium ion battery and all it needs is a slight imbalance between cell output and a fire could result.
Lithium ion batteries are also expensive compared to a lead acid battery pack, retailing for around $5000 per unit, suitable for a 2.5-tonne truck.
And when the lithium salts being mined in Bolivia are completely exhausted, what exactly do we do then?
More useful changes
Frankly, small gas IC trucks have just about reached the pinnacle of development, especially when the use of AC-drive motors and control systems have revolutionised battery trucks.
Sure, the control systems are more complex than those needed for DC drive, but the degree of control of the machine and forks are worth every cent in the development and purchasing costs.
The biggest downfall for battery counter-balance trucks is their limited range between charge and waterproofing.
Swapping a discharged one-tonne battery pack for a fresh one is way more complex than a 30kg gas cylinder.
If the truck is used for multiple shifts, then currently IC trucks are the answer.
But this is where, in my opinion, a hydrogen fuel cell is more useful for a battery truck than an IC unit.
Hydrogen fuel cells are already available in Europe, where builders of electric boats for non-IC lakes offer them as an alternative to lithium ion batteries, so the technology is well-established.
At the moment, these fuel cells are expensive, but the cost will come down as more filling stations are established.
Los Angeles is a good example of this, where the costs of running an electric car with fuel cells is on par with running an IC car, but with a fraction of the pollution.
Really, the only pollution comes from generating the electricity needed to create the hydrogen.
Up until recently, waterproofing has been a real issue with battery forklifts, but with the implementation of IPX3 and IPX4 standards in counter balance trucks designed for outdoor usage, there's no reason why a battery forklift can't be operated in the same conditions as an IC forklift.
Combined with a fuel cell, there's no logical reason why any factory operator would choose a small IC truck over a battery truck.
Operating AC battery trucks is way easier, with units such as the Mitsubishi FB25CA using a clever polarity switch for braking.
Instead of using the foot brake to stop the truck before shifting the transmission, flicking the direction lever into reverse and gently applying pressure to the accelerator not only stops the truck, but enables faster reversing. It also reduces brake pad wear.
The AC control is incredibly precise, with no need to increase engine rpm when raising the mast and fork tynes.
Battery pantograph trucks such as the Mitsubishi ESR/EDR range now have a camera alongside the fork tynes, enabling operators to clearly see where the tynes are relative to the stack, even at full mast reach.
To reduce unit size and turning radius for narrow aisles, the operator stands up on a cushioned designed to reduce fatigue.
And because the operator is so close to the mast, an Airbus-inspired joystick control for fork raise and lower, pantograph tilt/reach and side shift is fitted to the right and direction control to the left.
A bit complex for mere males like me, but female operators will love this two-handed arrangement with their way better multi-tasking ability.
As the drive motor can spin the traction wheel 360 degrees, turning the direction knob gives forward and reverse and turning all in one action – very clever once it's mastered. Even allowing for use of a conventional lead acid battery, the ROI is way faster than with an IC truck.
Last year I compared operating costs of two 2.5-tonne Mitsubishi trucks, the IC FG25N, and battery FB25CA over a total of 6250 hours of operation.
Even allowing for replacing the battery pack at five years, including servicing and fuel/battery charging costs, the battery truck cost $2.35 an hour compared to a whopping $11.65 for the IC truck.
Sure, the battery truck is slightly more expensive than the IC truck, but even when factoring this disparity, the cost differences are still huge.
Factors that should also be taken into consideration include the absence of exhaust fumes when a truck is used for unloading semi-enclosed spaces such as shipping containers; the quiet operation which reduces the onset of tinnitus; and the total lack of vibration while moving or stacking.
Due in 2017, the next technology change for battery trucks is swapping a single AC motor, which drives the traction wheels through a differential, for a motor per wheel.
This further improves controllability and reduces gear friction losses, which can be up to around 10 per cent in a diff.
For the operator
Operator comfort has improved to the extent that in larger trucks, operators are completely cocooned in a temperature-controlled environment.
Released in Oz last year, Mitsubishi's 16-tonne FD160AN1 is a good example, available with either open or enclosed seating – the version I tried was enclosed.
Unlike trucks of this size I tested 25 years ago that had open seating and naturally aspirated diesels driving through single speed transmissions, the 160 has finger-tip controls of mast rake, fork lift and tyne tilt, and side shift instead of the old lever arrangement.
Not only does this provide more precise control, it also reduces fatigue and elbow wear for operators, who do not have to extend arms backwards and forwards.
The higher and more forward seating location provides better viewing of the fork positioning than the older trucks.
Though designed more for efficiency than operator comfort, the 160 has a four-cylinder twin turbo diesel that provides more torque down low where needed, a flatter torque curve, and lower overall fuel consumption.
This engine is mated with three speeds in forward and reverse. This means less engine load starting off and a cooler transmission for longer life because the torque converter doesn't need to slip as much.
The truck is easier to control and also has better grade ability.
Larger trucks such as the SANY 160 (also 16 tonnes but having a 1200mm load centre instead of 600mm) take operator comfort further by fitting a washer/wiper system atop the cab, so that during rain the operator can also clearly see the fork height.
Instead of fingertip switches, there's joystick control plus automatic engine rpm increase when raising a load. A keypad next to the operator enables codes to be entered, preventing unauthorised usage.
The three-speed transmission has computer control adjusting the clutch plates every 1000 running hours.
Again, a turbocharged four-cylinder diesel is present, instead of naturally aspirated straight sixes of old.
As with the FD160, effective vibration isolation reduces engine harmonics into the cab to just slightly above that of a straight six.
Final words
Sure, forklift technology might not change as quickly as in the automotive industry, but when changes do come through, they are always positive. Operator safety and truck efficiency are always interlinked.
Some of the technology may require re-training of older operators who are used to traditional lever controls, but overall the improvement in ergonomics makes for safer work environments.
Little features such as drink holders and document trays also clear the control zone of clutter, while digital displays of truck speed and battery charge remaining (combined with limiting functions when the charge is low) give operators clear indicators that further improve safety and truck lifespan.
Of course, there are forklift manufacturers that have very different ideas of truck control, but most manufacturers follow accepted norms, so operators can switch from one make to another without creating safety hazards that could occur when operators are unfamiliar with how a truck functions.
While overall 2015 may have been a relatively quiet year for technology changes, there are some exciting developments just around the corner.


Thanks to Gary Hodge of MLA Holdings for his input to this article.
Check out our listings of forklifts for sale.
Subscribe to our newsletter
Sign up to receive the TradePlant e-newsletter, digital magazine and other offers we choose to share with you straight to your inbox
Follow our updates by liking us on Facebook.