Deals on Show: Best of the west
---
With the 'best ever' 2019 Penrith Working Truck Show done and dusted, organisers have locked in three years' worth of dates for the successful western Sydney event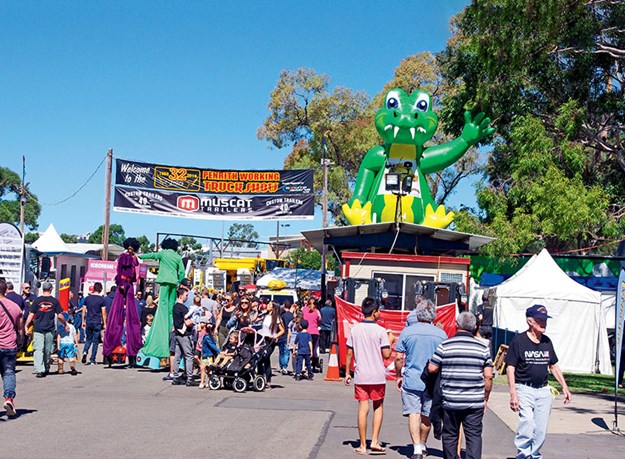 The odds were slightly against this year's 32nd Penrith Working Truck Show reaching the heights of previous events held at the Museum of Fire, especially when measured against the high mark of 2012's 25th anniversary running of the show.
Rain appeared to be the main concern, with 30mm falling on the Friday night, barely two days before show time on the morning of Sunday, March 31.
Organisers acted quickly, ushering some of the 60-tonne park floats ahead of schedule on Friday, and holding back others until the grounds began to dry on Saturday.
"It was by the skin of our teeth with the weather that hit on Friday night," says Museum of Fire CEO and show organiser Mark White.
"Some of these B-doubles are fully loaded so it makes it a bit interesting getting them in, but with a bit of cooperation and a bit of patience, it all came together."
Other factors threatened to affect truck numbers.
Two other events, Canberra's Rise Above Cancer Convoy and Haulin' the Hume, were run on the same weekend.
"It didn't have such an effect on it, but what it did was to divide loyalties," Mark continues.
"Some of our main players were trying to be in two places at once so it tested the patience."
With clear skies by Sunday morning, the grounds around the Museum of Fire looked a treat.
The hundreds of trucks were polished to the max as crowds swarmed through the gates.
Kids' rides, live country music and trade displays kept the vibrant atmosphere at a peak throughout the day.
Truck numbers and attendance figures led Mark White to label the 2019 Working Truck Show as the "best by far".
"Our show's a different type of show; we're not trying to compete with everyone else," he says.
"It's about families and kids and value for money."
According to Mark, transport businesses use the annual event to hold company picnics, bringing along their extended families.
"It's a bit like the chain of responsibility. Just because they don't drive a truck doesn't mean they don't work for a trucking company," he says.
On the entertainment side, country rock outfit The Wolfe Brothers, who took home four Golden Guitar awards at this year's Country Music Awards of Australia, headlined the live concert, along with award-winning husband a wife duo Adam Eckersley and Brooke McClymont.
Other live acts included Viper Creek Band, Brad Butcher and Golden Guitar winner Christie Lamb.
"Standing alone, it is a supreme country music show. Put it together with the rides and the entry to the museum, which is normally $12 an adult, and then you're getting the trucks and the trade and everything together," Mark adds.
"So as a combination I think it's a pretty good mix."
More importantly, Mark says the trucks on show are a positive way to promote the transport industry, especially in the current climate.
"People are incredibly fearful of trucks, even though the statistics are that in 90 per cent of accidents involving trucks, the fault is the car drivers," he says.
"So it's a good opportunity for people to get up close and personal."
FAR AND WIDE
As usual, most of the trucks on show were based in the western Sydney region, but there was the usual turnout of rigs from further afield, including five from SRV Road Freight Services.
Although headquartered at Yatala in south-east Queensland, one of the SRV rigs arrived from Echuca, while three drove down from Grafton, including an ex-Freestones' 2006 Peterbilt 379 with Joshua Manhood behind the wheel.
According to Joshua, it's the only Peterbilt in the SRV fleet.
"I've always had a love for the American style," Joshua says. Before the Peterbilt, he drove a Kenworth K104B and a K108, all in the seven short months he's been with the company.
This was Joshua's first trip to the Penrith Working Truck Show, although he had plenty of company in that category.
Mark Fitzpatrick, who drives for Campbelltown-based SNR Logistics, was also a Penrith first-timer.
SNR had a few trucks on show, including Mark's Kenworth K100E.
In addition, three TWR Transport trucks, which subcontract to SNR, were parked nearby.
TWR boss Troy Rutherford was keen to show off his all-Kenworth small fleet, especially his 2012 K200 and its striking artwork, which he explains was the brainchild of Thorpe Custom Trucks.
Troy says Thorpe built the truck five years ago before it eventually ended up in a Kenworth Melbourne dealership where he bought it.
Although a regular visitor to the Penrith Working Truck Show, Troy says he missed last year's event.
"We entered too late and it was full," he explains.
PLANNING AHEAD
In a bid to give owners and drivers plenty of notice and to avoid the situation of too many truck events on the same day, Mark White has already announced the date for the 2020 Penrith Working Truck Show, which is to be held on Sunday, March 29.
Looking further afield, he has dates locked in for 2021 (March 28) and 2022 (March 27).
Funds raised by the event go to the Museum of Fire, which is a registered charity, aimed at preserving the heritage of brave community firefighters as well as saving families from the dangers of fire.
"At the end of the day it is a great cause," Mark says.
For further information see the Penrith Working Truck Show's website at www.pwts.com.au or the Facebook page at www.facebook.com/PenrithWorkingTruckShow.
Subscribe to our newsletter
Sign up to receive the TradePlant e-newsletter, digital magazine and other offers we choose to share with you straight to your inbox
Follow our updates by liking us on Facebook.