2022 DYE STOCK NG/ADS 250 TONNE X 4.1M (7 AXES) 250 x 4.1m for sale
POA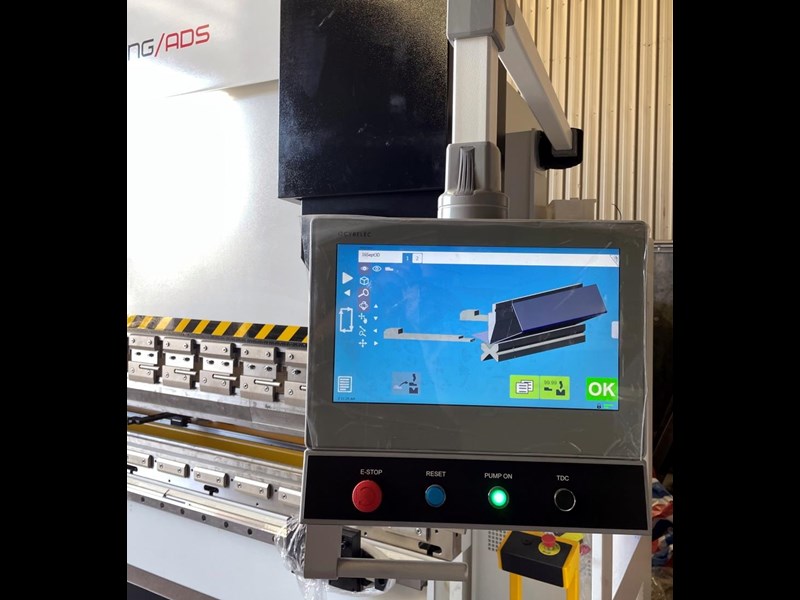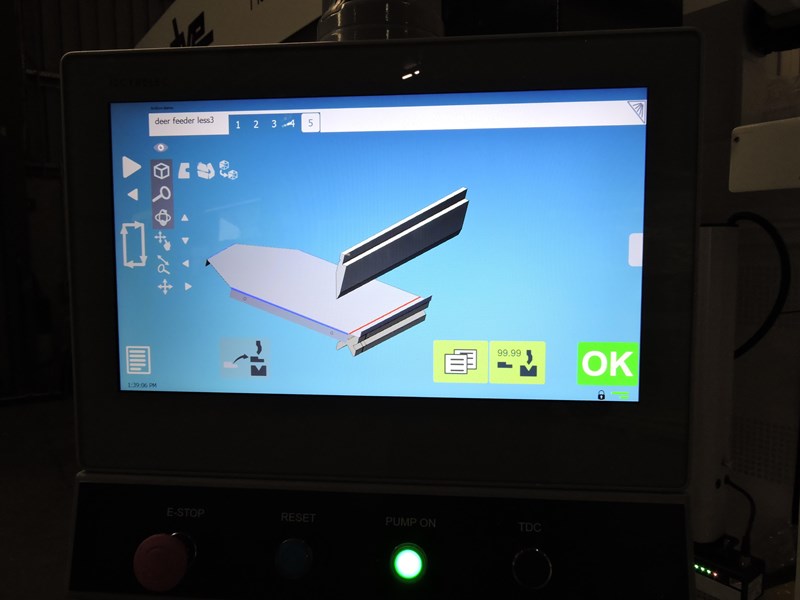 | | |
| --- | --- |
| Title | 2022 DYE STOCK NG/ADS 250 TONNE X 4.1M (7 AXES) 250 x 4.1m |
| Make | DYE |
| Price | POA |
| Listing Type | New |
| Stock Number | DYE1512 |
| Refcode | TA646226 |
Fully Synchronised Dye (7 axes) CNC Press brake.

Complete with the latest Cybelec VisiTouch 19 2D Touch screen colour graphical draw control with MX 3D viewer for 3D simulation of CADCAM generated programs. Available (as option) Cybelec's own easy to use programming software, Touchprofile programming, ADS Hydraulic crowning, XRZZ axis back gauge with one additional manual Z probe, front linear sheet supports, Lazersafe guarding, Energy efficient servo driven hydraulic pump, Intermediate wedge beam and quick release clamping.

Machine can be configured with 60mm bolster system for Euro bottom tooling or supplied with a conventional table top and full length vee block. Your choice.

NG/ADS 250 tonne x 3.6 x 4.1m (7 axes)
Open Height 530mm
Stroke 215mm
Throat 410mm
X axis travel 500mm with three programmable stops to allow longer travels up to 850mm
R axis 200 travel
Air conditioned electrical cabinet
Linear sheet supports
LED work zone lighting
Lasersafe LZS2 PCSS guarding system fitted
interlocked throat guards
Weight 18000kg

Other configurations available on indent machines. Machines made to order.

Call today for a quotation, you won't be disappointed.

FEATURES:-
Dye NG/ADS Series CNC Synchronised Press Brake.

The NG/ADS series is manufactured with attention to detail and is available in multiple configurations and axis ability built to your requirements.

Dye offers the consumer highly accurate, reliable and tough machines built to last without compromise on quality. Customisable, they ensure high flexibility, productivity and profitability for your investment dollar. Need something special, we offer performance and value for money.

The powerful yet simple Cybelec controls offer the ability to control 2-18 axes and will automatically calculate the bend sequence, bend angle, back gauge retraction, bend allowance, automatic crowning and features collision protection with graphical simulation, network capable (control model dependant), and available with offline programming software. Delem controllers available on request.

With automatic calibration and precise positional control to + - 0.005 mm accuracy make the NG/ADS a great partner for the production of precision components, both large and small batch runs.

Our Standard Features include


Full compliance laser guarding, interlocked throat guards & rear interlocked gate.
Synchronised drop forged cylinders with high performance European hydraulics
High quality linear glass encoders with a resolution of .005mm
C frame encoder mounting to compensate for side frame deflection
Pistons hard chromed
Servo driven hydraulic pump. Reduced power consumption whilst not in use.
Heat treated stress relieved heavy duty steel frame with machined load bearing surfaces in one set up on high quality European machining centres ensuring rigidity and accuracy.
Dye ADS Hydraulic Crowning System automatically calculated by the control.
Cybelec controls offered CYBTOUCH 8, 12 or 15 2D, VISITOUCH 19 2D, VISITOUCH 19 MX 3D.
Multiple axes configurations from 4-18 axes. CBUS technology on Mod Eva controls
European clamping system on 220 tonne models and smaller standard.
Customised Vee blocks with your choice of 5 "V's" or Ferrari European tooling.
Integrated bolster table configurations available for European tooling or conventional table top arrangement and vee block.
Heavy Duty linear bearings on backgauge runners mounted on side frames. Back gauge travels 850mm via programmable stops. Diameter 25mm ball screws driven by AC servomotor with resolvers with speeds up to 500/sec.
Standard throat 410mm or larger throats on request.
Optional Features
Wila hydraulic clamping and tooling
Wila CNC controlled motorised table crowning
X for X axis back gauge
XR Heavy duty X&R back gauge with rear adjusted manual Z probes
XRZZ Heavy duty X,R,Z1,Z2 axis back gauge
XRZZ+X1 Heavy duty X,R,Z1,Z2 with X1 power probe on Z1 probe. X1 travel +/- 100mm travel for tapered folding.
Standard back gauge travels 500 with additional programmed stops to 850mm.
X, X1 powered finger +/- 110mm travel on powered Z probe
R axis travel 200mm travel
Heavy duty 6 axis backgauge (Z1, Z2, X1, X2, R1, R2)
Hydraulic CNC sheet followers on linear track
Special throat depths.
Rear safety fence standard. Light curtain available on request.
Quick release clamping system
Dye Hydraulic clamping
Linear Sheet Support Sliding Arms
Laser Safe PCSS (AKAS guarding on request)
Robotic integration (control dependant)
The information contained within classified listings on TradePlantEquipment.com.au is generated by the private and dealer advertisers. Please confirm listing details including price and specifications directly with the seller.